In the last few weeks, the public and media have been awash with news stories of ugly clashes between record labels and artists; as a result of record deals gone south. Examples include Chocolate City's M.I Abaga versus Milli, Runtown versus EricMany Ltd., and Skales versus Baseline Records. In the 80th episode of The Africa Music Law Show, host Ms. Uduak shares 7 deadly sins every Nigerian artist must stop committing when signing a record contract; to avoid the ugly clashes we have seen.
EPISODE PREVIEW
7 Deadly sins
Being too desperate to sign a contract.
Having zero leverage at the bargaining table.
Having zero knowledge of the music business.
Signing a cut and paste western record contract a label found online.
Failing to research the background of a label or investor.
Receiving an advance and not expecting a label to recoup its investment.
Not hiring a competent entertainment lawyer.
About The Africa Music Law Show with Ms. Uduak
Hosted by California based Fashion & Entertainment Lawyer Uduak Oduok (Ms. Uduak), The Africa Music Law show is a show empowering the African artist through brilliant music business and entertainment law commentary and analysis, industry news, and exclusive interviews. The show has been downloaded over 100,000 times and made iTunes top 4 'New & Noteworthy.' Subscribers include Africa & hollywood's power executives, investors, lawyers, artists and other industry stakeholders. The blog itself has been cited in a U.S. top-ranked law school's 'International Law Review' journal. Country demographic: Nigeria (26%), USA (23%), UK (15%), UAE (7%), and Other (29%).
Where to Find Ms.Uduak
Twitter: @uduaklaw
Website: www.ebitulawgrp.com
Rate us on iTunes
If you enjoy the show, please leave a comment on our iTunes page and our Stitcher page.
Sponsorship and/or Guest Appearance
Please send email to: (africamusiclaw@gmail.com)
Thanks for Listening!
If you enjoyed the show, please share on your social media pages and with friends and family. Also if you have any questions, please feel free to send an email to (africamusiclaw@gmail.com).
Subscribe to Our Podcast Show
Some of Our Achievements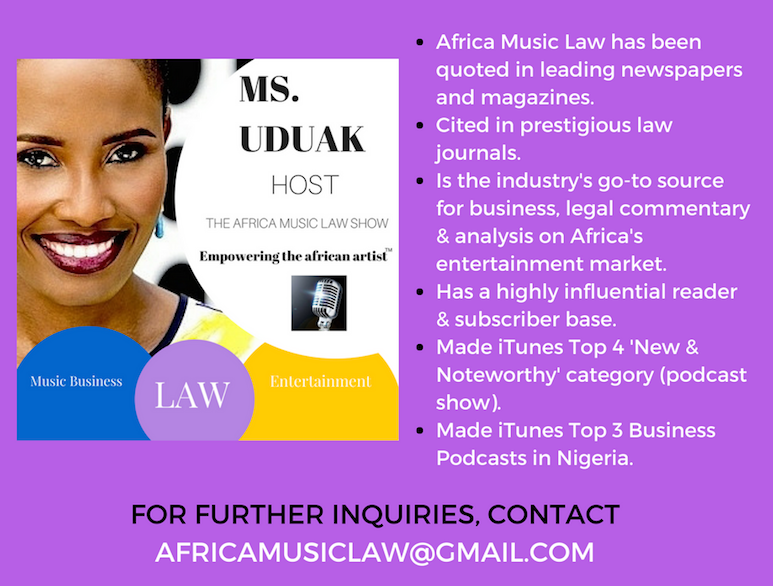 AFRICA MUSIC LAW™ (AML) is a pioneering music business and entertainment law blog and podcast show by Fashion and Entertainment Lawyer Ms. Uduak Oduok empowering the African artist and Africa's rapidly evolving entertainment industry through brilliant music business and entertainment law commentary and analysis, industry news, and exclusive interviews.
Credited for several firsts in the fashion and entertainment industry, Ms. Uduak is also a Partner and Co-Founder of Ebitu Law Group, P.C. where she handles her law firm's intellectual property law, media, business, fashion, and entertainment law practice areas. She has litigated a wide variety of cases in California courts and handled a variety of entertainment deals for clients in the USA, Africa, and Asia. Her work and contributions to the creative industry have been recognized by numerous organizations including the National Bar Association, The American University School of Law and featured in prestigious legal publications in the USA including ABA Journal and The California Lawyer Magazine. She is also an Adjunct Professor at the prestigious Academy of Arts University in San Francisco.
For legal representation inquiries, please email (uduak@ebitulawgrp.com). For blog related inquiries i.e. advertising, licensing, or guest interview requests, please email (africamusiclaw@gmail.com). Thank you for visiting Africa Music Law™.