Revolt TV Music Summit launched by Sean "Diddy" Combs, just wrapped up its Atlanta Music Summit held September 12.14, 2019. There were many speakers including T.I., Killer Mike, Candace Owens, Steven Pargett of Trap The Vote, Katrina Pierson, and Tamika D Mallory who participated on a panel on politics and pop culture in America.
Ms. Uduak's Commentary
First, Candace is bold to speak in a forum where she most likely would get cornered and yelled at, and in fact did get yelled at thanks to T.I. I totally disliked how he thought yelling and trying to shut her down would advance his point. He was beyond ridiculous and rude.
Second, Killer Mike made a lot of sense. In fact, his comments were more like mic drops and the panel should have just been wrapped up and everyone go home.
Third, you have to watch my law colleague Tone Talks give such an excellent feedback on the summit, and Diddy's role. He is so on point. Specifically, he discusses how the summit missed the mark on the black agenda.
-Ms. Uduak
Warning: Strong language used.
Photo credit: Moses Robinson (Getty Images for Revolt)
Subscribe to Our Podcast Show
Some of Our Achievements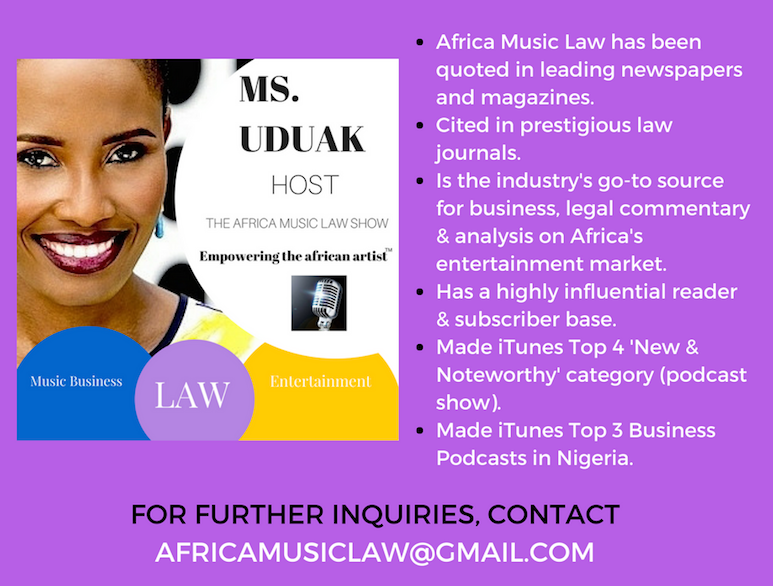 AFRICA MUSIC LAW™ (AML) is a pioneering music business and entertainment law blog and podcast show by Fashion and Entertainment Lawyer Ms. Uduak Oduok empowering the African artist and Africa's rapidly evolving entertainment industry through brilliant music business and entertainment law commentary and analysis, industry news, and exclusive interviews.
Credited for several firsts in the fashion and entertainment industry, Ms. Uduak is also a Partner and Co-Founder of Ebitu Law Group, P.C. where she handles her law firm's intellectual property law, media, business, fashion, and entertainment law practice areas. She has litigated a wide variety of cases in California courts and handled a variety of entertainment deals for clients in the USA, Africa, and Asia. Her work and contributions to the creative industry have been recognized by numerous organizations including the National Bar Association, The American University School of Law and featured in prestigious legal publications in the USA including ABA Journal and The California Lawyer Magazine. She is also an Adjunct Professor at the prestigious Academy of Arts University in San Francisco.
For legal representation inquiries, please email (uduak@ebitulawgrp.com). For blog related inquiries i.e. advertising, licensing, or guest interview requests, please email (africamusiclaw@gmail.com). Thank you for visiting Africa Music Law™.