Yesterday, Broadway Africa Television published a video interview with Nollywood actress Ronke Oshodi Oke. The headline they chose to go with was:
"I Can't Cook For You If I'm The Breadwinner Of The Family- Ronke Oshodi Oke"
They followed the description of the video with the following:
"Famous thespian, Ronke Ojo-Gbolahan, popularly addressed as Oshodi-Oke in an exclusive interview with BroadwayTV weighed in on the cause of many celebrity marriages going down the hill. According to the talented actress, things can't work out if the responsibilities of a home lies heavily on one person. She stated that if she provides for the needs of the family or takes up the role of the breadwinner then there is no way she's cooking for any man.
Marriage, love, mistakes and are more in this explosive chat up with Ronke."
Apparently, Oshodi-Oke was so vexed with the headline that she took to social media to call out the media house and claimed they failed to publish, in its entirety, the full interview to give context to what she meant.
Today, the media house has responded.
See the response and videos of all interviews below.
AML people, in viewing this video, Oshodi Oke does come off as if she meant what she was saying i.e. if you are my husband and cannot pull your weight monetarily in the family, don't expect me to bring in the dough and cook for you. It ain't happening.
That is my interpretation when I watch the video. I think what happened here is Oshodi Oke saw the backlash from her statement and decided to try to back peddle on her statements.
Moral of the story? Creatives, it is different if this was a print or e-print interview, but when you sit for a video interview, be sure you mean what you say because you don't get to recast a story how you want it after it is published.
-Ms. Uduak
"Yesterday, actress, Ronke (Oshodi-Oke) released series of videos on social media in reaction to her interview released on our YouTube Channel, Broadway TV (Broadway Africa TV). She said the good things she had said during the interview were "Edited" out. She also said she was quoted out of context and we wanted to tarnish her image.
While we cannot dictate to Ronke Oshodi Oke her feeling or her reaction to comment, we can say without any iota of doubt that her submissions were not true. Here is the full interview, she was not in any way misquoted, and she wasn't playing or joking with the interviewer and cameraman.
The interview wasn't "edited" in any way to make her look bad.  We are open to "Aunty" Ronke pointing out in specific the areas she felt aggrieved in the interview.
We know for a fact that her theatrical reactions were as a result of comments on Instablog and some personal reactions from the people around her. It is however not right in any way for her to misrepresent fact by saying Broadway TV did not 'edit' the interview well.
We have absolutely nothing against Ronke Oshodi Oke and we wish her well.
Here is the 23 minutes long interview posted on our YouTube Channel."
By the way, Oshodi Oke has toned it down after Broadway TV Africa's statement

Subscribe to Our Podcast Show
Some of Our Achievements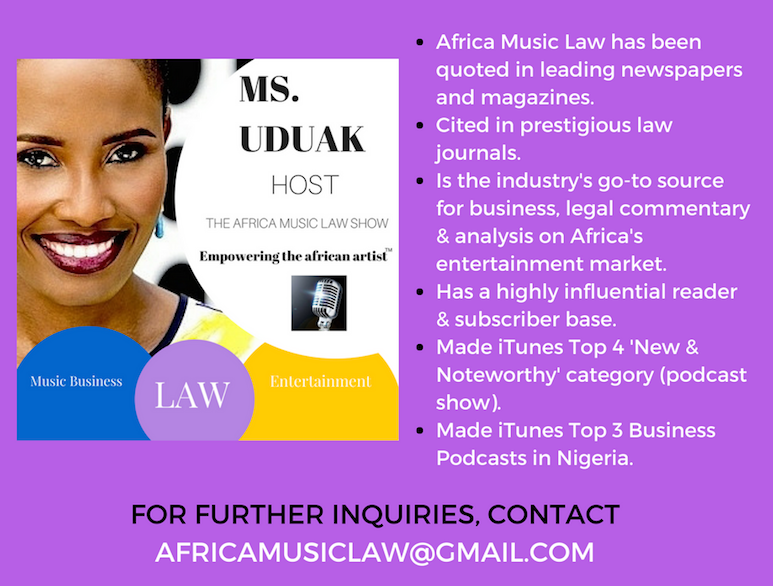 AFRICA MUSIC LAW™ (AML) is a pioneering music business and entertainment law blog and podcast show by Fashion and Entertainment Lawyer Ms. Uduak Oduok empowering the African artist and Africa's rapidly evolving entertainment industry through brilliant music business and entertainment law commentary and analysis, industry news, and exclusive interviews.
Credited for several firsts in the fashion and entertainment industry, Ms. Uduak is also a Partner and Co-Founder of Ebitu Law Group, P.C. where she handles her law firm's intellectual property law, media, business, fashion, and entertainment law practice areas. She has litigated a wide variety of cases in California courts and handled a variety of entertainment deals for clients in the USA, Africa, and Asia. Her work and contributions to the creative industry have been recognized by numerous organizations including the National Bar Association, The American University School of Law and featured in prestigious legal publications in the USA including ABA Journal and The California Lawyer Magazine. She is also an Adjunct Professor at the prestigious Academy of Arts University in San Francisco.
For legal representation inquiries, please email (uduak@ebitulawgrp.com). For blog related inquiries i.e. advertising, licensing, or guest interview requests, please email (africamusiclaw@gmail.com). Thank you for visiting Africa Music Law™.