Nigerian and African artists, do not believe any individual, group or company that tells you that your African sound style cannot go global unless you change it to sound completely western. There is ample evidence, on this blog alone, showing a big thirst for your kind of sound. Believe and stay true to the uniqueness of your sound style, and its ability to reach millions, globally, if positioned right without losing its authenticity.
Why believe? Runtown is yet another exhibit that there is a global thirst for Afrobeat/Afropop/Afrofusion music. He sold out his concert in Washington D.C., and now he does the same in New York selling out a 4,000 capacity hall in New York. By the way, please note Runtown did not get here on his own. In a state like New York, local promoters like Cos Canino, media company UnderdaRock Entertainment, the Nigerian Entertainment Awards, The Nigerian Independence Parade, Paul Okoye's One Africa Music Festival are forerunners that have done the very hard lifting so an artist like Runtown can sell out concert halls.
I'll also add that despite all the drama Runtown gave us last year with disputes with his Nigerian record label, he sells out Amazura event center in New York City and had to turn people down. That's impressive. Watch a short clip of his live performance, and catch up with his music legal drama shenanigans so you avoid that kind of drama.
Congrats to Runtown.
-Ms. Uduak
Archived Runtown Stories
No More Lagos to Kampala-Runtown's Record Label Obtains …
Runtown: Youth group sue rapper for ₦14million over failure to …
EricMany Ltd. & Runtown Settle Dispute – 7 Deadly Sins Every Artist …
U.S. Federal Judge Hits Runtown & Promoters Hard; Issues …
Subscribe to Our Podcast Show
Some of Our Achievements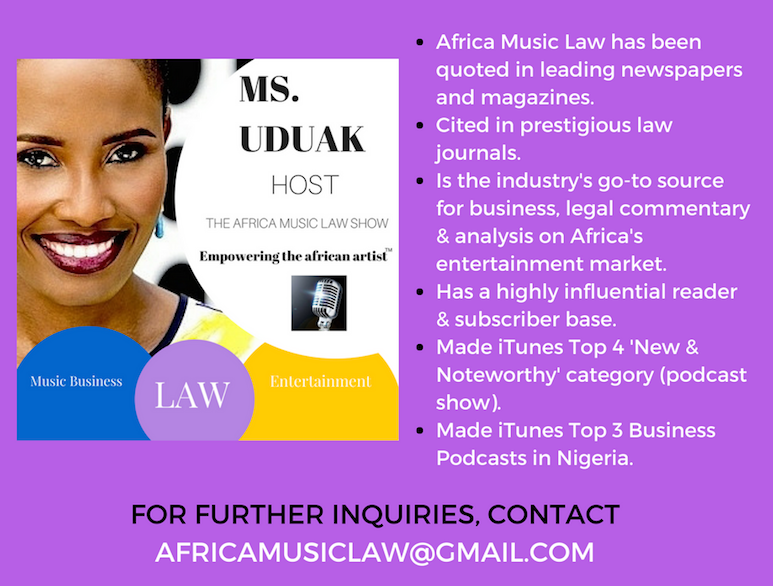 AFRICA MUSIC LAW™ (AML) is a pioneering music business and entertainment law blog and podcast show by Fashion and Entertainment Lawyer Ms. Uduak Oduok empowering the African artist and Africa's rapidly evolving entertainment industry through brilliant music business and entertainment law commentary and analysis, industry news, and exclusive interviews.
Credited for several firsts in the fashion and entertainment industry, Ms. Uduak is also a Partner and Co-Founder of Ebitu Law Group, P.C. where she handles her law firm's intellectual property law, media, business, fashion, and entertainment law practice areas. She has litigated a wide variety of cases in California courts and handled a variety of entertainment deals for clients in the USA, Africa, and Asia. Her work and contributions to the creative industry have been recognized by numerous organizations including the National Bar Association, The American University School of Law and featured in prestigious legal publications in the USA including ABA Journal and The California Lawyer Magazine.
For legal representation inquiries, please email (uduak@ebitulawgrp.com). For blog related inquiries i.e. advertising, licensing, or guest interview requests, please email (africamusiclaw@gmail.com). Thank you for visiting Africa Music Law™.