There was a story a little while back that I read about a Nollywood actor who was involved in an accident when he was performing a stunt on set. He fell and cracked his skull. Pictures of his injury circulated the internet. The pictures and the story haunted me for a while. I began searching all I could for more information on how exactly Nigeria's entertainment (Nollywood) industry health insurance was structured and what kinds of insurance do they have for actors and actresses and their families in the event of a disability or death. For where? I no find am meaning I couldn't find any information. So, I contacted my cousin here. He used to be an insurance broker in Nigeria. The problem be say the guy dey so busy with family duties, we never could connect and I somehow filed it away with hopes that in due time I could find information about this on my own. I wanted to learn more and write about it.
So, you can imagine how great I feel seeing that the first ever Nigerian Entertainment Industry Health Insurance Convention will be taking place in July of this year. Super cool and overdue. I look forward to hearing more about this.
I began my legal career as a health lawyer and as you all know or should know fashion, law and health are things I am (most) passionate about. It is why I even have the "Artist Health" category as part of AML. I am truly very happy to hear this news.
Check on it below.
Cheers,
Uduak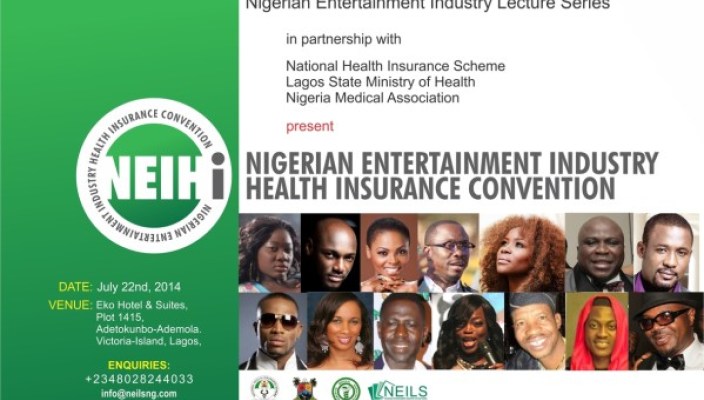 "Some entertainers have expressed joy over the much-publicised Entertainment Industry Health Insurance Convention which is put together by Nigerian Entertainment Industry Lecture Series (NEILS) in partnership with National Health Insurance Scheme, Lagos State Ministry of Health and the Nigeria Medical Association.

Scheduled to hold on July 22 in Lagos at the Grand Ball Room of Eko Hotel & Suites, organisers say the convention will highlight advantages of health insurance and why all entertainers must insure their health at the event.

"It will encourage the practitioners of the entertainment industry to insure their health and plan for the unforeseen, it will put an end to the highly degrading means of begging for alms whenever any practitioner of the industry is down with an ailment and at the end of this conference, practitioners will put more premium values on their health and understand perfectly the importance of health insurance. Also, there will be timely intervention to save the life of any practitioner in the entertainment industry who falls sick. In the past, the industry has lost some of its finest entertainers because it took too long to raise the required funds from the public, friends and fans."

Topics the convention will focus on include 'The health implications of celebrity life styles, Benefits of Health Insurance Policies, Health Insurance Policy …at what cost?, The health insurance policy…how dependable? as well as The Role of Government in Health Insurance Policies.- The Daily Independent