I am excited and very proud to support the work of a true hustler in Africa's Entertainment Industry, Mr. Cos Canino. Cos is an entrepreneur at heart. He co-produces the annual Nigerian Independence Day Parade in New York, the Nigeria Entertainment Awards (NEA), USA and is the publisher and founder of Underdarock Entertainment. Cos is also a Promoter who has also worked with many emerging music talents and DJs in the industry.
He was the first to turn me on to Sheyman, way before Sheyman signed to Trybe Records, among other solid Nigerian artists he has sent my way.
On March 2nd, 2013, Cos will launch the radio arm of Underdarock.com. It will be a party and he is inviting all of you to be there!
If you haven't checked out the radio station, "you are on a long ting," as we say in slang terms in Nigerian Pidgin English, and you really should do so by visiting www.underdarock.com/radio.
I also like that Cos is very Pan-African and while his focus is on Nigeria, he makes room and provides opportunities for other African artists on his numerous platforms.
As I said in a post a couple of weeks ago, there is a void in the diaspora, as a result of the exodus of our mates back to the continent, to build a strong local African entertainment community. An entertainment community that can and should serve as a bridge for solid connections and collaborations with Hollywood/America's entertainment industries.
Cos is one such person filling this need and he is a person to know if you are an artist looking to get your music played on the radio, perform live at the NEA Awards or at the annual Nigerian independence day parade.
So, AML East Coast readers, especially New Yorkers, come through and show support on March 2nd, 2013.
I am excited about the event and again very proud to lend my support to the launch of Underdarock radio.
Subscribe to Our Podcast Show
Some of Our Achievements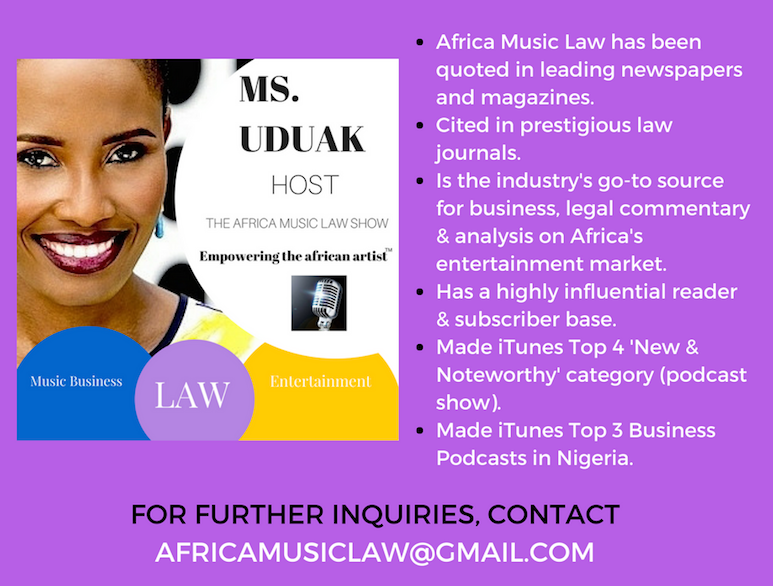 AFRICA MUSIC LAW™ (AML) is a pioneering music business and entertainment law blog and podcast show by Fashion and Entertainment Lawyer Ms. Uduak Oduok empowering the African artist and Africa's rapidly evolving entertainment industry through brilliant music business and entertainment law commentary and analysis, industry news, and exclusive interviews.
Credited for several firsts in the fashion and entertainment industry, Ms. Uduak is also a Partner and Co-Founder of Ebitu Law Group, P.C. where she handles her law firm's intellectual property law, media, business, fashion, and entertainment law practice areas. She has litigated a wide variety of cases in California courts and handled a variety of entertainment deals for clients in the USA, Africa, and Asia. Her work and contributions to the creative industry have been recognized by numerous organizations including the National Bar Association, The American University School of Law and featured in prestigious legal publications in the USA including ABA Journal and The California Lawyer Magazine.
For legal representation inquiries, please email (uduak@ebitulawgrp.com). For blog related inquiries i.e. advertising, licensing, or guest interview requests, please email (africamusiclaw@gmail.com). Thank you for visiting Africa Music Law™.