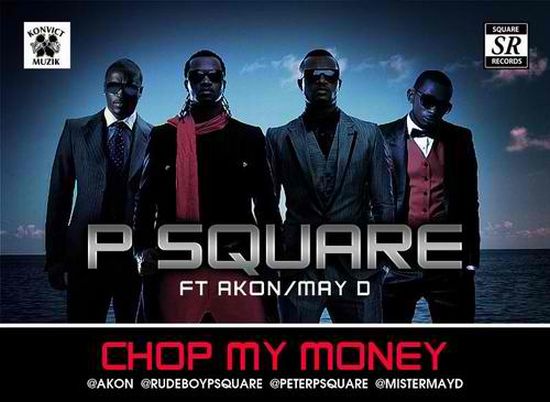 AML people, I'mma wrap it up for today with this legal drama that has hit us today. This case underscores a lot of key points AML artists and labels MUST pay attention to.
Earlier today, Jude Okoye, the CEO and one of the primary brains responsible for the success of P-Square, released a statement severing ties with their artist MAY D. MAY D is the only artist signed on Square Records. Below is the statement:
"TO WHOM IT MAY CONCERN:

I, Jude 'Engees' Okoye of Square Records Limited and Northside Entertainment Limited hereby announces to the general public that Mr. Akinmayokun Awodumila, otherwise known as MAY D is no longer an artiste under the aforementioned outfits due to irreconcilable differences.

We at Northside and Square records wish him all the best in his career and life.

Yours Faithfully,
Signed: Jude 'Engees' Okoye, CEO, Northside Ent. Ltd/Square Records"
May D, responding to media inquiries on the statement, has said he does "not know" what Jude Okoye is "talking about." In addition, he says he was not served any notice and had no idea of the termination of his relationship with Square Records and Northside Ent.
Many news reports have since begun to circulate. On Notjusok.com, Ovie O, one of the writers on the site, states the following:
"I took an extra effort to reach out to sources close to Square Records who gave me some inside gist on what really happened. Apparently, May D NEVER signed an official contract with Square Records. They only had a verbal agreement. So, when it was time to sign the contract, May D made some demands that Square Records were not willing to meet. For this reason, their relationship dissolved.

It's really sad things got to this level. Hopefully they can work together again in the future.

So what next for May D?? I hear he might be joining Davido and the HKN Gang soon. He spends most of his time with Davido these days and he's expected to fly with the HKN crew to the United States for a series of video shoots. ***ssssshhhhh*** Remember where you heard this first! . . ." – Ovie O/NotJustok.com
Let's get to the legal issues present here shall we?
1. Getting In Bed with No Contract & Getting Dumped, Is Like Having Unprotected Sex and Realizing You Just Caught an STD.
If the statement by Ovie O on Notjustok.com is true, that May-D and P-Square never signed a written agreement, then it is really pathetic and terrible. The best analogy to drive home the point is like meeting an attractive guy or girl, not knowing enough about him/her and getting in the sack way too soon. Worse, having unprotected sex and realizing you now have a sexually transmitted disease. Do people still do that in 2012? Apparently. Yes, it is that dramatic. A business relationship is a "relationship." Before you begin singing, "It's Mr. May D . . . Jackie Chan . . . etc. on a P-Square track," understand it is business and get it in writing. NO ONE is doing you a favor as an artist signing you on to a label. You are there because you can make money for that label. Approach the situation with some confidence swagg and lose the slavery mentality. You can be in awe of an executive but not to the point where you can't get a contract in writing. Haba!
Now, just because there is nothing in writing, assuming those facts are true, doesn't mean May D may not have a possible claim, and a  strong one at that, arguably, against P-Square based on their oral contract.
Let's parse it out a bit better. People get your entertainment lawyers, at this point your trial lawyers. Visit the Nigerian Bar Association to find one if you are in Nigeria.
What Law Governs?
Nigeria's Contract Law
Nigeria's Federal Copyright Act; and
Nigeria's Tort Law, possibly.
What are the Possible Legal Claims May D Might Have Against P-Square
Intentional Infliction of Emotional Distress: Let's hit the seeming straightforward legal claims, first. Jude Okoye has NO business sending a press release, in the Naija ghetto styled way, terminating the relationship with May D without notice to the artist. It is extremely hurtful, irrespective of what this artist may have done. Square Records and Northside Ent. Ltd. owe a responsibility to this artist who they got in bed with to send him an official letter and at a minimum have a quote from him, agreeing to severe ties  that they publish to the public.
We saw Mo'Cheddah/Knighthouse and Kel/Capital Hill music show us what the standard ought to be. Jude Okoye's extremely hurtful way of doing business, in this instance, is uncool. Unless the artist is lying, the fact that he claims he had no idea about this release much less that it would be distributed to the public, says a lot about the Okoyes. At a minimum, under Nigeria's Tort Law system, should May-D sue, a claim for intentional infliction of emotional distress would be lurking. Imagine the embarrassment and stress of receiving news that you have been dumped by a global African music brand through blogs, twitter and facebook. Terrible. P-Square have won awards and been nominated for many prestigious awards globally including the BET Awards here in the USA. They recently also collaborated with Rick Ross, and signed a distribution deal with Universal in South Africa. This is not just any brand. The executives ought to have a bit more sensitivity when they proceed to do what amounts to crippling of the career of an artist.
Contract Law: In this instance, May-D will probably allege a breach of an oral contract, depending on the facts should he pursue a claim against P-Square. Clearly, there were some promises made to May-D which is why he has been on P-Square's songs with the whole, "It's Mr. May D" tag line.  May-D would argue that he has fulfilled all that has been required of him by P-Square and that them terminating his (oral) contract relationship with him is a breach of contract. Especially if there is no written contract, this case becomes very difficult and messy because it boils down to "he said, she said" and the parties' actions. P-Square announced May D was signed to the label, P-Square marketed and promoted May D, May D gave them some hit singles, it is truly messy times ahead, if May D sues.
Copyright Issues: If you are May D and you sue, you are not only suing for breach of contract, you want ownership of your music and royalty payments for your intellectual property rights in your song. Remember the joint ownership analysis I gave in the AML P-Square Waje case? This is a good time to revisit that case which you can check out below.
Independent of that case what really is the typical scenario we see in the industry? Usually, we see artists attempting to leave labels, not the other way around, although that also happens.
What is the Typical Scenario Where An Artist Walks Out on a Record-Deal?
When an artist walks out on a record deal, the artist gets nothing. In many instances, the artist still owes the label money. In fact, when an artist walks out on a label, the label still retains the masters and owns the copyrights to the artist's work. It is also not unusual to see a label limit an artist from recording for a set period of time. In the West, you will see labels even own the artists brand, trademarks, website url etc.
Why Such Harsh Results for the Artist?
Unless an artist is a "minor," has "mental impairment," was under "duress (like gun to the head) when the contract was signed," there is "impossibility,"  "frustration," "terminal illness" or "natural disaster," etc. when he/she signs on the dotted line of a record-deal contract, the contract is legally binding. It is legally presumed that such artist has read, understood and willingly and voluntary signed the contract. Accordingly, courts both within and outside Nigeria will typically enforce these agreements if an artist does not live up to his/her end of the bargain.
What About When A Label Walks Out on An Artist?
Issues of breach of contract, copyright ownership, among other claims ensues. It really boils down to the agreement signed. It is why P-Square's situation is messy if there is indeed no written contract. Further, I underscore IROKO as a distributor of digital music here. We know IROKO has both P-Square and (from what I can gather) May-D signed to digital distribution licensing deals. If P-Square and May D never signed a contract between themselves to begin with, it becomes messy in terms of copyright ownership issues. If P-Square wants IROKO to continue distribution of songs co-owned by May D, and May D emphatically objects to that, now what? What about prior digital performances of the work? Who gets the royalty payments?
Interesting times ahead.
(MAY D ON JOINING HKN – The statement that MAY D is about to jump into yet another relationship kia kia (quickly) is troubling. Raise your hands if you know people that just can't stand to be alone for a minute. They are ALWAYS in relationships. When a relationship ends, it is the opportunity to learn about yourself and GROW. It is not the time to go straight into another relationship. Get to know the mistakes you made, learn from them, have a plan of action before jumping into the next one. In short MAY D ought to take a chill pill on the new HKN relationship.It is time to think and grow.)
Visit the Kel v. Capital Hill split here to better some of the legal issues present.
Visit the Waje v. P-Square copyright infringement case to better understand the Joint Authorship issues present here.
-Uduak
@uduaklaw
MAY D adding his touch to 'Chop My Money'

MAY D Adding his touch to 'Do as I Do'

An example of P-Square's Brand Strength