We've been down this road too many times to count. An artist, based on a little or large notoriety believes he or she is now qualified to become an event producer/concert organizer.
Often, the artist has no experience whatsoever in organizing events, not even small sized events for family and friends. What he/she knows is that the trend of the day is that everyone (fellow artists) is organizing their own concerts and cutting out the middleman/woman, so the artist must organize his/her own. So we see an artist go from performing at concerts produced by others (usually corporate companies in most of the key African music markets) to trying to produce a solo event that attracts hundreds or thousands.
What is particularly foolish about this attempt is that the artist puts the safety of his/her fans at risk. We've seen countless examples on this blog including the case of Phyno right about this time last year.
Artists, for those of you who want to be concert promoters, a few hours before the event is not when you begin worrying about stage set, lighting, lighting vendors, sound, sound system, sound vendors, staff etc. All of these should be sorted out prior to, and if there is an inclination that you cannot fulfill expectations, then pull the plug before the day of the event. It is better to have your reputation intact, and ensure the safety of your fans, than to mess it up all because you want to be a concert promoter, "by fire, by force."
For this particular post, Simi serves as a case study of what not to do with her attempt to organize her first solo concert in Lagos. Simi had an event that was scheduled for this past Sunday. According to Simi, another event occurred at the same venue on Saturday night, and on the day of her event, those responsible for cleaning up the venue were unable to do so fast enough to allow her to set up in a timely fashion for her concert. In fact, they were so late, she didn't even have time to do a sound check. Her show was scheduled for 6 pm, she reportedly got on stage at 11 pm which needless to say, made fans very angry.

Here are a few things that perplex me. First, isn't Nigeria known for having an explosive and successful wedding event industry? What is so difficult about Nigeria's music industry drawing from its wedding event planners? Also, isn't Nigeria home to the globally famous gospel concert, THE EXPERIENCE? That event hosted 700,000 people this past weekend. Why does it seem that the gospel music industry can successfully host such a huge show, but its mainstream stream live music/performance market can't seem to get it together?
Nigerian artists reading this, you know or should know that the live event industry suffers from many issues including fewer venues to perform, extremely late starts, very unreliable vendors, sound equipment problems etc. So if you decide to take on producing a solo show, it can't be that you show up the day of the event to tell your fans that there was an event the day before, therefore you could not meet your end of the bargain/contract. You can't also follow up with a statement that you are a "perfectionist" and like to pay attention to details.
If your statement about being a perfectionist and paying attention to details was true, then surely you had notice that there would be an event the night before, didn't you? Isn't that an important detail? How does your excuse show a healthy lack of respect for your fans and their trust in you?
People paid for a Sunday concert but instead got a concert where you performed an hour before the new work week started. How is that okay?
The fact is there is no excuse for such poor disorganization and Nigeria/ Africa's event industry, as a whole, must stop providing these types of poor excuses at the expense of music fans. Indeed, there have been many painful experiences on the continent and in the diaspora where fans were left waiting for hours over foreseeable logistics issues by concert organizers. Sometimes, these logistic issues have also created a safety nightmare, again reference the Phyno scenario hyperlinked above.
What is interesting is for the most part when foreign acts show up to perform, these same concert promoters rise to the task, and ditch the excuses. So what's really good?
I believe fans need to begin demanding more from concert organizers and organizers must begin showing respect to fans. For artists wanting to take on the role of event organizers, proceed cautiously. Saying "I love you" and "don't judge me by this one act" like Simi subsequently did, may not be enough to redeem your credibility or avoid legal liability where the consequences become dire for fans.

-Ms. Uduak
Subscribe to Our Podcast Show
Some of Our Achievements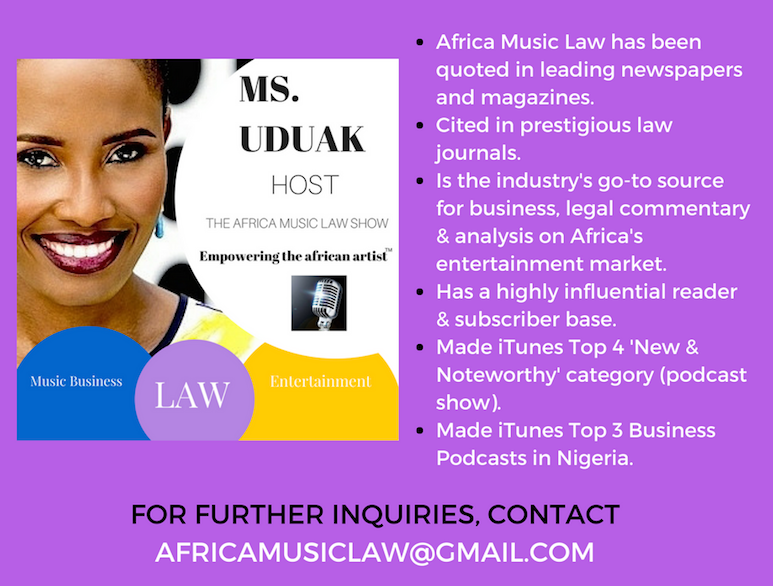 AFRICA MUSIC LAW™ (AML) is a pioneering music business and entertainment law blog and podcast show by Fashion and Entertainment Lawyer Ms. Uduak Oduok empowering the African artist and Africa's rapidly evolving entertainment industry through brilliant music business and entertainment law commentary and analysis, industry news, and exclusive interviews.
Credited for several firsts in the fashion and entertainment industry, Ms. Uduak is also a Partner and Co-Founder of Ebitu Law Group, P.C. where she handles her law firm's intellectual property law, media, business, fashion, and entertainment law practice areas. She has litigated a wide variety of cases in California courts and handled a variety of entertainment deals for clients in the USA, Africa, and Asia. Her work and contributions to the creative industry have been recognized by numerous organizations including the National Bar Association, The American University School of Law and featured in prestigious legal publications in the USA including ABA Journal and The California Lawyer Magazine. She is also an Adjunct Professor at the prestigious Academy of Arts University in San Francisco.
For legal representation inquiries, please email (uduak@ebitulawgrp.com). For blog related inquiries i.e. advertising, licensing, or guest interview requests, please email (africamusiclaw@gmail.com). Thank you for visiting Africa Music Law™.