Earlier today I shared the story about the accusation against Osagie Osarenkhoe, artist-manager to Skales, among others, for stealing from Baseline Records. The latest report I have received is that the duo have now allegedly been remanded in police custody. This means they have now been detained and will await a formal hearing. Typically, in criminal courts, this should be an arraignment i.e. the first time the judge gets to read the charges against the defendants, advise them of their constitutional rights and obtain their plea i.e. guilty, not guilty, or no contest.
As I previously stated, it is still too early to speak on this. So, let's see how things unfold by the end of this week. However, you can listen to an interview I conducted with Skales when he signed with Baseline Records back in 2014 and read the statement below. Start at the 6:14 mark.
-Ms. Uduak
"Skales and his manager Osagie (Osarenkhoe) have been remanded in  police custody after confessing to various charges of fraud and diversion of Baseline Records funds.

They are currently assisting the police in unraveling the extent of the fraud. Running into tens of millions of naira.

At the inception of the contract, he was given a fully furnished luxury apartment in Lekki in a gated estate, with a brand new customized SUV and a multimillion Naira sign on Fee.

The record label also gave him a free hand to select and run his brand, supported by a multimillion naira corporate expense account.

Skales behavior has reduced the appetite of the record label to assist other young talents to achieve their full potential." – Wale Ewedemi (Industry Insider/GM Base FM)
Subscribe to Our Podcast Show
Some of Our Achievements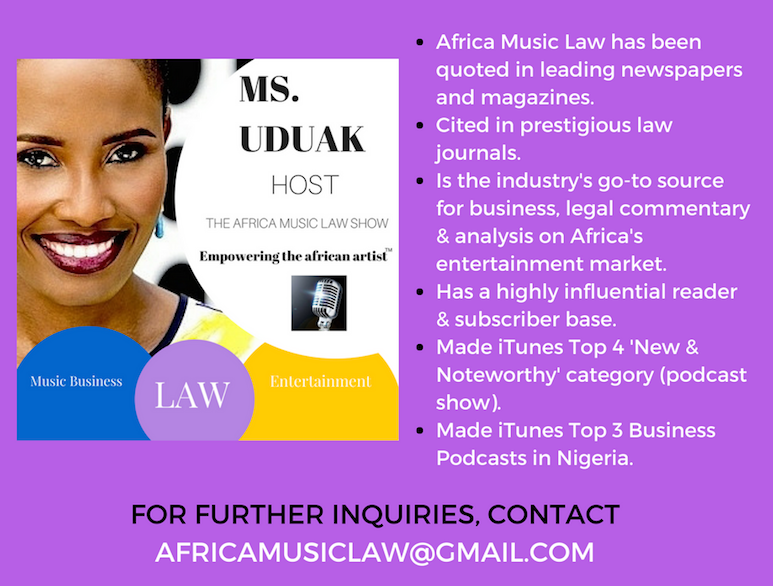 AFRICA MUSIC LAW™ (AML) is a pioneering music business and entertainment law blog and podcast show by Fashion and Entertainment Lawyer Ms. Uduak Oduok empowering the African artist and Africa's rapidly evolving entertainment industry through brilliant music business and entertainment law commentary and analysis, industry news, and exclusive interviews.
Credited for several firsts in the fashion and entertainment industry, Ms. Uduak is also a Partner and Co-Founder of Ebitu Law Group, P.C. where she handles her law firm's intellectual property law, media, business, fashion, and entertainment law practice areas. She has litigated a wide variety of cases in California courts and handled a variety of entertainment deals for clients in the USA, Africa, and Asia. Her work and contributions to the creative industry have been recognized by numerous organizations including the National Bar Association, The American University School of Law and featured in prestigious legal publications in the USA including ABA Journal and The California Lawyer Magazine.
For legal representation inquiries, please email (uduak@ebitulawgrp.com). For blog related inquiries i.e. advertising, licensing, or guest interview requests, please email (africamusiclaw@gmail.com). Thank you for visiting Africa Music Law™.