Victor Okpala, a vlogger who has a media partnership with The Net.ng, recently interviewed musician Skales on his show 'Vibes with Victor'. At some point, the discussion centered on whether one of Skales musical works was "genius" or not. Skales insisted it was. Okpala disagreed. There is nothing wrong with Okapla voicing his opinion about his view of Skales music, and disagreeing. Just because you invite someone to your show, doesn't mean you become their "yes" man or woman and cannot have an independent opinion about their work. So, that's not the issue. However, when it becomes clear you do not share the same opinion on a topic, you can and should agree to disagree, and then move on. Rather than argue to the point where it becomes unprofessional.
I don't know what Okpala was thinking but to me he was unprofessional.
Watch and give me your take. You may see it differently and disagree with my view.
I have watched prior interviews by Okpala. I particularly enjoyed the one he did with M.I Abaga. I thought it was brilliant. This one with Skales, definitely falls short.
-Ms. Uduak
Subscribe to Our Podcast Show
Some of Our Achievements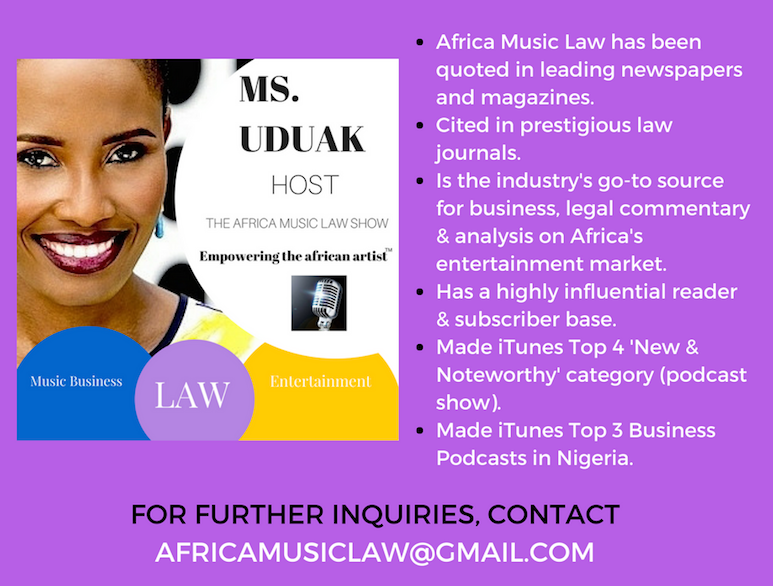 AFRICA MUSIC LAW™ (AML) is a pioneering music business and entertainment law blog and podcast show by Fashion and Entertainment Lawyer Ms. Uduak Oduok empowering the African artist and Africa's rapidly evolving entertainment industry through brilliant music business and entertainment law commentary and analysis, industry news, and exclusive interviews.
Credited for several firsts in the fashion and entertainment industry, Ms. Uduak is also a Partner and Co-Founder of Ebitu Law Group, P.C. where she handles her law firm's intellectual property law, media, business, fashion, and entertainment law practice areas. She has litigated a wide variety of cases in California courts and handled a variety of entertainment deals for clients in the USA, Africa, and Asia. Her work and contributions to the creative industry have been recognized by numerous organizations including the National Bar Association, The American University School of Law and featured in prestigious legal publications in the USA including ABA Journal and The California Lawyer Magazine.
For legal representation inquiries, please email (uduak@ebitulawgrp.com). For blog related inquiries i.e. advertising, licensing, or guest interview requests, please email (africamusiclaw@gmail.com). Thank you for visiting Africa Music Law™.