Days after Universal Music Group announced its acquisition of 70% equity stakes in Kenya's AI Records,  Spotify announces it has launched a streaming service in South Africa.
"We're delighted to announce that Spotify launches today in Israel, Romania, South Africa and Vietnam," is how Spotify made the announcement on its website.
"Offering an unrivalled mix of domestic and international music, discovery features and revolutionary personalised curation perfectly tuned to your taste, music fans across all countries can now enjoy instant access to Spotify's free ad-supported and subscription services.
Cecilia Qvist, Global Head of Markets at Spotify, says: "We're really excited to bring Spotify to Israel, Romania, South Africa and Vietnam, connecting their rich music cultures with millions of artists and users across the world."
Spotify is the world's largest music streaming subscription service with a community of over 159 million users, including over 71 million Spotify Premium subscribers, now across 65 markets worldwide."
As many of you long-time readers and follow of my work know, I've kept my eyes on Africa's music market for over a decade now, and many of the predictions I have made have come to fruition, including foreseeing acquisitions and expansions by foreign multinationals/conglomerates into Africa. Africa's music market gets hotter by the moment because the money is in Africa and music follows the money.
For me, however, the key question is whether Africa's stakeholders, when all is said and done, will be active partakers of the spoil.
Time will tell.
-Ms. Uduak
Subscribe to Our Podcast Show
Some of Our Achievements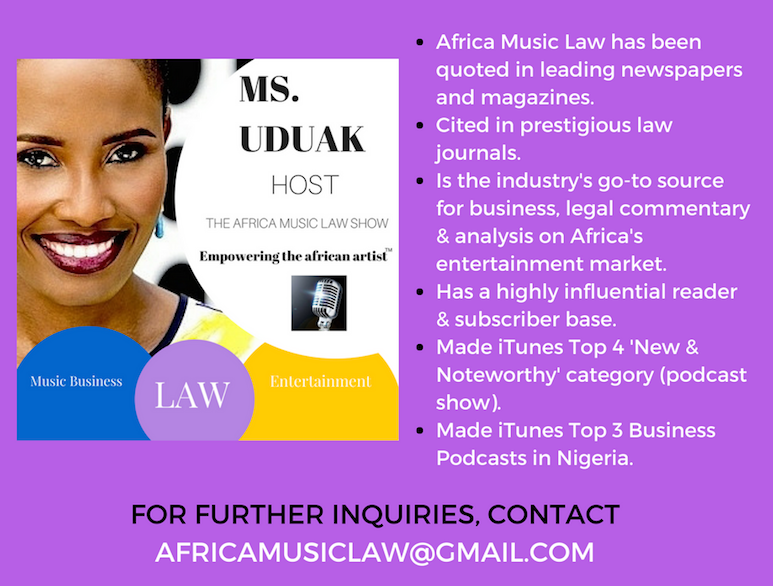 AFRICA MUSIC LAW™ (AML) is a pioneering music business and entertainment law blog and podcast show by Fashion and Entertainment Lawyer Ms. Uduak Oduok empowering the African artist and Africa's rapidly evolving entertainment industry through brilliant music business and entertainment law commentary and analysis, industry news, and exclusive interviews.
Credited for several firsts in the fashion and entertainment industry, Ms. Uduak is also a Partner and Co-Founder of Ebitu Law Group, P.C. where she handles her law firm's intellectual property law, media, business, fashion, and entertainment law practice areas. She has litigated a wide variety of cases in California courts and handled a variety of entertainment deals for clients in the USA, Africa, and Asia. Her work and contributions to the creative industry have been recognized by numerous organizations including the National Bar Association, The American University School of Law and featured in prestigious legal publications in the USA including ABA Journal and The California Lawyer Magazine. She is also an Adjunct Professor at the prestigious Academy of Arts University in San Francisco.
For legal representation inquiries, please email (uduak@ebitulawgrp.com). For blog related inquiries i.e. advertising, licensing, or guest interview requests, please email (africamusiclaw@gmail.com). Thank you for visiting Africa Music Law™.