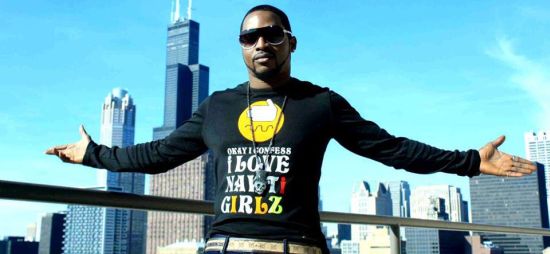 Thanks to prolific hitmaker Olu Maintain, now I will have to field questions from my White and Black friends on whether Nigerian men are truly "NAWTI." I ain't complaining. *Winks* It is a better question than the 419 questions people make the mistake of asking me. 🙂
Good look on Olu but I gotta say he is one man that can put amazing spiritual yarns/spin on a song that is clearly sexually suggestive. Unless I got my Yoruba confused, how exactly does meeting a young woman, calling her NAWTI and saying "te le mi ka ma lo le" translate to woman empowerment? You just met home girl with a big booty and now you have asked her to follow you home to your place? What exactly is she doing at home with you at your place? The whole video is focused on various types of booty so what is he trying to pull wool on the eyes of women? He says NAWTI means Natural African Women Totally inspiring. What is inspiring in the video appears to be just her booty. If you celebrate her "essence" along with her beauty and sexiness, you ain't trying to take her to your place when you just meet her without knowing her essence.
Nevertheless, nice video, good cross over appeal into the USA market. Models look great and funny enough you guys, one of the models is a kid I know quite well and that I have watched grow up. She is no longer a kid, clearly. No. She is not the one in the pink NAWTI panties.
Anyway, beyond the incredible spiritual yarns he puts on his sexually suggestive video, he drops lots of knowledge and I think I like what he has to say.
On the issue of diverse models in his videos or geographic locations to use, that is a thorny issue. I do believe more African models should be used but I see no problems with using other models and especially women of color and other minority groups that are not Nigerians. It should be a healthy mix.
I disagree with his comment that shooting overseas is basically saying to Nigerians that he has achieved and is able to go overseas and they too can achieve and do the same to see beautiful shores. I think that is our problem. We have a deep hard to cure culture of Western consumerism that values all things Western over all things Nigerian. More encouragement in that department is not needed. On the contrary, we need to encourage more persons to do explore our Hawaii like Akwa-Ibom, Cross River and other beautiful places across Nigeria.
Finally, it is intriguing to watch Olu. He is at once simple yet complex. Most creative people, myself included, I think are a bit complicated like that. We create from a place so passionate that gives all of our best. It creates very interesting dynamics in the mind that does manifest in the physical. Interesting man.
Legal To Dos That Artists Like Olu & Olu Should Do.
1. Get the name NAWTI trademark both in Nigeria and other countries you intend to do business in. If it hasn't already been trademarked NAWTI should be. Artists when certain phrases you coin or make popular become all that and a bag of Okin biscuits, you should trademark those phrases ASAP for use in product sales/merchandising. Don't sit on it. We are about the business of music. Get moving.
2. Get into merchandising. Artists, you always want to think about diversifying your portfolio and increasing your bottom line. A good way to do it is through apparel/sale of clothing. Keep it simple. NAWTI lingerie, t-shirts, watches, accessories and depending on who you are, cosmetic line sounds about great right now. Both men and women will buy, especially given the spin he has on it.
3. Think About Licensing: There are opportunities to license the NAWTI song for films, advertisements and commercials, restaurants, airplanes etc. Think through, identify the goal, come up with a plan, get your team together, execute skillfully and effectively so you have multiple streams of income coming in. Doing music, especially in Nigeria's music climate, is not forever. Making concert touring and performances at events the only means of your income is also not very smart.
My favorite part of all the NAWTI song and video is the flute player. Love her and love that part in the song. Check on it y'all!
Cheers,
Uduak
Watch his interview with Factory 78. Olu I see you. Carry on.