T-Billz, Tiwa Savage's manager turned husband has immediately taken to twitter, post the backlash from her just released video 'Wanted' to defend her. He says her work is 'art.' "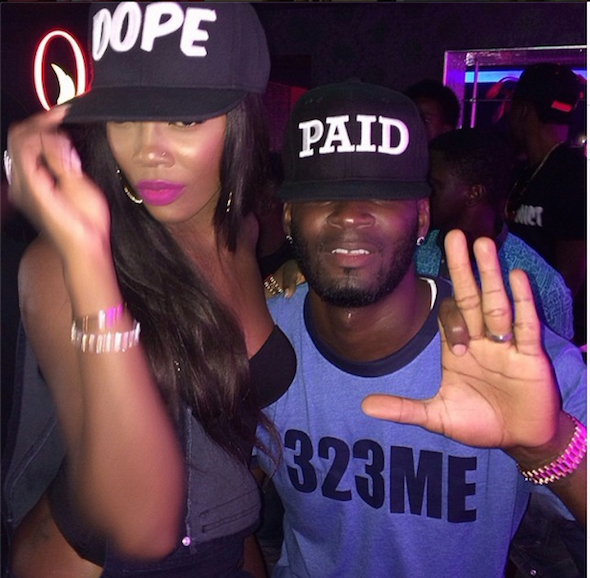 "If she can't be like the best in the world, I wonder who they want her to be like, #Art"." – T-Billz
A couple of things:
1) I have seen some say Tiwa Savage is married therefore she can't be sexual. I don't agree. Tiwa may be married but she can and should have the personal autonomy to project a tasteful, yet sexy and respectful image of herself to the world. You don't lose your identity as a woman because you agree to bear a man's kids and stay committed to him for life via a marriage certificate and of cause oath before family and friends.
The issue here is that the image Tiwa has been projecting of herself, lately, has moved from sexy to cheap, by all accounts. That is where the issue is.
2) My second and final point is, should T-Billz be "wanted" for "pimpin'" Tiwa as what appears to be a video vixen rather than an artist? As her manager turned husband, shouldn't he be even more concerned about the tasteful yet sexy presentation of his artist and wife; rather than this continued and now heightened direction of a video vixen who he gladly puts out there for the sexual gratification of other men, so long as he and 323 Entertainment get paid?
It has been about two weeks since we saw Tiwa in the following compromising and intentional situation here.
It was not her first time in such compromising situation. Should T-Billz give it sometime before having his female artist & wife sexually gyrate on the floor in a silhouette and sheer body suit that makes her appear completely naked, all in the name of "wanted?"
Maybe it is time to find or add another manager and have T-Billz just focus on the deal making; seems he appears to be good at inking the deals for Tiwa? My 50kobo for all it is worth. What's your take?
-Uduak
NOTE: For those visiting AML for the first time, Tiwa Savage is a Nigerian-American artist now based in Nigeria. She has been nominated for numerous awards on the continent and for the first time, the 2014 BET Awards in the Best International Act Category. She is also a brand ambassador for numerous brands on the continent including Pepsi and is a song writer who has written for a few  grammy award winning American artists. She is often dubbed 'Nigeria/Africa's own Beyonce,' of which it appears she tries to live up to the title.