Hollywood, Calif. –    The 26th Annual Faith & Values Annual Gala will be held Friday, Feb. 2, 2018, at the Universal Hilton Hotel in Universal City, Calif., with the theme "Movies and TV that Transform."
Hosted by Actor Terry Crews, at the Gala, Dr. Ted Baehr, founder and publisher of Movieguide®:  The Family Guide to Movies and Entertainment, will present highlights from Movieguide®'s 80-page 2018 Report to the Entertainment Industry showing what kinds of content moviegoers and television viewers prefer.
The Awards Gala features awards for the Ten Best Movies for Families, the Ten Best Movies for Mature Audiences, the Epiphany Prizes for Inspiring Movies & TV, the Grace Awards for the Most Inspiring Performances, the $30,000 Kairos Prizes for Spiritually Uplifting Screenplays, and the Faith & Freedom Awards for promoting positive American values.
Author of "The Culture-Wise Family" and "How To Succeed in Hollywood (Without Losing Your Soul)," Dr. Baehr is chairman of the Christian Film & Television Commission® (CFTVC) and its family guide to movies and entertainment, Movieguide® (www.movieguide.org).
Now in their 32nd year, CFTVC and Movieguide® are the largest, longest-running international, non-profit ministry dedicated to "redeeming the values of the entertainment industry by influencing industry executives and by informing and equipping the public about the influence of the entertainment media."
Movieguide®'s Annual Faith & Values Awards Gala honors the best, most family-friendly movies and television programs honoring God and inspiring audiences with messages of faith, hope, goodness, justice, redemption, forgiveness, and true divine love. At the Awards, Dr. Baehr presents highlights from Movieguide®'s Annual Report to the Entertainment Industry, a comprehensive financial analysis of the movie business showing what kinds of movies and what kinds of movie content moviegoers favor the most with their hard-earned money.
For more information about Movieguide® or CFTVC, visit www.movieguide.org or call (805) 383-2000.
Photo: MovieGuide
Subscribe to Our Podcast Show
Some of Our Achievements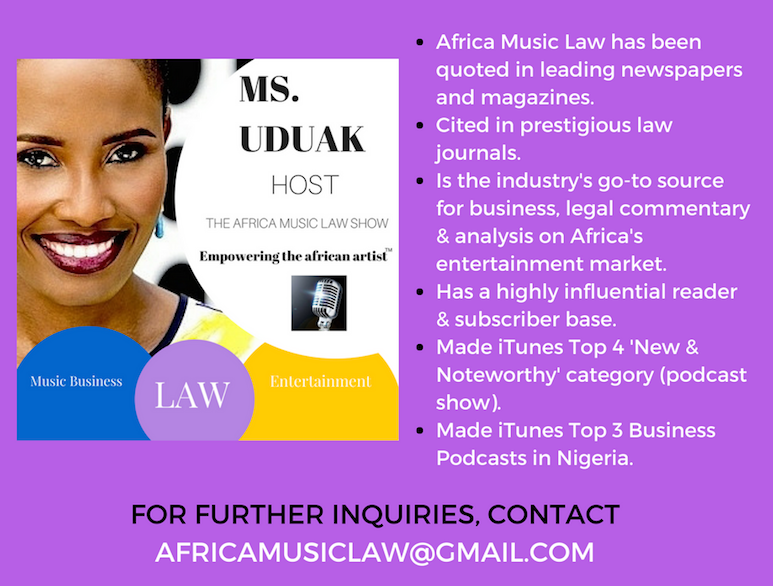 AFRICA MUSIC LAW™ (AML) is a pioneering music business and entertainment law blog and podcast show by Fashion and Entertainment Lawyer Ms. Uduak Oduok empowering the African artist and Africa's rapidly evolving entertainment industry through brilliant music business and entertainment law commentary and analysis, industry news, and exclusive interviews.
Credited for several firsts in the fashion and entertainment industry, Ms. Uduak is also a Partner and Co-Founder of Ebitu Law Group, P.C. where she handles her law firm's intellectual property law, media, business, fashion, and entertainment law practice areas. She has litigated a wide variety of cases in California courts and handled a variety of entertainment deals for clients in the USA, Africa, and Asia. Her work and contributions to the creative industry have been recognized by numerous organizations including the National Bar Association, The American University School of Law and featured in prestigious legal publications in the USA including ABA Journal and The California Lawyer Magazine. She is also an Adjunct Professor at the prestigious Academy of Arts University in San Francisco.
For legal representation inquiries, please email (uduak@ebitulawgrp.com). For blog related inquiries i.e. advertising, licensing, or guest interview requests, please email (africamusiclaw@gmail.com). Thank you for visiting Africa Music Law™.