Deejays Association of Nigeria (DJAN), in response to Terry G's assault and battery on one of their member DJs, has placed a nationwide ban on any DJ playing the recording artist's music. The association released a statement which you can read below. Terry G in turn has apologized for his actions. Let's see what happens.
-Ms. Uduak
" On Sunday the 5th of June 2016 at the Muson Center, Lagos State, Nigeria, a music/comedy show held and Terry G was not among the artiste billed to perform, he begged the organizers until he was told to perform for seven minutes, but he got on stage already tipsy and after about 18 minutes on stage insulting everyone, the organizers asked the DJ to play a different song by another artist, no sooner had the song began to play that Terry G descended on the DJ who was the head DJ of Jatt Incorporated".

"Beyond assault, The DJ sustained various degree of injury on his face, right in front of the Legendary Dj Jimmy Jatt. This type of violence and physical abuse is unacceptable.

"However, legal actions are on the way but after wide consultations and deliberations, the Deejays Association of Nigeria hereby place an 'EMBARGO' on all songs of Terry G, audio and video (including songs he featured in) indefinitely in all events, lounges, bar, radio and every other spot where it is the duty of a DJ to play music Nationwide", the statement read.
TERRY G's RESPONSE
It's so painful how things play out this days hearing from just one side. Am not here to paint myself good or perfect. Am only human and have feelings. Looking back to how this journey of my career started, it's been one issue or the other. The negative ones fly like wild fire while the positive ones is not as wild as the negative stories but all the same God has been faithful. I Terry G will be the last person to wanna ruin a colleagues event intentionally or want to hurt anybody. Good or bad i have contributed Negatively or Postively to the Nigerian music industry. My sincere apology to Nigerians number one DJ @djjimmyjatt for you have been a good leader in the Nigerian entertainment Industry ,I also extend my apology to Dj Phreez for my actions it was due to miscommunication and my sincere Apology to the DJS ASSOCIATION OF NIGERIA without you guys, my music will be a total #Nonesense
Subscribe to Our Podcast Show
Some of Our Achievements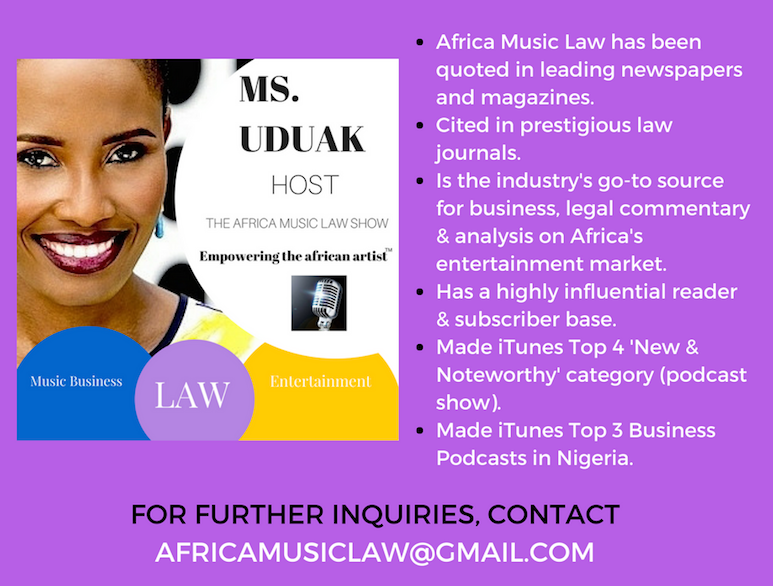 AFRICA MUSIC LAW™ (AML) is a pioneering music business and entertainment law blog and podcast show by Fashion and Entertainment Lawyer Ms. Uduak Oduok empowering the African artist and Africa's rapidly evolving entertainment industry through brilliant music business and entertainment law commentary and analysis, industry news, and exclusive interviews.
Credited for several firsts in the fashion and entertainment industry, Ms. Uduak is also a Partner and Co-Founder of Ebitu Law Group, P.C. where she handles her law firm's intellectual property law, media, business, fashion, and entertainment law practice areas. She has litigated a wide variety of cases in California courts and handled a variety of entertainment deals for clients in the USA, Africa, and Asia. Her work and contributions to the creative industry have been recognized by numerous organizations including the National Bar Association, The American University School of Law and featured in prestigious legal publications in the USA including ABA Journal and The California Lawyer Magazine. She is also an Adjunct Professor at the prestigious Academy of Arts University in San Francisco.
For legal representation inquiries, please email (uduak@ebitulawgrp.com). For blog related inquiries i.e. advertising, licensing, or guest interview requests, please email (africamusiclaw@gmail.com). Thank you for visiting Africa Music Law™.