According to the website Coded News Nigeria, Terry G allegedly showed up "very high" to perform at a show over the weekend. He got on stage, was allegedly "very high," and at some point lost control and became violent with the DJ.
Two years ago Terry G granted an interview to Ebuka Obi-Uchendu where he was asked about his substance abuse. His answer was essentially that "everyone does it." He just happened to be caught. He also said he abused hard drugs and was introduced to it by a popular actress. He claimed he overcame substance abuse and that he almost "ran mad." He also revealed there is a "big" and "rampant" drug problem in the industry, and that he was still smoking marijuana.
It appears Terry G may be suffering a relapse i.e. using hard drugs.
Just this past week, I was chatting with a friend about Nigeria's music industry. We both agreed the industry had evolved but I also told him we would begin seeing a lot of the issues that plague western music industries become even more visible in Nigeria's. I mentioned the industry should expect increased substance abuse, increased mental health issues, increased violence etc. Are we equipped to handle it? I don't think so.
Watch the embedded video clip to see part of Terry G's uncontrollable behavior. In addition, watch the clip from his 2014 interview.
-Ms. Uduak
"The incident took place yesterday, the 5th June 2016, during his performance at Comedian Bash's comedy show at the Muson Centre, Lagos. His song was allegedly turned off due to his 'misbehaviour' on stage and efforts to get him off stage proved abortive.

He was reportedly 'very high' and was cursing the audience after so much failed attempt to get their attention. He was quoted as telling the audience that: "We go all go hell fire", "Ogun go fire una", "Mother F*cker," etc, amidst falling on stage several times, as he tried to give an energetic performance.

At a point, people were telling him to go away. . . The DJ, who was said to be acting under instruction from the show organizers, put off Terry G's Music. When that couldn't get him off the stage, the DJ started playing Olamide's song "Durosoke" and this got him really angry. He reacted by unleashing a slap on the DJ's face before storming out of the venue."
Subscribe to Our Podcast Show
Some of Our Achievements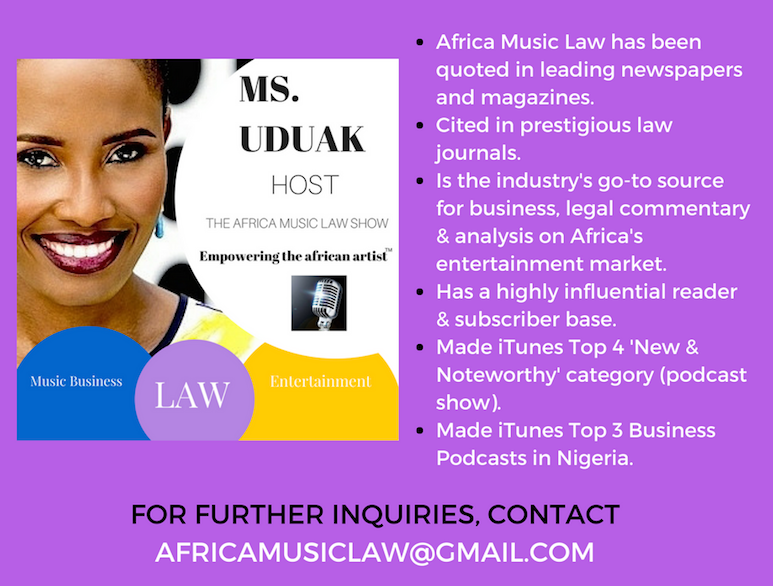 AFRICA MUSIC LAW™ (AML) is a pioneering music business and entertainment law blog and podcast show by Fashion and Entertainment Lawyer Ms. Uduak Oduok empowering the African artist and Africa's rapidly evolving entertainment industry through brilliant music business and entertainment law commentary and analysis, industry news, and exclusive interviews.
Credited for several firsts in the fashion and entertainment industry, Ms. Uduak is also a Partner and Co-Founder of Ebitu Law Group, P.C. where she handles her law firm's intellectual property law, media, business, fashion, and entertainment law practice areas. She has litigated a wide variety of cases in California courts and handled a variety of entertainment deals for clients in the USA, Africa, and Asia. Her work and contributions to the creative industry have been recognized by numerous organizations including the National Bar Association, The American University School of Law and featured in prestigious legal publications in the USA including ABA Journal and The California Lawyer Magazine. She is also an Adjunct Professor at the prestigious Academy of Arts University in San Francisco.
For legal representation inquiries, please email (uduak@ebitulawgrp.com). For blog related inquiries i.e. advertising, licensing, or guest interview requests, please email (africamusiclaw@gmail.com). Thank you for visiting Africa Music Law™.