Podcast: Play in new window | Embed
Subscribe: Apple Podcasts | Google Podcasts | Spotify | iHeartRadio | Stitcher | Email | RSS
At Africamusiclaw.com, we know legal drama. In fact, this has to be our middle initial on this blog and boy did we see so much legal drama this year. Two years ago, when Africamusiclaw.com was born, it was hard to find any legal stories focused on the entertainment industry. Now, my inbox is full and runneth over, and I am not complaining.
I'm happy, quite happy because I believe this is good for both the industry and society at large. I think entertainment combined with the law is a great advocacy tool to effectuate change in Nigeria's legal justice system and ultimately Africa's. Both, combined, become very effective medium for communicating to the masses the need for social, mental and infrastructural changes needed by Africans to resolve Africa's issues . Indeed, I am also noticing the rhetoric is beginning to change, slowly but surely, on and offline when Nigerians have disputes. Given Nigeria's dominance across the continent and it being the heart of Africa, I anticipate many within the continent will in future begin to look at our entertainment industries as a blue print of what to do/not do in their own industry sectors as well.
Accordingly folks, we wrap up our heavy coverage on AML for 2013 with our top six (6) most important legal fights in Nigeria's entertainment industry. These stories shaped the industry this year and will shape the future of the entertainment industry and society at large  in 2014 onwards.
1. Wizkid v. EME – BREACH OF CONTRACT  

We opened 2013 with an embittered legal battle between Wizkid, Banky W and E.M.E Entertainment (EME), a record label. Wizkid signed an alleged 7 album record deal with EME and was allegedly clueless as to what he was signing. 7 albums? WOW! Who does that? In 2013, Wizkid finally wised up, began having major issues with the deal and wanted out. While the trio (i.e. EME who  is a separate entity, included) never saw the insides of a courtroom, what followed was chaos that rocked the web, Africa's entertainment industry and fans alike. Here on Africamusiclaw.com, we had a lot to say on the issue including an exclusive insight and details of the alleged deal. It was also an opportunity to educate our artists-entrepreneur community on why a 7album contract deal was simply bad for Wizkid and any artist signing such a deal. To make the long story short,  it appears the Wizkid and Banky W teams  paid attention to what we had to say, went back to the drawing board and came up with a renegotiated deal they could all live with. Wizkid, however, did manage to launch  Starboy Entertainment label and sign new acts, including the talented UK producer Maleek Berry, before putting the beef aside with EME and Banky W.
Read all about the dispute here.
Watch Wizkid's Back to the Matter ft. Maleek Berry which he dropped during that brouhaha under Star Boy Entertainment. 2 Million hits later and the song is still being enjoyed by many on and offline.
2. MCSN v. NCC & COSON – LICENSING MCSN AS A COLLECTING SOCIETY


What an equally embittered nasty fight it has been all year long with two of Nigeria's collecting societies. Music Copyright Society of Nigeria (MCSN) was established in 1984. In 1995, it applied for a renewal of its license with the Nigerian Copyright Commission (NCC) but was rejected. From 1995 to 2005, it fought to have its license reinstated and in 2005, it got exactly what it wanted. In 2007, the NCC changed rules governing collecting societies. It also approved the Copyright Society of Nigeria (COSON), a new collecting society, and refused to renew MCSN's license. MCSN already used to fighting for what it wants, began to fight for its renewal, again.
In the meantime, COSON, through all its marketing efforts and campaign, painted MCSN as an illegal entity subverting and undermining the rule of law as to a collecting society in Nigeria. NCC seemed to agree with COSON. It raided MCSN's offices, arrested its executives and both COSON and NCC just plain had it out for MCSN. The problem is there was and are still case laws, through hard fought court room battles even as of 2013, ruling that MCSN is a legitimate and approved collecting society. To make the long story short, Nigerian legislators recently stepped in and have ordered NCC to reinstate MCSN's license as a collecting society. Going into 2014, all hands on deck to see where this really contentious legal battle takes us.
Read the details here.
3. CHOCOLATE CITY v. BYRMO – BREACH OF RECORDING CONTRACT


Probably one of the biggest, if not the biggest legal dispute, in 2013, out of Nigeria's entertainment industry has to be the Chocolate City v. Brymo breach of contract matter. This case has a direct impact and major implication on Nigeria's entertainment industry, especially where artists and record labels are concerned, and will be cited for many years to come, by entertainment law practitioners in Nigeria.
In a nutshell, this case involves an artist who signed a 3-4 album record deal with his label. The contract was to terminate in 2016. After a few years into the contract, the artist claims that the label was forcing him to go beyond the scope of the contract by branding the label's project with fellow label mates, a project called "ChocBoiz."
The artist only wanted to focus on direct projects as an artist signed to the label, not branding efforts of the label for the label. Instead of the artist to retain a lawyer and renegotiate his deal, he simply walked out on his (already signed) deal. While the label decided not to do anything, just yet, the artist became even more brazen entering deals with third parties including Spinlet, a new entrant in the digital distribution market space. The artist also launched his album, which under his contract, belongs to the label. With this blatant in your face moves, and all eyes on the label, the label responded with a lawsuit against the artist seeking an initial emergency injunction which immediately halted all of the artist's efforts with respect to his music. The label is now looking to stop the artist from dealing with third parties under the terms of the deal the artist signed with the label until 2016.
It is the first time, to my knowledge, this is happening in the industry and the powerful yet harsh move by the label has serious implications for the industry at large, if the label should prevail. ALL hands on deck on this one. The parties return to the courtroom in January 2014. Let's see what happens then.
Read the details here.
Hmmm . . things look a bit 'Down' right now for both parties, really and the industry.

Watch Brymo publicly admit he "dumped" his contract on national television.

4. IROKO PARTNERS/JASON NJOKU v. MICHAEL UGWU – BREACH OF EMPLOYMENT CONTRACT


This case was simply one of the biggest epic fails of 2013. While it is yet to make its way to the courtroom, the method used by IROKO executives Jason Njoku and Bastian Gotter to "fire" their CEO of IROKING showed a need for the industry to evaluate its labor and employment practices, as well as music business owners, as a whole, to evaluate use of media/public relations/and social media when it comes to the dissemination of legal stories; which are highly distinct from general buzzworthy news stories about a company's activities.
In a nutshell, IROKO Partners hired Ugwu almost two years ago as CEO of their music subsidiary IROKING. The business was allegedly not doing too well. Accordingly, the Partners decided they wanted to go a different direction. They approached Ugwu about working with their newly formed company, Spark, a venture capital company of some sorts investing in mostly tech startups in Nigeria. Ugwu declined and being privy to the fact that the duo, at the time, no longer sought to operate IROKING, began to set up operation of his own music company, I believe this is www.freemedigital.com. The services provided where parallel to IROKIING's.
A few weeks after Ugwu left the company, he was greeted with a press release in public accusing him of "gross misconduct"  and essentially stealing or competing against IROKING inconsistent with his employment contract. He was also allegedly "fired."Needless to say, Ugwu rebutted with substantiated evidence of tweeted conversations from IROKO co-founder and executive Bastian Gotter and other facts negating the allegation of "firing" and also revealed insider information on alleged crumbling infrastructure, laid off employees, among others. Other employees came forward about the internal infrastructural breakdown of IROKING and the low morale and company work culture. It was an ugly mess, one that still has legal liabilities looming over it based on the actions of company executives should Ugwu ever decide to move forward with civil claims against IROKO Partners.
In any event, the drama died down and Jason and his PR team came back and cleaned up nicely, in the press, with an announcement of raising $21million in total funding for their IROKO Partners. Let's see what the fellas at IROKO Partners do in 2014.
Read the details  of the legal brouhaha here.
Watch Michael Ugwu during the good old days at IROKING.
5. DON JAZZY v. WANDE COAL – COPYRIGHT INFRINGEMENT OF THE SONG BABY FACE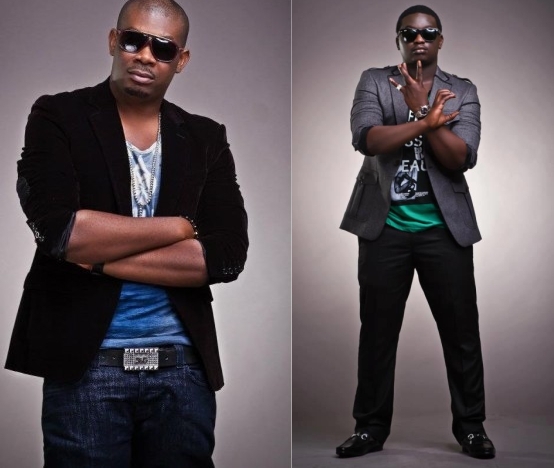 Michael Collins aka Don Jazzy recently won a legendary award from FlyTime TV for his contributions to Nigeria and Africa's entertainment industry. Indeed, it is well deserved and underscores the power and influence of a man who started the Mo'Hits era alongside his ex-best friend, D'Banj. After the falling out of Mo'Hits Records, Jazzy established Mavin Records and took some former label artists including Wande Coal with him. You would think Jazzy would apply some of the lessons learnt from Mo'Hits to Mavin. He did not. He wrote lyrics and produced sound recordings that he shared freely with his artists treating it like a biblical garden of eden style story. His oral contract was reduced to the following in essence, "you may eat everything in this garden except from the tree of life , the tree with the knowledge of good and evil," said Don Jazzy.
Well, Wande Coal took a page out of  Eve's actions, and ate a fruit from the tree with the knowledge of good and evil, despite the warnings from music god Don Jazzy. What ensued was a publishing of a song 'Baby Face' Coal claimed was his on the day Don Jazzy's hit music  video for his single, co-authored by Tiwa Savage, was released, "Eminado." To make the long story short, Don Jazzy went bananas on twitter accusing Wande Coal of stealing his Intellectual property and was very hurt.
Hurt feelings don't fix nada (nothing). Jazzy does not intend to sue but this case was important because it made it clear to the average Nigerian that Nigerian artists do really value intellectual property rights. It also created an actual discussion and an opportunity for AML to educate the public on copyright laws and the alleged infringement at issue. It will be interesting to see what 2014 brings.
Read the details of this brouhaha here.
One word from me to Don Jazzy, "SURULERE," thanks to Dr. Sid and Don Jazzy.
[audio:https://www.africamusiclaw.com/wp-content/uploads/2013/11/SURULERE-ft-Don-jazzy.mp3]
Watch Wande Coal's statements on the matter.

6. BON & IBAN v. COSON – ARTISTS BANNED OVER ALLEGED EXORBITANT LICENSING FEES 


We close out our list of important legal fights of 2013 in Nigeria's Entertainment industry with the huge dispute between the Broadcasters Organization of Nigeria (BON) and The Independent Broadcasters Association of Nigeria (IBAN) versus COSON. This case is significant for many reasons. First, it really has created a paradigm shift in the struggle for respect for the Nigerian artists' intellectual property works. Second, it underscores the interdependence of the music ecosystem showing us that we all need each other, and we all need to be on board with the protection and enforcement of our intellectual property rights to have a thriving music industry. Third, it creates opportunities for the legal justice system to begin carving Nigeria's modern intellectual property framework specific to the entertainment industry. Fourth, it underscores the need for well trained and informed entertainment lawyers who are equipped to deal with; and will have to deal with the complexities of a dynamic and fluid music and entertainment industry at large.
There is much to be said about this case. However, suffice it to say that in recent  times, the House of reps ordered a suspension of the ban by BON against our artists. All hands on deck. Let's see what 2014 brings.
In the meantime, read the details of the case here.
BANKY W ON BON, IBAN v. COSON

2FACE ON BON, IBAN v. COSON

AZEEZAT ON BON, IBAN v. COSON
WUNMI ON BON, IBAN v. COSON

That's it. What are your thoughts on these legal disputes?
Cheers,
Uduak