NBA v. Donald Sterling, Does the Punishment Fit the Crime
DRUMROLL PLEASE PEOPLE! THE BIG REVEAL IS HERE! It's here AML People, our new format going forward.
1. The website will in the next few weeks become a membership (free) site. Articles will still be accessible to all. However, make no mistake about it, I am focused on building a solid AML community of industry heads and artists. That is what I intend to focus the rest of my 2014 on.
2. For substantive law coverage of breaking legal issues in the music and entertainment industry at large, expect it, going forward, in a Podcast format. I decided to take the Podcast thing seriously as it offers the best solution for my schedule and it allows me to continue to share insightful and valuable content with you. African radio stations and OAPs, including Nigeria, you have my permission to share my work on your platforms as liberally as you like. I also look forward to having some of you on my show.
3. Finally, I had the P-Square breakup story all ready to go but decided to push out this story instead, especially since I am waiting for my mini-studio equipment to still arrive. 🙂 I am excited! Check on the official podcast, tell me what you think, and it can only get better.
Special shout out to ADAKU, go cop her album if you haven't already. A special shoutout also to Kidkonnect, thank you to both artists who are featured in this Episode. AML artists I have tons of your work you have sent. I will be reaching out periodically if there is a fit for interviews with you all and of course to share your talents with the world as well.
Cheers,
Uduak
—–
Does the punishment fit the crime or is it too harsh? Fashion and Entertainment Lawyer and legal blogger Ms. Uduak takes on the interesting legal issues in this case. L.A. Clippers Donald Sterling is caught making racist remarks in the privacy of his home with his mistress. The conversation is recorded, it is alleged illegally, but the NBA uses the illegally obtained statements to ban Sterling for life from the NBA Clippers, fine him $2.5 Million and is looking to force him to sell his ownership in the LA Clippers. Does the Punishment fit the crime or is it too harsh?

Subscribe to Our Podcast Show
Some of Our Achievements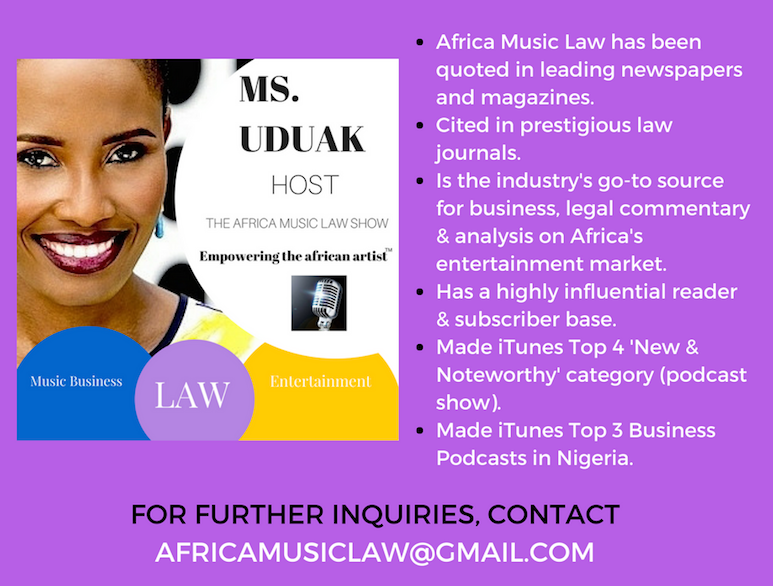 AFRICA MUSIC LAW™ (AML) is a pioneering music business and entertainment law blog and podcast show by Fashion and Entertainment Lawyer Ms. Uduak Oduok empowering the African artist and Africa's rapidly evolving entertainment industry through brilliant music business and entertainment law commentary and analysis, industry news, and exclusive interviews.
Credited for several firsts in the fashion and entertainment industry, Ms. Uduak is also a Partner and Co-Founder of Ebitu Law Group, P.C. where she handles her law firm's intellectual property law, media, business, fashion, and entertainment law practice areas. She has litigated a wide variety of cases in California courts and handled a variety of entertainment deals for clients in the USA, Africa, and Asia. Her work and contributions to the creative industry have been recognized by numerous organizations including the National Bar Association, The American University School of Law and featured in prestigious legal publications in the USA including ABA Journal and The California Lawyer Magazine. She is also an Adjunct Professor at the prestigious Academy of Arts University in San Francisco.
For legal representation inquiries, please email (uduak@ebitulawgrp.com). For blog related inquiries i.e. advertising, licensing, or guest interview requests, please email (africamusiclaw@gmail.com). Thank you for visiting Africa Music Law™.