Nigeria's Legal System
An important thing to know for all una olodos 🙂 out there is Nigeria's court system and legal structure, especially now that you might graduate into another level of success once you sign your contract with a label or vice versa.
Nigeria's Legal Structure
1. Federal Law & Courts– Like the USA, there is a federal law of the land and federal system that applies throughout the country.
2. State Law & Courts- Also like the USA, each state has its own state laws and courts that hear matters.
3. Customary Laws – Unique to Nigeria's court system is the dual existence of its English and Customary laws. Islamic and Sharia laws are examples of customary law.
Where Does Nigerian law come from?
Nigeria's constitution
Nigerian statutes (law) through its legislature
English laws (i.e. common law, doctrines of equity etc)
Customary law (Islamic and Sharia laws included)
Judicial precedent – This is usually a judgment of a court of law cited as an authority for deciding a similar set of facts. It is typically binding.
How Does Nigeria's Court System Look in Order of Importance?
1. The Supreme Court of Nigeria – highest court of the land. Compare it to the United States Supreme Court. All decisions are binding on the land.
2. The Court of Appeals – Hears Appeals from the high courts, Sharia and customary court of appeals.
3. Federal High Courts and High Courts of States
4. Sharia Court of Appeals and Customary Court of Appeals
5. Magistrates and District Courts
6. Customary, Area and Sharia Courts
Alright, a lot to digest but you can do it! Print this out, bookmark it and when you are done, GO MAKE IT happen! Have a great week ahead.
For more info./reference on Nigerian Legal System visit NYU Law Global. http://www.nyulawglobal.org/globalex/nigeria.htm
Subscribe to Our Podcast Show
Some of Our Achievements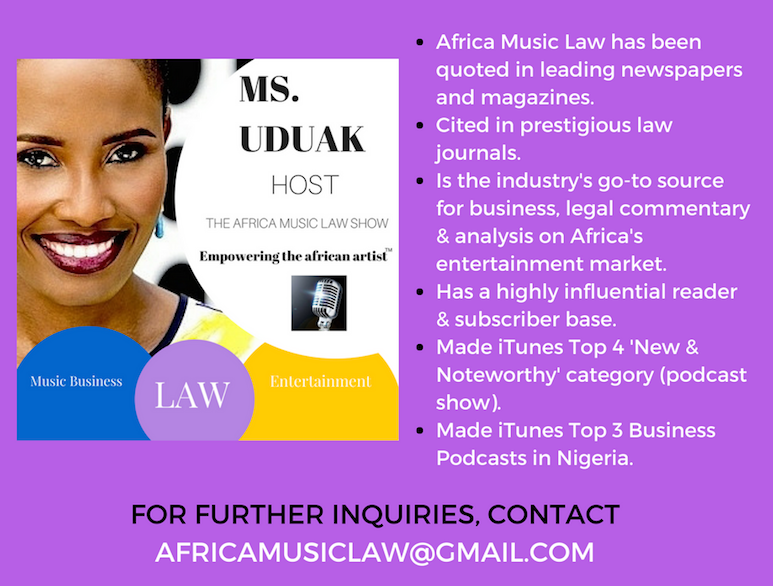 AFRICA MUSIC LAW™ (AML) is a pioneering music business and entertainment law blog and podcast show by Fashion and Entertainment Lawyer Ms. Uduak Oduok empowering the African artist and Africa's rapidly evolving entertainment industry through brilliant music business and entertainment law commentary and analysis, industry news, and exclusive interviews.
Credited for several firsts in the fashion and entertainment industry, Ms. Uduak is also a Partner and Co-Founder of Ebitu Law Group, P.C. where she handles her law firm's intellectual property law, media, business, fashion, and entertainment law practice areas. She has litigated a wide variety of cases in California courts and handled a variety of entertainment deals for clients in the USA, Africa, and Asia. Her work and contributions to the creative industry have been recognized by numerous organizations including the National Bar Association, The American University School of Law and featured in prestigious legal publications in the USA including ABA Journal and The California Lawyer Magazine. She is also an Adjunct Professor at the prestigious Academy of Arts University in San Francisco.
For legal representation inquiries, please email (uduak@ebitulawgrp.com). For blog related inquiries i.e. advertising, licensing, or guest interview requests, please email (africamusiclaw@gmail.com). Thank you for visiting Africa Music Law™.