What do you do if you are Jay-Z and your face has become synonymous with Tidal, a western global music and entertainment streaming platform that you co-own with other leading American artists? What do you do when your association with Tidal is plagued, at least in the press, by millions in lost revenue, high CEO turnover rates, stakeholder complaints and fraud investigations for allegedly manipulating streaming numbers, allegations of late payments to record labels, and overall lack of faith in the ability of your company to survive?
If you are Jay-Z et al., you look to Africa. You look to the motherland with over a billion people for hope. First, you send your cousin to survey the land, next you have him and other representatives spend a few years conducting market research to understand how to best penetrate and gain a huge part of the lion share of the continent's music and entertainment streaming market. And, when it becomes clear you can't directly corner the streaming market share because you are frankly late to the game, you focus on building true rapport with indirect competitors who have a stronghold on your targeted market. When you feel confident about the strides you have made, then you partner up.
This is the gist of the latest partnership move by Tidal with MTN, a South Africa-based multinational mobile telecommunications company, operating in many African, European and Asian countries. Jay-Z's Tidal as part of the partnership deal struck begins with providing Tidal streaming services to citizens of countries like Uganda and Nigeria with very youthful populations.
It is a very smart move, one that could pay huge dividends for a long time, and have him tell his haters where to go. Now all eyes are really on Jay-Z, because Sony who has been trying to broker a relationship with MTN, among others, through their West African General Manager Michael Ugwu, is yet to do so. Also, Universal Music Group, who is relatively late to the game, is only now dipping its feet in Africa's entertainment waters.
While the verdict is still out on how the Jay-Z-MTN partnership will pan out, what about those local African streaming companies you ask? The truth is there are no locally owned successful African streaming companies, per se. The companies you think are owned by Africans are actually owned by Indians, Chinese, Americans, and Europeans.
Is that a bad thing? It depends is the best response. The question is, what is the net effect on Africa's entertainment economy and its GDP? Whose music are these foreign global brands streaming in Africa? Africa has a few global music superstars but North America, Europe, and Latin America have a lot, and often times, these platforms are streaming their own music, not that of Africans. In addition, in the event they do stream African musicians, the compensation/licensing fee is about an 80/20 cut, with 20 for the artist and his/her team to split.
It is interesting times and interesting to see what was an inevitable shift from no interest by Westerns in the continent's entertainment industry and its youth population, except of course the telecommunications companies, to a new interest, thanks to media and technology.
This is when it becomes important for Africa's own deal makers to step to the forefront and ensure its citizens and industry stakeholders do not get the short end of the stake.
See recent press statement from TIDAL and MTN.
-Ms. Uduak
TIDAL and MTN Announce Trailblazing Partnership Bringing Pioneering Music and Video Streaming Service to Millions of Customers Across Africa, Starting with Uganda
"…Global music and video streaming platform, TIDAL in partnership with the leading communications operator in Uganda offering mobile & fixed telecommunications, MTN Uganda, have today announced an exciting, first-of-its kind collaboration.
The partnership provides MTN Uganda customers a variety of options for a data-inclusive TIDAL membership as part of their mobile plan to gain access to exclusive high-quality streaming music, videos, concerts and more.
"Africa is a continent that has long been an inspiration for music heard around the world and TIDAL is excited to highlight the vibrant musicians on our platform. TIDAL is also thrilled to bring a new wave of digital music to Uganda as part of this collaboration," said Lior Tibon, COO TIDAL.
The partnership, launched in Uganda but set to be rolled out in other MTN operations across Africa comes with an array of membership options where customers can tap into one, three, seven and 30-day memberships, all of which include data and a free 30-day trial for all first-time members.
On the importance of MTN's partnership with TIDAL artist-owner Damian Marley noted:
"I remember hearing stories about my father's records being destroyed once they got to Africa. They didn't want the people to hear the message in the music. What a beautiful day it is now when Africa will not only have access to my family's music but to all music that exists."
Speaking about the launch of the partnership, Jason Kpana, SVP Artist & Label Relations, shared:
"I'm really looking forward to connecting with Uganda's musicians and helping to bring the TIDAL music streaming experience to fans across the country. We know MTN customers will love the diverse playlists, livestreams, videos and original content available on TIDAL."
The content on TIDAL offers a deeper look into not only the repertoire of artists, but the music that inspires the work they do. Editors across the globe showcase the hottest tracks across all genres and create soundtracks for key cultural moments – life, death, civil revolutions, works of literature, and movies that have caught the cultural zeitgeist.
In celebration of the Ugandan music industry and the start of a digital music revolution, TIDAL and MTN Uganda announced advanced plans in organizing an exclusive Collaboration Conference and 'The MTN TIDAL Experience' which will be held on 27 and 28 September respectively. MTN Uganda Chief Marketing Officer, Olivier Prentout, gave more details about it:
"The Collaboration Conference will exclusively be attended by artists, music producers and promoters. The conference aims to bring artists together to learn about the evolution of the music industry across the globe and how to expand locally along with the help of TIDAL. Following the conference, 'The MTN TIDAL Experience', featuring dancehall artist Kranium, will be for a select group of fans. Other confirmed performers include Nigeria's DJ Spinall, our very own Beenie Gunter and local DJs are set to host the experience which will be held at the MTN Headquarters."
"At MTN we believe that everyone deserves the benefits of a modern, connected life. This partnership with TIDAL further demonstrates our strategic vision to lead the delivery of a bold, new digital world to our customers by making music more available on their smartphones. One product innovation MTN will add to the TIDAL subscriptions is the inclusion of data. MTN subscribers will be given the choice between daily, weekly and monthly packages payable only via Mobile Money (MoMo)," added Olivier."
Subscribe to Our Podcast Show
Some of Our Achievements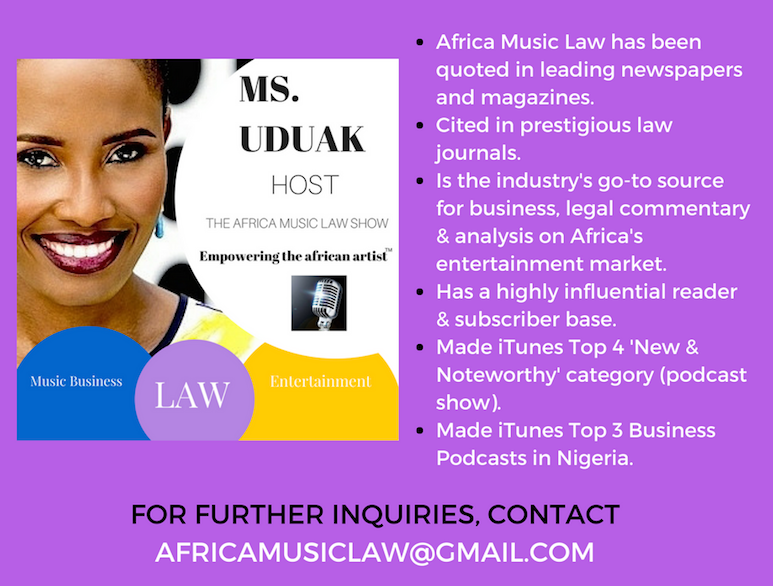 AFRICA MUSIC LAW™ (AML) is a pioneering music business and entertainment law blog and podcast show by Fashion and Entertainment Lawyer Ms. Uduak Oduok empowering the African artist and Africa's rapidly evolving entertainment industry through brilliant music business and entertainment law commentary and analysis, industry news, and exclusive interviews.
Credited for several firsts in the fashion and entertainment industry, Ms. Uduak is also a Partner and Co-Founder of Ebitu Law Group, P.C. where she handles her law firm's intellectual property law, media, business, fashion, and entertainment law practice areas. She has litigated a wide variety of cases in California courts and handled a variety of entertainment deals for clients in the USA, Africa, and Asia. Her work and contributions to the creative industry have been recognized by numerous organizations including the National Bar Association, The American University School of Law and featured in prestigious legal publications in the USA including ABA Journal and The California Lawyer Magazine. She is also an Adjunct Professor at the prestigious Academy of Arts University in San Francisco.
For legal representation inquiries, please email (uduak@ebitulawgrp.com). For blog related inquiries i.e. advertising, licensing, or guest interview requests, please email (africamusiclaw@gmail.com). Thank you for visiting Africa Music Law™.