UPDATE: Entertainment Law Roundtable discussion on Tiwa's response.
[audio-clammr mp3="http://traffic.libsyn.com/africamusiclaw/AML078TiwaSavageStarttoTalk.mp3″]

________________________
Less than 24hours after the attempted suicide of Tiwa Savage's husband T-Billz, the Nigerian-American R&B singer reveals in a tell all situation very in-depth and personal information about her reality with T-Billz. Some highlights of the interview:
She said T-Billz was stealing from her which caused her to fire him as her manager. She says he became broke after the firing.
She said he was cheating on her and the breaking point was when she got pregnant again and unfortunately lost the baby. She later found out that he was cheating on her. She also found out he has yet another child he fathered in Nigeria during their marriage.
She said she discovered him using cocaine in their home. She said he was emotionally abusive to her. She also says he has tried getting help but does not seem to want to change.
She said he likes to keep up with the Joneses and lived an extravagant lifestyle he could not afford.
She said her brother called her saying T-Billz was in trouble because he borrowed 45Million Naira and could not pay; and the Economic & Financial Crimes Commission (EFCC) are also involved and his debtors after him.
She said she has been covering up for him for a long time and he has never spent "One Naira" on their child.
She said she has never cheated on him and he was jealous of her success. "I will say for the record I have never cheated on my husband, never, not with Don Jazzy, not with Dr. Sid, not with 2face, not with anybody. I am willing to take a lie detector test."
She said pressure made her marry even though she saw the red flags and many people warned her but she also could care less about being married at this point. "I don't care at this point if I don't ever get married again."
My Take? Too Premature. Off the hook. I have never seen anything like this. Tiwa's husband just tried to jump off a bridge less than 24hours ago.
I discussed yesterday how this should have been handled, through my guest on the podcast show with experience counseling families in similar crisis. Nigerians do not know how to handle issues like these. Listen to the podcast episode.
[audio-clammr mp3="http://traffic.libsyn.com/africamusiclaw/AML077TiwaSavageMarriageCrisis.mp3″]
-Ms. Uduak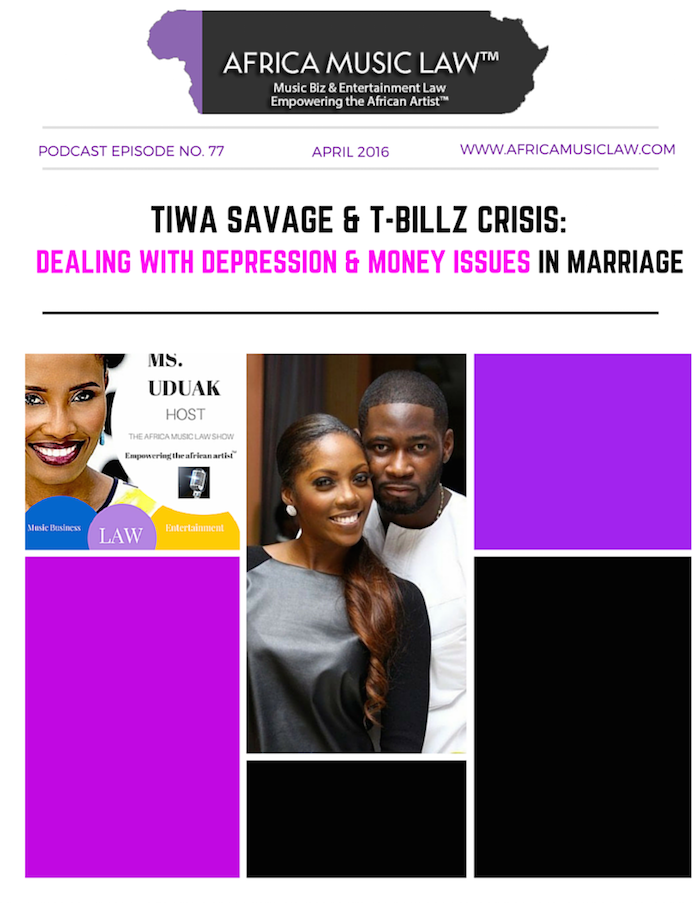 Mental Health Resources
Subscribe to Our Podcast Show
Some of Our Achievements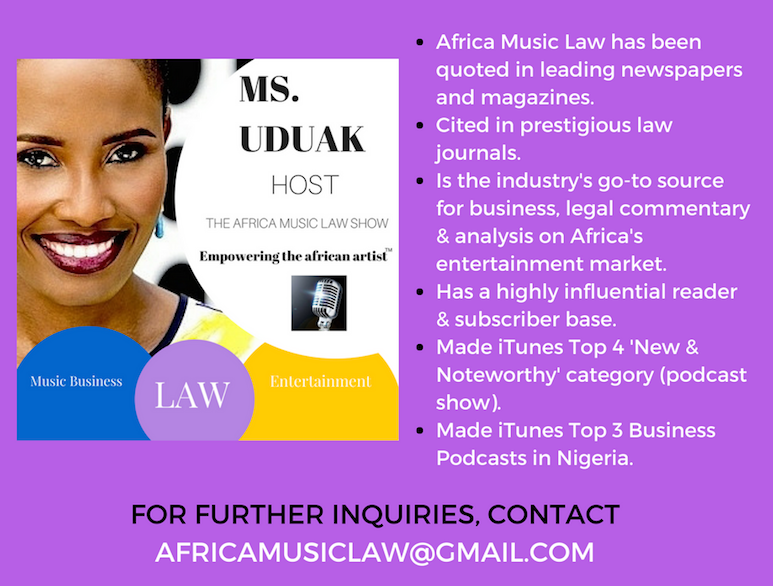 AFRICA MUSIC LAW™ (AML) is a pioneering music business and entertainment law blog and podcast show by Fashion and Entertainment Lawyer Ms. Uduak Oduok empowering the African artist and Africa's rapidly evolving entertainment industry through brilliant music business and entertainment law commentary and analysis, industry news, and exclusive interviews.
Credited for several firsts in the fashion and entertainment industry, Ms. Uduak is also a Partner and Co-Founder of Ebitu Law Group, P.C. where she handles her law firm's intellectual property law, media, business, fashion, and entertainment law practice areas. She has litigated a wide variety of cases in California courts and handled a variety of entertainment deals for clients in the USA, Africa, and Asia. Her work and contributions to the creative industry have been recognized by numerous organizations including the National Bar Association, The American University School of Law and featured in prestigious legal publications in the USA including ABA Journal and The California Lawyer Magazine.
For legal representation inquiries, please email (uduak@ebitulawgrp.com). For blog related inquiries i.e. advertising, licensing, or guest interview requests, please email (africamusiclaw@gmail.com). Thank you for visiting Africa Music Law™.