Ebro, New York's popular media executive, presenter and radio host, welcomed Tiwa Savage, a couple of days ago, to his Beats1 Apple Music show for an interview. During the show, Ebro made the assertion that Tiwa Savage was "the most popular artist on the continent of Africa." Savage however corrected him and modified the statement to "female artist."
Savage however felt she came across as cocky but Ebro was quick to remind her there was nothing cocky about her statement, and that she had earned it. Ebro also played Tiwa's song 'Keys to the City' off her R.E.D. album which he had previously premiered in a prior show. Excerpts from some of what was discussed follows:
Regarding her view on African music:
"When we speak of Africa, we have to always remember that it is a continent. [S]o you have South Africa, East Africa, West Africa, North Africa, and it's just a huge continent with different cultures, and different languages. So right now, the prominent music out of Africa seems to be Afrobeat or Afropop… Essentially it's just music with African elements. Whether it be the rhythm, or maybe the native language. As long as you can have one or two of those, then it tends to be associated with Africa..."
Regarding her music publishing deal with Sony Music:
"I grew up in the U.K. as well, and it wasn't cool to be African. I used to be bullied and stuff. When you go to clubs in Africa, they would play hip-hop 90%, and maybe 10% African music. Now it is literally the other way round. So it's a great thing that Africans in the diaspora are listening to African music.
I have been recording music for 8 years, I am signed to Sony/ATV as well, so I wrote a couple of records out here, so I co-wrote 'A couple of forevers' for Chrisette Michelle, 'Collard & Greens' for Fantasia. So I have been writing for a long time. Now I am focused on Afrobeat."
Regarding her deal with Jay-Z and Roc Nation:
I met BeeHigh, I got a call, and he mentioned it and I…he was serious. I don't know if it you've ever met him, but he is serious…and I love the fact that they are not trying to change me. They really just want to bring what I already have to offer to the rest of the world, and they truly believe in the movement. So yeah, I'm really excited about it.
The reason why we did not really make too much noise about it is because a lot of people come over from Africa and they say they've got this deal and that deal, and then nothing happens. We just wanted to do it the proper way, get it official. I didn't want to do that to my people. I wanted them to really believe that it was really happening, so we wanted to wait for the right time, and the time is now."
___________
"Apple Music includes Internet radio stations curated by famous artists. Beats 1, the first station, plays continuously in 100 countries and is staffed by former BBC Radio 1 DJ Zane Lowe, hip hop DJ Ebro Darden, and Julie Adenuga. A third feature, Connect, is a blog platform where artists share media with fans." – Wikipedia
LISTEN TO THE FULL INTERVIEW (AUDIO)

WATCH CLIPS OF HER APPEARANCE

Subscribe to Our Podcast Show
Some of Our Achievements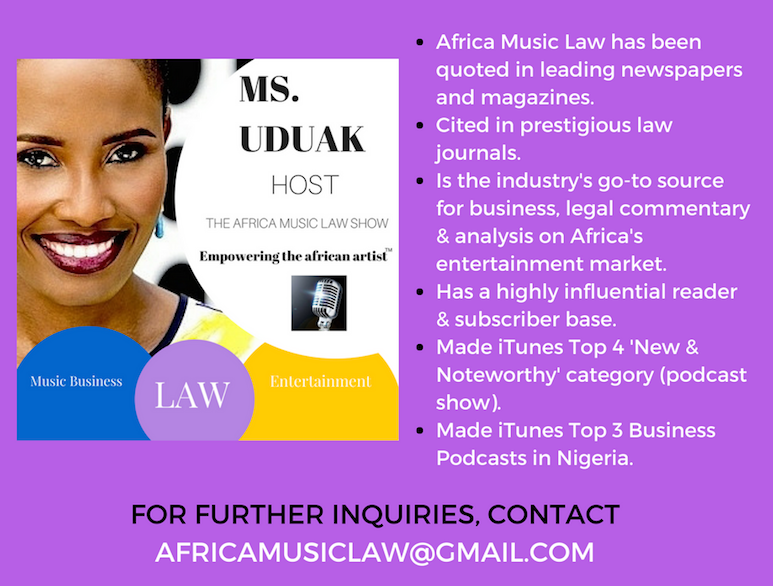 AFRICA MUSIC LAW™ (AML) is a pioneering music business and entertainment law blog and podcast show by Fashion and Entertainment Lawyer Ms. Uduak Oduok empowering the African artist and Africa's rapidly evolving entertainment industry through brilliant music business and entertainment law commentary and analysis, industry news, and exclusive interviews.
Credited for several firsts in the fashion and entertainment industry, Ms. Uduak is also a Partner and Co-Founder of Ebitu Law Group, P.C. where she handles her law firm's intellectual property law, media, business, fashion, and entertainment law practice areas. She has litigated a wide variety of cases in California courts and handled a variety of entertainment deals for clients in the USA, Africa, and Asia. Her work and contributions to the creative industry have been recognized by numerous organizations including the National Bar Association, The American University School of Law and featured in prestigious legal publications in the USA including ABA Journal and The California Lawyer Magazine.
For legal representation inquiries, please email (uduak@ebitulawgrp.com). For blog related inquiries i.e. advertising, licensing, or guest interview requests, please email (africamusiclaw@gmail.com). Thank you for visiting Africa Music Law™.