Nigerian pop star Tiwa Savage was invited last Saturday to perform, alongside fellow musicians Demarco (Jamaican dancehall), and Khaligraph Jones (Kenyan hip-hop), at the launch of Redsan's fifth studio album titled Baddest. Redsan is Kenya's leading dancehall artist.
It is unclear who the specific promoter is that bought her live performance services in Kenya. What we do know is that this Monday, after Tiwa's performance at the venue over the weekend, Carnivore Grounds to be more specific, she took to social media, to share that she was stranded with unpaid hotel bills, and lack of transporation for herself and her crew to the airport. Her statement follows:
"Checking out of the hotel and full accommodation not paid for, no car to take us to the airport and promoters want to talk trash about artists."
"Funny how everyone is asleep and phones are off after the show but they blow up your phone when they need you for radio and press runs before the show."
So, a simple question is, who is Tiwa's tour manager? Tiwa is not new to the concert promotion and touring business, as an artist. Pre-concert, as part of any live performance agreement she signed (if she signed one), she should be doing radio and press runs. That is expected of her and is her job, unless the promoter(s) failed to include such clause. But, after the concert, why is she left with the burden of figuring out travel, lodging, and transporation?
Where is her tour manager who would or should have been responsible to sort out the aforementioned logistics prior to the concert, and definitely while she is experiencing problems with the arrangements?
Also, she says the promoters did not pay for "full accomodation." The event ended on Saturday. Was the agreement that she and her crew stay two extra nights in the hotel rather than say one extra night i.e. until Sunday? Either way, her tour manager should be at the forefront of these issues and dealing with the headache, not Tiwa.
-Ms. Uduak
Subscribe to Our Podcast Show
Some of Our Achievements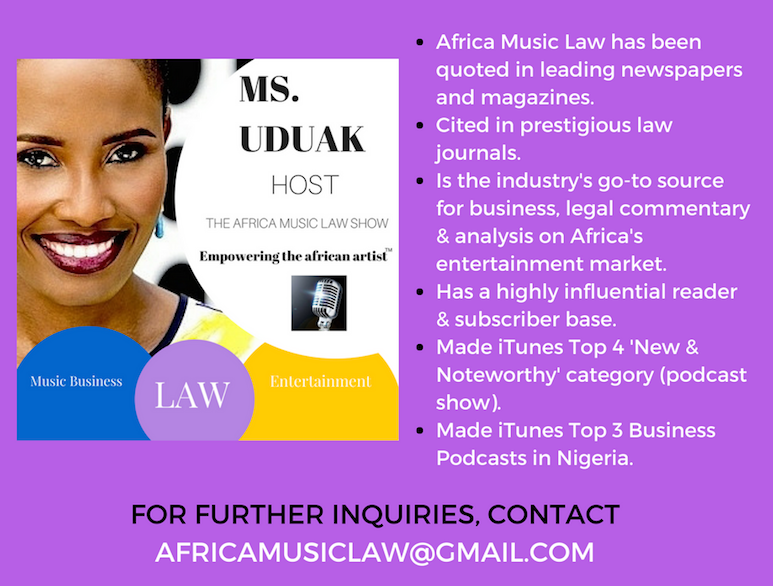 AFRICA MUSIC LAW™ (AML) is a pioneering music business and entertainment law blog and podcast show by Fashion and Entertainment Lawyer Ms. Uduak Oduok empowering the African artist and Africa's rapidly evolving entertainment industry through brilliant music business and entertainment law commentary and analysis, industry news, and exclusive interviews.
Credited for several firsts in the fashion and entertainment industry, Ms. Uduak is also a Partner and Co-Founder of Ebitu Law Group, P.C. where she handles her law firm's intellectual property law, media, business, fashion, and entertainment law practice areas. She has litigated a wide variety of cases in California courts and handled a variety of entertainment deals for clients in the USA, Africa, and Asia. Her work and contributions to the creative industry have been recognized by numerous organizations including the National Bar Association, The American University School of Law and featured in prestigious legal publications in the USA including ABA Journal and The California Lawyer Magazine. She is also an Adjunct Professor at the prestigious Academy of Arts University in San Francisco.
For legal representation inquiries, please email (uduak@ebitulawgrp.com). For blog related inquiries i.e. advertising, licensing, or guest interview requests, please email (africamusiclaw@gmail.com). Thank you for visiting Africa Music Law™.