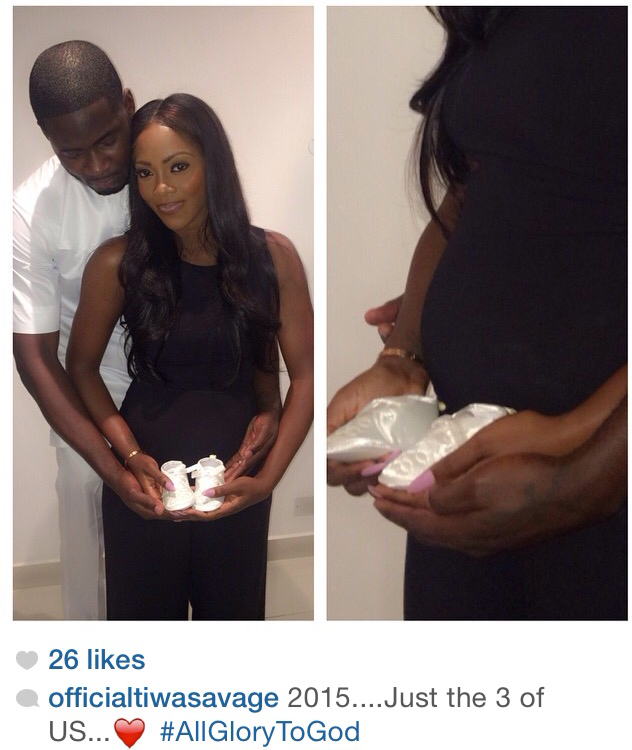 2015 opened with beautiful news from Tiwa Savage and her music manager husband T-Billz that they where expecting a baby. It is the couple's first child together. Now, for loyal "superfans" of AML, you know we called this mid last year in 2014 in podcast episode number 5. In addition, in that podcast episode,  the main topic was on Tiwa Savage's video 'Wanted' and the need for her to think about the fact that she could and most likely would start a family soon, strategize, and avoid diluting her powerful brand; which we felt her 'Wanted' video was doing.
In any event, Tiwa is now pregnant and this is great news, but of course. However, we haven't enjoyed the luxury of seeing any female music  star, in Nigeria's contemporary music industry, rise to the top, stay there, get pregnant, have her baby, come back and still stay at the top of her game. We haven't even had a woman reach that pinnacle to begin with.
In the USA, it happens all the time. From Beyonce to Alicia Keys, Ciara to Kelly Rowland, we can cite numerous stars where having a baby is seriously no big deal, it is great news and they can move on and show up "Yonce'ing" on the world with mega moves and hits.  This is a first for Nigeria. To me, it is exciting but how will Nigeria's entertainment industry handle it? Are we able to still continue to hire Tiwa for live performances? Have her as brand ambassador and even expand into home care products, much like Kate Henshaw does or will this be the end of Tiwa Savage's mega career as we know it? I am hoping it is the former.
I am curious to observe and watch what happens. Career goals do change when babies come into the picture. In addition, depending on each woman and/or their finances, some may prefer or can afford to stay home for the utmost important job of raising their babies for the first few years; while others just do better raising their babies and doing the work juggle.  I do note Nigerian women in Nigeria are so lucky because unlike their counterparts in the USA or the UK, they can summon an army of help to allow them the luxury of being able to still run successful businesses or pursue their professional careers, barring any other hindrances.
By the way look who is on the cover of Blanck Digital Magazine?
Cheers,
Uduak
AML 005: From 'Love Me x3′ to "Sex Me x3″ Because I'm 'Wanted,' Is Tiwa Savage Gambling Away Her Career?
Start at the 35min Mark.
Also watch the video below starting at the 26:00min mark where Tiwa is discussed as one of the top 10 artists in 2014; and what she needs to do to stay on top in 2015.