Tiwa Savage has had a successful year, amidst a lot of controversies especially with her appearance as the featured love interest in Wizkid's music video (MV) 'Fever.' Tiwa's appearance in that video made no sense at all but that is a story for a different day.
What I am curious about is her latest music video 'One'. The song is great but the audiovisual I find to be bizarre. For a positive happy song, I am wondering why she seems to be the only real happy one in the video.
The hook of the song basically says when you count those who have been blessed this year, I am one of them.
"If you ask who has bought a new house, I am one of them."
"If you ask who bought a new car, I am one of them."
"If you ask me who has good fortune, I am one of them."
The opening scene sees Tiwa visiting family in the village. It appears only the women who play her mom/aunties are genuinely happy to see her. While there are a few smiles here and there, the rest of the video gives us a melancholy feel that doesn't match the lyrics or happiness of the song, and most of the extras she used seem just so sad.
What happened to the music video director, and what was Tiwa trying to convey?
-Ms. Uduak
Subscribe to Our Podcast Show
Some of Our Achievements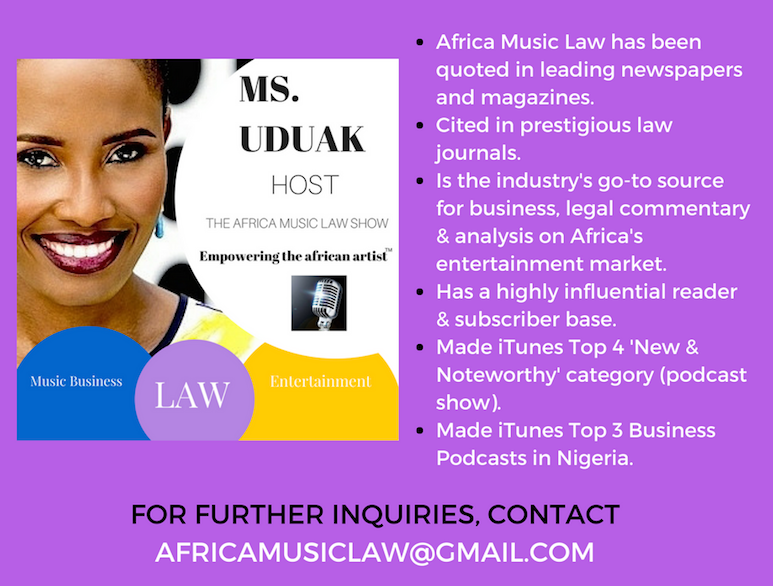 AFRICA MUSIC LAW™ (AML) is a pioneering music business and entertainment law blog and podcast show by Fashion and Entertainment Lawyer Ms. Uduak Oduok empowering the African artist and Africa's rapidly evolving entertainment industry through brilliant music business and entertainment law commentary and analysis, industry news, and exclusive interviews.
Credited for several firsts in the fashion and entertainment industry, Ms. Uduak is also a Partner and Co-Founder of Ebitu Law Group, P.C. where she handles her law firm's intellectual property law, media, business, fashion, and entertainment law practice areas. She has litigated a wide variety of cases in California courts and handled a variety of entertainment deals for clients in the USA, Africa, and Asia. Her work and contributions to the creative industry have been recognized by numerous organizations including the National Bar Association, The American University School of Law and featured in prestigious legal publications in the USA including ABA Journal and The California Lawyer Magazine. She is also an Adjunct Professor at the prestigious Academy of Arts University in San Francisco.
For legal representation inquiries, please email (uduak@ebitulawgrp.com). For blog related inquiries i.e. advertising, licensing, or guest interview requests, please email (africamusiclaw@gmail.com). Thank you for visiting Africa Music Law™.