Earlier today, crisis rocked Nigeria & Africa's entertainment industry when the husband of Nigerian American R&B megastar Tiwa Savage allegedly took to instagram to accuse her of infidelity and threaten suicide. Shortly after, media reports claim he actually attempted to commit suicide by jumping off a bridge but luckily his industry colleagues who were made aware of his threats; among others, saved him. He is now allegedly safe and with loved ones.
In this 77th episode of The Africa Music Law Show, host Ms. Uduak invites a fellow attorney and industry colleague with family law and counseling experience to provide insights on dealing with depression, money issues and other issues in marriage. Please also find mental health resource below.
[audio-clammr mp3="http://traffic.libsyn.com/africamusiclaw/AML077TiwaSavageMarriageCrisis.mp3″]
EPISODE PREVIEW
Dealing with mental health issues in marriage and the home.
Dealing with money issues in the home.
Dealing with role changes in a marital relationship.
Dealing with cultural issues when marital roles change.
Dealing with accusations of infidelity.
Crisis management.
Getting help.
Mental Health Resources
About The Africa Music Law Show with Ms. Uduak
Hosted by California based Fashion & Entertainment Lawyer Uduak Oduok (Ms. Uduak), The Africa Music Law show is a show empowering the African artist through brilliant music business and entertainment law commentary and analysis, industry news, and exclusive interviews. The show has been downloaded over 100,000 times and made iTunes top 4 'New & Noteworthy.' Subscribers include Africa & hollywood's power executives, investors, lawyers, artists and other industry stakeholders. The blog itself has been cited in a U.S. top-ranked law school's 'International Law Review' journal. Country demographic: Nigeria (26%), USA (23%), UK (15%), UAE (7%), and Other (29%).
[spp-transcript]
Subscribe to Our Podcast Show
Some of Our Achievements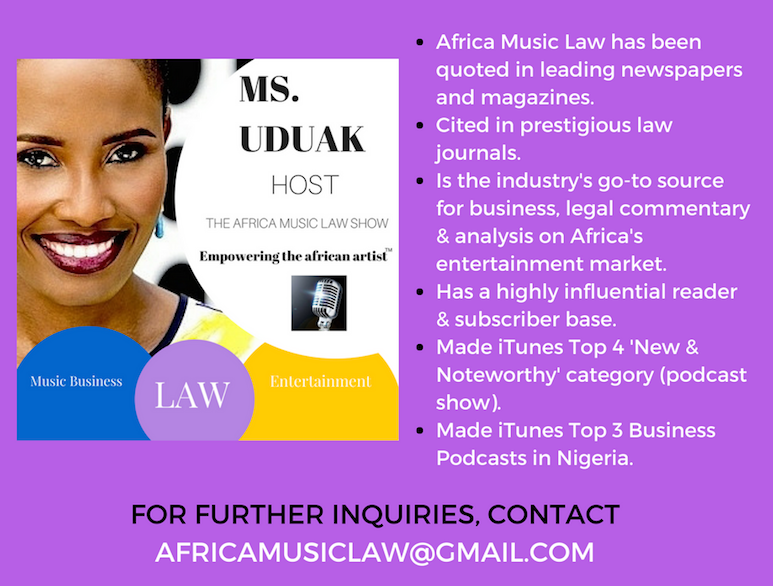 AFRICA MUSIC LAW™ (AML) is a pioneering music business and entertainment law blog and podcast show by Fashion and Entertainment Lawyer Ms. Uduak Oduok empowering the African artist and Africa's rapidly evolving entertainment industry through brilliant music business and entertainment law commentary and analysis, industry news, and exclusive interviews.
Credited for several firsts in the fashion and entertainment industry, Ms. Uduak is also a Partner and Co-Founder of Ebitu Law Group, P.C. where she handles her law firm's intellectual property law, media, business, fashion, and entertainment law practice areas. She has litigated a wide variety of cases in California courts and handled a variety of entertainment deals for clients in the USA, Africa, and Asia. Her work and contributions to the creative industry have been recognized by numerous organizations including the National Bar Association, The American University School of Law and featured in prestigious legal publications in the USA including ABA Journal and The California Lawyer Magazine. She is also an Adjunct Professor at the prestigious Academy of Arts University in San Francisco.
For legal representation inquiries, please email (uduak@ebitulawgrp.com). For blog related inquiries i.e. advertising, licensing, or guest interview requests, please email (africamusiclaw@gmail.com). Thank you for visiting Africa Music Law™.