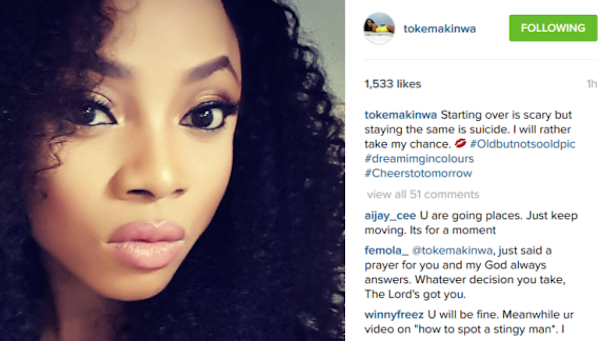 Last I discussed Toke Makinwa on this blog, it was to share the following news: Divorce in Nigeria: Toke Makinwa's Husband Maje Ayida Allegedly Impregnates Girlfriend.
Since the aforementioned story, Toke has kept a low profile, overall. Yesterday, however, she shared the following on her social media page, "Starting over is scary but staying the same is suicide. I will rather take my chance."
I am happy for Toke that she has the courage to start over, whatever that "start(ing) over" may be. If it is deciding to divorce her husband, I wholly support it. It can sometimes be very difficult to get over a relationship. I also presume when it is a married relationship it is even harder. However, in the final analysis, your best interest (especially where there are no kids) and health comes first.
Best wishes to Toke.
-Ms. Uduak
NOTE: If you find yourself in a very dark place as a result of a broken relationship, please talk to someone (trusted family, friends, and counselors) who can help you.