Congratulations to COSON's Toni Okoroji who was honored with an award at the popular annual City People Magazine award event. Read the full press statement by COSON:
On Sunday, August 6, 2017, Nigeria's glitterati came together to honour an icon of Nigerian entertainment, the indefatigable, unstoppable and celebrated former president of PMAN, CEO of TOPS Ltd and Chairman of the wave making Copyright Society of Nigeria (COSON), Chief Tony Okoroji. At the Ten Degrees Event Center in Ikeja where City People Magazine presented the historic award to Okoroji, where friends and colleagues of the music maestro like reggae music legends, Majek Fashek and Ras Kimono and rapper, Rugged Man. Also present were some of Nigeria's best-known music divas, old and young, like Salawa Abeni, Tiwa Savage, Kenny Saint Best, Muma Gee, Essence, KASI, D'Lyte, etc.
The bustling venue on the day played host to the movers and shakers of the Nigerian creative sector like Kenny Ogungbe, owner of Kennis FM; Femi Sowoolu, owner of Jamz 100.1 FM; Azu Arinze, Publisher, Yes International Magazine; Adedayo Thomas, DG, National Film & Video Censors Board; Obi Ezeilo, Lagos Zonal Manager of the Nigeria Copyright Commission; Efe Omorogbe, CEO, Now Muzik; Prince Biodum Egwuakhide, CEO, Preaby Ltd; Segun Awosanya,CEO, Vizdav Ltd; Kazie Uko, CEO, Skott Plus Ltd; Lawrence Wilbert, CEO, Agilent Wireless; Nnamdi Agwunobi, CEO, Greenbee Mobile; Joel Ajayi, Chairman, Music Label Owners Association of Nigeria (MULOAN); Sharon Esco Wilson, National President, Music Producers & Marketers Association of Nigeria (MUPMAN) and Chinedu Chukwuji, General Manager, Copyright Society of Nigeria (COSON) who turned up with the entire COSON management team. The ageless actress popularly called Madam Kofo was live at Ten Degrees Event Center.
The cynosure of most eyes at the event may have been the 81 years old Professor Egerton Uvieghara, the first Chairman of the Nigerian Copyright Commission who taught Chief Okoroji at the University of Lagos and had come to the award event to support him. Professor Uvieghara, the undisputed master of Intellectual Property and Commercial Law in Nigeria, is reputed to have also taught Nigeria's Acting President, Yemi Osinbajo and Minister of Information & Culture, Lai Mohammed among the hundreds of Nigerian lawyers who have passed through him.
Chief Tony Okoroji's intimidating citation was read by his bosom friend, the renowned actor, producer and broadcaster, Patrick Harry Doyle. Receiving the award, Chief Okoroji paid tribute to the publisher of City People Magazine, Dr Seye Kehinde. He then called on to the stage, his driver, Abiodun Fajemilehin popularly known as Abey and presented the award to him saying, "Abey, this award is yours. You have laboured for it and won it. In several years, you have never let me down, keeping pace with my unbelievable time schedule and never complaining of the many difficult demands I make of you. Thank you Abbey."
Chief Okoroji described himself as merely the lead singer in a band made up of many different people working together to give practical meaning to the famous words of Barrack Obama, 'Yes, we can!' He looked at the huge crowd that had come in solidarity with him on to the stage and said that they come from the east, west, north and south of the country and that some are Christians while others are Muslims or worship the Almighty in a different way. Said Okoroji. "You can see that our coat of many colours is beautiful. That is why Nigerians should not fight themselves because of differences in tribe or religion" Chief Okoroji also paid tribute to the management and staff of both COSON and TOPS for the continuous support he has received from them.
Earlier on, COSON was presented with a plaque in recognition of the revolution the organization has brought to music copyright collective management in Nigeria. The plaque was received by COSON General Manager, Chinedu Angus Chukwuji accompanied by the society's director, Azeezat Allen; Head of Finance and Administration, Bernice Eriemeghe; Head of Public Affairs, Chibueze Moses Okereke; Head of Datatech, Isa Aruna; Head of Membership, Vincent Adawaisi, among others. Chukwuji dedicated the award to all the musicians of Nigeria.
At the historic event were the full complement of TOPS All Stars. Apart from KASI, the June 12 Girl, there was G-Wilz, the rapper who is lyrically licensed to kill; Dolzi, the king of Melody and the smooth and silky Kul GP. It was indeed a day to remember.
Subscribe to Our Podcast Show
Some of Our Achievements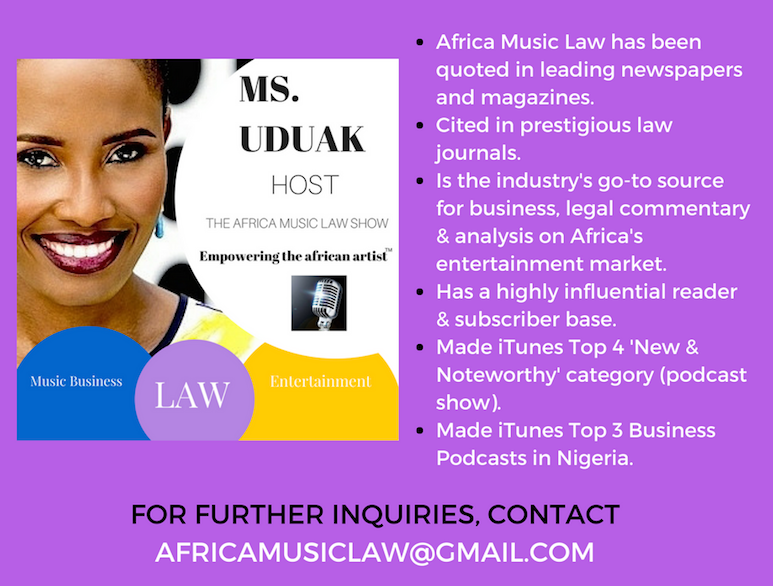 AFRICA MUSIC LAW™ (AML) is a pioneering music business and entertainment law blog and podcast show by Fashion and Entertainment Lawyer Ms. Uduak Oduok empowering the African artist and Africa's rapidly evolving entertainment industry through brilliant music business and entertainment law commentary and analysis, industry news, and exclusive interviews.
Credited for several firsts in the fashion and entertainment industry, Ms. Uduak is also a Partner and Co-Founder of Ebitu Law Group, P.C. where she handles her law firm's intellectual property law, media, business, fashion, and entertainment law practice areas. She has litigated a wide variety of cases in California courts and handled a variety of entertainment deals for clients in the USA, Africa, and Asia. Her work and contributions to the creative industry have been recognized by numerous organizations including the National Bar Association, The American University School of Law and featured in prestigious legal publications in the USA including ABA Journal and The California Lawyer Magazine. She is also an Adjunct Professor at the prestigious Academy of Arts University in San Francisco.
For legal representation inquiries, please email (uduak@ebitulawgrp.com). For blog related inquiries i.e. advertising, licensing, or guest interview requests, please email (africamusiclaw@gmail.com). Thank you for visiting Africa Music Law™.