Join my Africamusiclaw.com movement or stand on the sidelines and be left behind. It's your choice. But, to quote one of my favorite rap lyricist, X.O Senavoe, "I am always on the money like in God we trust . . .aaaaaaaaaaaaha!" So, what's the latest legal story to hit the news? Nigerian Entertainment Today reports Toni Payne, allegedly, just terminated her management deal with artist Olamide. Below is an excerpt of the relevant part  from the story, before I address the legal issues raised here:
"The popular talent manager and estranged wife of popstar 9ice, Toni Payne has reportedly dropped young rapper oLamide from her Toni Payne Concept management outfit.

Sources say Toni Payne allegedly terminated the management deal because she had once or twice caught the young rapper performing at shows without her consent. Olamide was said to have been collecting performance fees also.

We're told the last straw that broke the camel's back was when the rapper was said to have attended a gig sponsored by Coca Cola alongside his record label mates at CODED Tunes after Payne had boycotted the show and instructed him not to go only to find out on Twitter that he indeed attended. .  ."- Nigerian Entertainment Today
What Law Applies?
Contract Law – I have specifically addressed Artist-Manager contracts in the past.
In this case, the facts state Payne caught Olamide involved in shows without her consent. The last part, however, does not add up. Payne allegedly "boycotted a gig sponsored by Coca Cola" but Olamide attended the event, and it allegedly caused her to call it quits?
We do not know what the terms of the agreement were between the two, but it most likely forbade "performing"at shows without Toni Payne Concepts consent. The question, however, is  how broad was the language of the contract? Did the contract also say artists cannot attend a show as a spectator, even if management makes its own decision to boycott the event? The facts say Olamide was with his record label mates at Coded Tunes.  If he was at the event because his record label wanted him there, doesn't that create a conflict with Toni Payne Concepts?  The holes in the story when probed further shows we need more facts and this cannot be it.
Toni Payne is a sophisticated businesswoman with a background in running her own businesses both in the States and in Nigeria. She most likely included in her contract, with Olamide, clauses to the contrary of whatever alleged behavior he engaged, which presumably warranted termination.
Three Key things going on here, if the alleged facts are true
1) Olamide shows a complete disrespect for the Toni Payne Concept Management business: Only if these facts are true. If it is, then Olamide's behavior is unacceptable and shows disrespect to his alleged ex-management company. Just because labels, management and fellow artists are not running off to court to sue, does not mean you can act anyhow. Word gets around and no one wants to deal with an artist or any music professional who does not keep his/her word. It is very bad for business.
2) Interference with Business or Contractual Relations: Under certain legal principles, if there was anyone interfering with Olamide and Toni Payne Concepts management deal, which can be said to be the cause of Olamide's alleged breach of contract, Toni Payne can sue both Olamide and the third party interfering. If she did,  she would sue both under Nigeria's contract laws and also Nigeria's tort law which would, if such law is on the books, essentially say you cannot interfere or impede in the business of another. Basically you cannot amebor when two business people are talking, cause trouble and cause them to fight, depart ways and lose the money they were going to make off each other.
3) The final key point is the termination clause in the contract. In any contract, one of the most important clauses,  if not the most important, is how you end the relationship i.e. the termination clause. Brothers and sisters fight, how much more strangers whose only bond is making money off each other? Relationships will end both in business and inter-personally. It is a fact of life. How you end it, is the question. Do you end in a good way? o you make it a blood bath? To avoid the blood bath, you should plan for how to terminate your relationship before it happens.
Where there is a "material" (serious) breach of contract, you can usually terminate a contract right away. If you are the manager, you want this "material breach" clause in your contract. If you are the artist, you want an opportunity to "cure" i.e. fix the problem. So you want a clause that says, "if I screw up and you bring it to my attention, you will give me the chance to fix the problem i.e. "cure"."
There are two sides to every story. The NET reports Toni Payne's alleged view. Accordingly, barring the facts directly from both Olamide and Toni Payne to the media on what caused an alleged termination ofcontract, we really do not know the whole shinding going on here.
Nevertheless, what do you guys think? Should Toni Payne have terminated Olamide's contract based on the facts reported?
Let me know your thoughts through the comment section below OR visit my Africamusiclaw Facebook fan page here to tell me what you think.
NOTE: Thank you in advance for staying on topic and behaving yourselves i.e. not cursing fellow commenters or the people I write about.
_____________________________________________
Follow me on Twitter @africamusiclaw @uduaklaw
Cheers,
Uduak
Subscribe to Our Podcast Show
Some of Our Achievements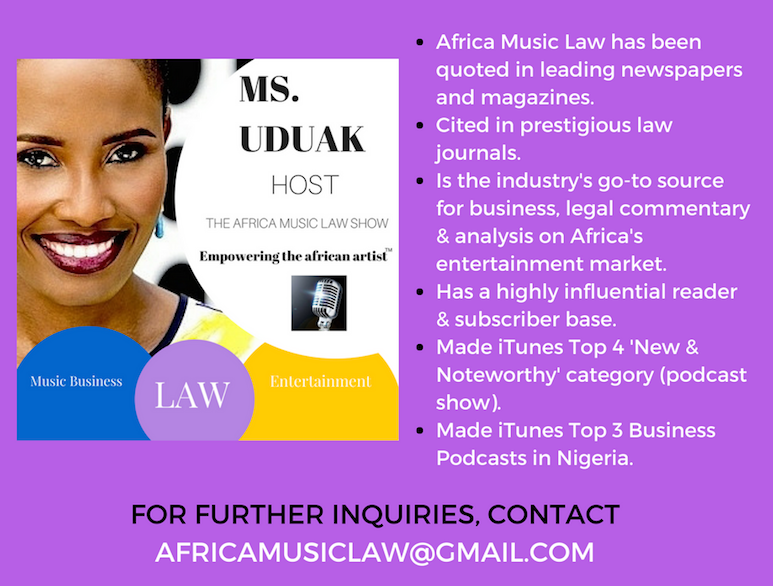 AFRICA MUSIC LAW™ (AML) is a pioneering music business and entertainment law blog and podcast show by Fashion and Entertainment Lawyer Ms. Uduak Oduok empowering the African artist and Africa's rapidly evolving entertainment industry through brilliant music business and entertainment law commentary and analysis, industry news, and exclusive interviews.
Credited for several firsts in the fashion and entertainment industry, Ms. Uduak is also a Partner and Co-Founder of Ebitu Law Group, P.C. where she handles her law firm's intellectual property law, media, business, fashion, and entertainment law practice areas. She has litigated a wide variety of cases in California courts and handled a variety of entertainment deals for clients in the USA, Africa, and Asia. Her work and contributions to the creative industry have been recognized by numerous organizations including the National Bar Association, The American University School of Law and featured in prestigious legal publications in the USA including ABA Journal and The California Lawyer Magazine. She is also an Adjunct Professor at the prestigious Academy of Arts University in San Francisco.
For legal representation inquiries, please email (uduak@ebitulawgrp.com). For blog related inquiries i.e. advertising, licensing, or guest interview requests, please email (africamusiclaw@gmail.com). Thank you for visiting Africa Music Law™.