Publicist and entrepreneur Toni Payne is a guest on the 95th episode of The Africa Music Law Show with Ms. Uduak to talk entertainment business, her career trajectory, the highs and lows of discovering and managing 9ice and much more. This is a two-part interview series. Part two will be published next week Monday, April 24, 2017.
About Toni Payne
Toni Payne, the founder of Toni Payne Concepts, has an extensive background in the entertainment industry as a publicist, an A&R executive, an artist-manager, publisher, writer, poet, voiceover artist, media personality, and entrepreneur. She has enjoyed success in the Afrobeats field and was directly responsible for discovering and developing one of Nigeria and Africa's noted contemporary artist 9ice.
Payne was so effective with her management and leadership style that she helped position and propel 9ice to global reach and visibility. On June 27, 2008, Payne watched from backstage at the Hyde Park in London, as 9ice, the sole artist selected from Nigeria, graced a global stage to perform at the 90th birthday celebration of the great Nelson Mandela (RIP). The event was hosted by Will Smith and Jada Pinkett-Smith, and included performers such as the late Amy Winehouse and Josh Groban. It was a big moment for Nigeria and Africa.
Payne, as a publicist, has also represented many of Africa's celebrated artists such as Onyeka Onwenu, 2Face Idibia, and Olamide.
Prior to launching her career in the entertainment industry, Payne was a successful publicist in the fashion industry and a fashion and beauty retail entrepreneur in Los Angeles.
Ever trailblazing, in 1999, she launched Nigeria's first-ever online entertainment magazine, Nigerianentertainment.com, a popular forerunner to today's leading entertainment blogs. In 2011, while living in Nigeria, she starred in her own nationally syndicated reality TV show, "My ChamPayne Life," which documented the challenges she faced as a woman publicist in the spotlight in a male dominated industry and society. The show was a fan favorite and aired in over 50 countries across Africa.
In 2015, Payne released her first Spoken Word Poetry album titled "I am OSHA" which means "I am a Goddess" in the Yoruba language. The poetry album received wide praise from fans and industry insiders alike. She is the owner of a lifestyle website ToniPayneOnline.com where she pens diverse articles on entertainment, health and wellness, parenting, poetry, short stories, quotes and more. She is also the producer of "Trending Topics with Toni Payne," a complimentary podcast to her website.
Payne is currently working on her book "Diary of a Wordsmith" which will feature some of her best-written works.
Preview
Opinion on Drake's failure to appear on Wizkid's 'Come Closer' Video
Her work as a poet
Personal background
Visiting Nigeria and discovering 9ice
Building and managing 9ice the Artist
9ice performing at the Nelson Mandela 90th birthday celebration
Onset of a business crisis with 9ice
Where to Find Toni Payne
Where to Find Ms.Uduak
Twitter: @uduaklaw
Website: www.msuduak.com
About The Africa Music Law Show with Ms. Uduak
Hosted by California-based Fashion & Entertainment Lawyer Uduak Oduok (Ms. Uduak), The Africa Music Law show is a show empowering the African artist through brilliant music business and entertainment law commentary and analysis, industry news, and exclusive interviews. The show has been downloaded over 200,000 times and made iTunes top 4 'New & Noteworthy.' Subscribers include Africa & Hollywood's power executives, investors, lawyers, artists and other industry stakeholders. The blog itself has been cited in a U.S. top-ranked law school's 'International Law Review' journal. Country demographic: Nigeria (26%), USA (23%), UK (15%), UAE (7%), and Other (29%).
Rate us on iTunes
If you enjoy the show, please leave a comment on our iTunes page and our Stitcher page.
Sponsorship and/or Guest Appearance
Please send email to (africamusiclaw@gmail.com)
Thanks for Listening!
If you enjoyed the show, please share on your social media pages and with friends and family. Also if you have any questions, please feel free to send an email to (africamusiclaw@gmail.com).
Subscribe to Our Podcast Show
Some of Our Achievements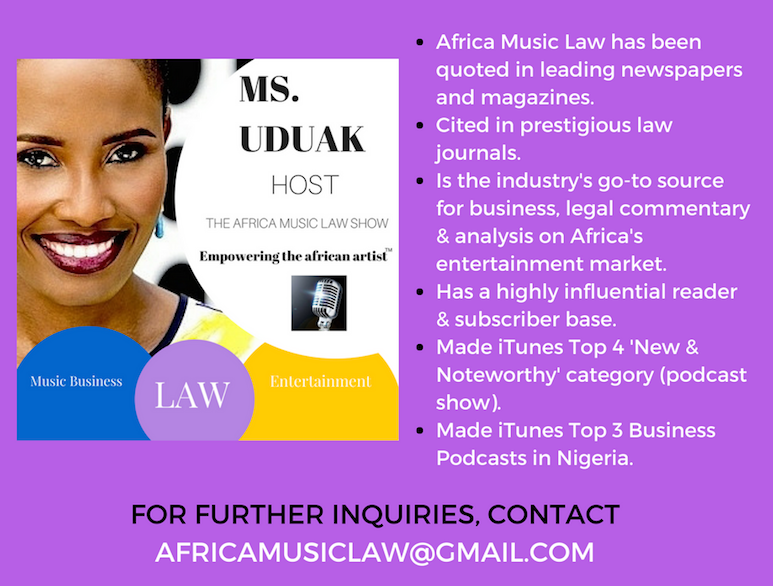 AFRICA MUSIC LAW™ (AML) is a pioneering music business and entertainment law blog and podcast show by Fashion and Entertainment Lawyer Ms. Uduak Oduok empowering the African artist and Africa's rapidly evolving entertainment industry through brilliant music business and entertainment law commentary and analysis, industry news, and exclusive interviews.
Credited for several firsts in the fashion and entertainment industry, Ms. Uduak is also a Partner and Co-Founder of Ebitu Law Group, P.C. where she handles her law firm's intellectual property law, media, business, fashion, and entertainment law practice areas. She has litigated a wide variety of cases in California courts and handled a variety of entertainment deals for clients in the USA, Africa, and Asia. Her work and contributions to the creative industry have been recognized by numerous organizations including the National Bar Association, The American University School of Law and featured in prestigious legal publications in the USA including ABA Journal and The California Lawyer Magazine. She is also an Adjunct Professor at the prestigious Academy of Arts University in San Francisco.
For legal representation inquiries, please email (uduak@ebitulawgrp.com). For blog related inquiries i.e. advertising, licensing, or guest interview requests, please email (africamusiclaw@gmail.com). Thank you for visiting Africa Music Law™.