The Tonto Dikeh v. Olakunle Churchill dispute has become a public nuisance because the parties refuse to go to Family Law Court to resolve their dispute, but insist on fighting on social media. Now, there is a new twist to their nasty public dispute. Churchill has either released or intends to release a video of Dikeh physically abusing him.
Aware of Churchill's impending release, Dikeh through her lawyers has now threatened to sue bloggers and journalists who publish the video on the grounds that the video is allegedly edited, and that the media must ask Churchill for a "full video" before publishing. This threat and reasoning make no sense to me, given the facts. If bloggers and the media ask for an alleged "full video" and Churchill fails to produce one, all they have to do, for journalistic purposes, is publish the allegedly "edited video" and indicate that Dikeh made allegations that the video was edited so they informed Churchill of her allegation and asked that he produce the "full video" but he didn't or denied the video had been edited. Now what?
Again, this makes absolutely no sense to me and I fail to see the legal authority under Nigerian law for this threat. In fact, I would argue that they have no right to threaten or stop the media and the public from reporting an allegedly criminal act.
In 2015, Nigerian passed the Violence Against Persons (Prohibition) Act which, among other things, prohibits and treats spousal battery (beating of your wife or husband) as a criminal offense. Dikeh and Churchill married in 2015.
In February 2017, Dikeh started this very public fight by claiming that her husband had battered her during the marriage. She shared this very damning and allegedly defamatory statements against her husband on social media and is yet to recant it. This has left Churchill with no other option than to defend his reputation including now allegedly releasing or planning to release a video of her physical attacks and abuse against his person. This does not prevent the media and bloggers from publishing his video and I would argue confers no legal liability against them whatsoever, even if Dikeh does in fact attempt to sue.
As a quick background for those who may not be in the know:
Tonto Dikeh is a Nollywood actress with a history of inciting and/or encouraging violent acts, at least vandalism, and verbal assaults pre-marriage. Post marriage, Dikeh appeared reformed, and many including myself were very impressed with her transformation and impact on women and girls, and her community.
However, her good deeds became overshadowed with news delivered by Tonto Dikeh, in February 2017, through her social media account(s) that her husband, a businessman, gave her sexually transmitted diseases (STD), and was violent towards her during their marriage. For the most part, her husband was non-responsive until an explosive interview granted by Dikeh to Media Room Hub in March 2017.
In the interview, Dikeh confirmed her accusation that her husband was physically abusive towards her during the marriage forcing her to flee their home. She also confirmed her STD statements and said the abuse was so bad she ended up "stark naked" at the Nigerian Embassy in Ghana and that the embassy had pictures to prove her allegation. She also called her husband a fraudster engaging in the well known 419 scheme.
With such immense tarnishment of her husband's image and reputation, globally, it is no surprise he has since stepped forward to redeem his name. In an interview with the same media outlet post-Dikeh's interview, he denied the abuse and said she was the abusive one. He also explained that Dikeh has prevented him from seeing his son for some time now, and physically abused his mother. His statement as to seeing his son while it may have initially seemed false was corroborated when Dikeh dressed like a man and played the father role for a father's day event at her son's school.
Churchhill provided his own documentary evidence negating Dikeh's very damaging statements to the media and public. In addition, the Ghanian police department stepped forward and denied claims made by Dikeh of the incident in Ghana where she was allegedly stark naked at the Nigerian embassy. The police confirmed that she was actually the violent one. Further, Churchill's brother denied Dikeh's claims. His brother also provided evidence of Dikeh's violence towards the brother and text messages of her apology. Dikeh's nanny who had initially come out to support Dikeh recanted her story and said Dikeh forced her to lie.
Months later, the journalist who interviewed both parties, in an interview on a different media platform, told the public she had concluded that Dikeh was lying and had "evidence to prove it." Dikeh went on the defense and attacked her. But, the problem was that there were too many discrepancies in Dikeh's story that made it hard to trust her credibility, especially given her history or propensity towards violence. At this stage, the parties should have filed for a divorce and deal with custody issues in a court of law. They did not. Instead, they went back and forth on social media and online, again, with Dikeh accusing her husband of being a fraudster, causing a mutual friend to be incarcerated in Switzerland, living off her wealth, and pretending to be what he wasn't.
Ironically, the mutual friend stepped forward and debunked her statements. Again, she was made to look like she simply cannot be trusted. She herself bolstered this public distrust when she told the public that she had been lying to them in many instances during her marriage. Dikeh throughout her marriage shared luxury items on social media that she often claimed her husband bought for her. Post the bitter split from her husband, she claimed she lied and that he was reliant on her income.
So here we are with a new twist, Dikeh threatening the media and bloggers if they publish Churchill's video.
Under Nigerian law, when you publish statements that are allegedly defamatory about a person to third parties, that person (the Plaintiff) can sue you and show evidence to the contrary to support their claim of defamation. Truth is a defense. So if you the Defendant making the alleged defamatory statement say it is, in fact, true, you have to provide evidence to rebut the claim of defamation by the Plaintiff.
Since Dikeh has refused to go to court and has instigated and fought most of her battles in public, Churchill to redeem his name, until he has the common sense to sue her for defamation, can share information that shows she is, in fact, the violent one, not him. Bloggers and journalists can also share such information if he provides them with one given, for the most part, many have shared her allegedly defamatory statements and video interview granted to the media accusing him of violence, STD, fraud, and so much more.
That is why I am quite perplexed and wonder what the legal authority for her and her lawyers is which allows them to sue the bloggers and media.
She accused her husband of a spousal battery during the marriage and published the statements to the public and media. He along with many witnesses deny it. The public, however, seems to believe her. To further redeem himself in the public eye, he responds that he is not a batterer and that she, in fact, was actually the perpetrator of at least a spousal battery during their marriage. Unlike her, he has actual evidence to prove that she was the aggressor/perpetrator of the crime. She in response doesn't deny she physically battered him. All she claims is that he also battered her and was the initial aggressor.
Given her claims right from the onset, he is entitled to put out video evidence, and share with the media and bloggers, showing she is the violent one, not him. At a minimum, an illegal act has been committed if it is, in fact, true she was the aggressor, and she doesn't have a right to threaten bloggers and journalists not to report such alleged illegal act.
If she believes there is a "full video" lurking, she can file a police report, have the police investigate and push for the prosecuting attorney's office to obtain "the full video", which they will have to if one exists, as part of their discovery/investigative process, anyway. If Churchill claims one does not exist, the Lagos police can engage their forensic evidence department to look at the allegedly edited video to determine if it, in fact, has been edited to remove the full data on the video file.
-Ms. Uduak
We act as solicitors to Miss Tonto Dikeh, a prominent Nollywood actress.
It has come to our knowledge that her ex-husband, Mr. Olakunle Churchill has perfected plans to release a short and edited video depicting and portraying our client as being involved in some domestic violence against him.
Our client wants all bloggers and/or journalists to request for the full version of the video showing the said domestic scene which started with a physical abuse of our client by her ex-husband, which earned her a swollen face. Her ex-husband only intends to release our client's REACTION to the assault on her and not the assault itself. We shall be prepared to take legal action against any blogger/journalist that uses the edited version without insisting on or showing the full version.
Dikeh 2016 interview – She claims her husband was very loving during the marriage, brought her to God. "He is one man I did not have to give my money to to be with me."

Her 2017 interviews
Dikeh Interview

Churchill's Brother Tokunbo

Husband interview

Subscribe to Our Podcast Show
Some of Our Achievements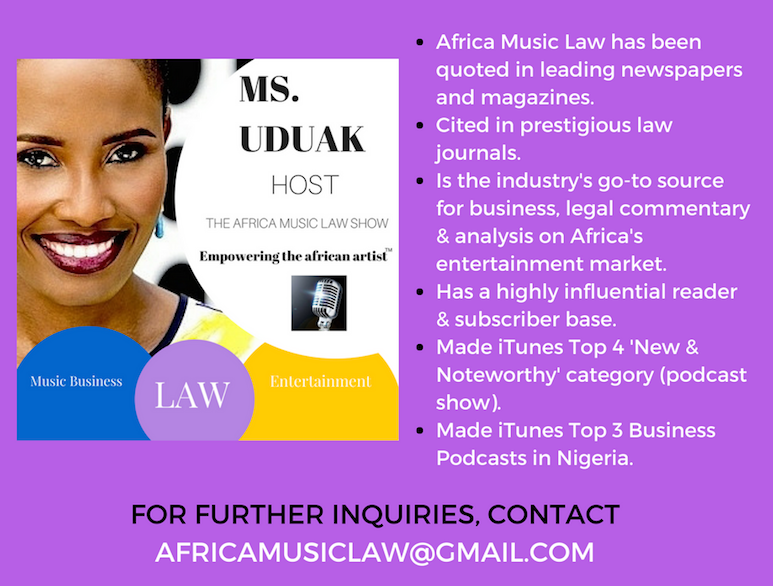 AFRICA MUSIC LAW™ (AML) is a pioneering music business and entertainment law blog and podcast show by Fashion and Entertainment Lawyer Ms. Uduak Oduok empowering the African artist and Africa's rapidly evolving entertainment industry through brilliant music business and entertainment law commentary and analysis, industry news, and exclusive interviews.
Credited for several firsts in the fashion and entertainment industry, Ms. Uduak is also a Partner and Co-Founder of Ebitu Law Group, P.C. where she handles her law firm's intellectual property law, media, business, fashion, and entertainment law practice areas. She has litigated a wide variety of cases in California courts and handled a variety of entertainment deals for clients in the USA, Africa, and Asia. Her work and contributions to the creative industry have been recognized by numerous organizations including the National Bar Association, The American University School of Law and featured in prestigious legal publications in the USA including ABA Journal and The California Lawyer Magazine.
For legal representation inquiries, please email (uduak@ebitulawgrp.com). For blog related inquiries i.e. advertising, licensing, or guest interview requests, please email (africamusiclaw@gmail.com). Thank you for visiting Africa Music Law™.