This week, Nollywood actress Tonto Dikeh and Blogger turned emerging media mogul Linda Ikeji announced the launch of a new reality TV show, titled 'King Tonto.'
Conceptualized and executive produced by Ikeji, the trailer accompanying the announcement shows an expectedly dramatic Dikeh who announces to the world that she has always been "ashamed of her body" and will undergo plastic surgery. Her statement is followed by footage of parts of her surgery.
"I hope this blows your mind. I told you guys you all aren't ready for what we are about to bring on TV. Here's the first promo clip of actress Tonto Dikeh's reality show, King Tonto.
It's Tonto like you've never seen her before. She opens up to her fans in ways most people won't dare. You will see her as a loving mum, great friend, workaholic and everything in between. And yes, her body is badder now than before! Lol.
Concept and Executive producer – Linda Ikeji. Produced by Theo Ukpaa. Coming soon on Linda Ikeji TV on cable and online. Watch the promo clip below…" – Linda Ikeji
Needless to say, the public has reacted and has primarily condemned Dikeh's choice to have plastic surgery.
For me, I am the least interested in her surgeries, or lack thereof. Dikeh's digital footprints show a woman who thirsts, deeply, for attention, validation, and love. There is nothing wrong with that. No one, unfortunately, can give her what she seeks, except her God and herself. Until that happens, I expect to see anything Dikeh related to be an attempt at over-the-top drama, just for added shock value. Drama is an addiction for Dikeh, and she lives for the high.
What is of interest to me, however, is whether the Dikeh and Ikeji partnership is a fit.
There is a saying in the entertainment industry to "be careful who you get in bed with." As a general rule, when you decide to embark on any business venture with any partner, you must vet, vet, vet, and then vet your partner some more before signing any deal. If you can, test the relationship to see whether your personalities are compatible before you jump in. Given the well-documented personality traits/characteristics of Dikeh and Ikeji in the public sphere, I strongly doubt these two are compatible as business partners.
Folks, the question is never whether a business relationship will end. Every business relationship always ends. The question is always, how will it end? To end on amicable terms is not only about what is written in the contract. It also has a lot to do with the personalities involved, and of course trust. This relationship is a red flag but let's see what happens. Please keep in mind that Ikeji has partnered with many women including Latasha Ngwube, and Betty Irabor for Linda Ikeji TV produced shows. So the issue is not whether women can successfully work together. They can and do across Nigeria and globally. The focus is on this specific partnership.
Finally, as an aside, I wonder if Olakunle Churchill, Dikeh's ex-husband, is concerned about the welfare of his son and gave consent to have their child featured on this reality TV show. Clearly, Dikeh is exploiting her son for fame and profit. Her son is vulnerable and voiceless, and can't make an informed decision whether to participate in a show that may have far-reaching negative psychological effects on him.
Assuming Churchill gave consent, or that his consent is not needed, I am curious how Nigeria treats child performers and their earnings under the law. In a place like California where I practice, child performers are afforded strong protection with laws that help regulate their working conditions, education and finances.
-Ms. Uduak
Subscribe to Our Podcast Show
Some of Our Achievements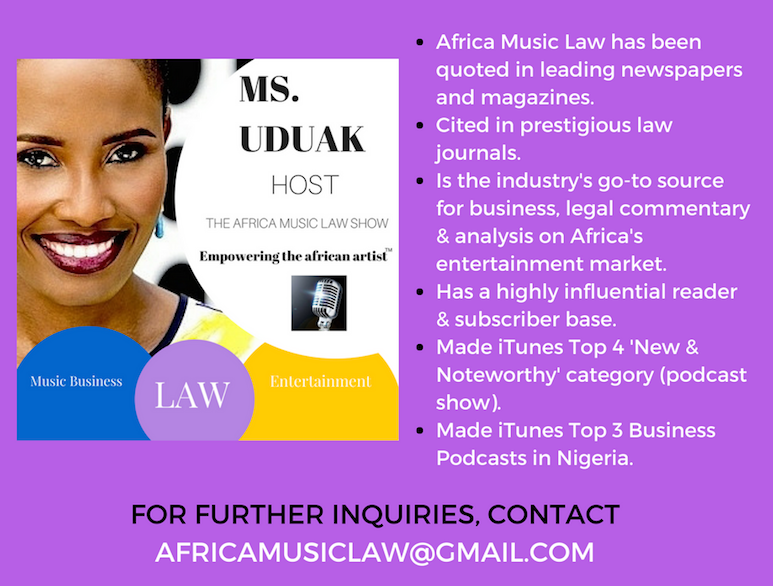 AFRICA MUSIC LAW™ (AML) is a pioneering music business and entertainment law blog and podcast show by Fashion and Entertainment Lawyer Ms. Uduak Oduok empowering the African artist and Africa's rapidly evolving entertainment industry through brilliant music business and entertainment law commentary and analysis, industry news, and exclusive interviews.
Credited for several firsts in the fashion and entertainment industry, Ms. Uduak is also a Partner and Co-Founder of Ebitu Law Group, P.C. where she handles her law firm's intellectual property law, media, business, fashion, and entertainment law practice areas. She has litigated a wide variety of cases in California courts and handled a variety of entertainment deals for clients in the USA, Africa, and Asia. Her work and contributions to the creative industry have been recognized by numerous organizations including the National Bar Association, The American University School of Law and featured in prestigious legal publications in the USA including ABA Journal and The California Lawyer Magazine. She is also an Adjunct Professor at the prestigious Academy of Arts University in San Francisco.
For legal representation inquiries, please email (uduak@ebitulawgrp.com). For blog related inquiries i.e. advertising, licensing, or guest interview requests, please email (africamusiclaw@gmail.com). Thank you for visiting Africa Music Law™.