The Africa Music Law Show returns with its first official podcast episode for 2017, its 90th episode where it takes on the Tonto Dikeh marriage crisis and Davido paternity mess. Joining Ms. Uduak, the host of the show, is Family Law Attorney Unwam Oduok who offers tips and tools to listeners on how to prevent and better handle such crisis situations should they occur.
Guest Bio
Ms. Unwam Oduok is an attorney and Partner at Ebitu Law Group, P.C based in Sacramento, California, where her practice areas focuses on family law, business law (which includes contract drafting, negotiating and litigation), civil litigation and crisis management for brands, talents and businesses. Ms. Unwam is licensed to practice in California. She can be reached via email at (unwam@ebitulawgrp.com).
Episode Preview
Tonto Dikeh's use of social media in handling marriage crisis
Resolving marriage conflicts between spouses
Focusing on the best interest of the child
Acknowledging pain from a broken relationship
Davido paternity mess
How to obtain credible paternity tests
The rise of children out of wedlock in Nigerian society
Tips for listeners
QUOTE
"You've got to love (your) child far more than you hate (your) (ex-spouse)." – Unwam Oduok, Esq
Where to Find Attorney Unwam Oduok
Website: www.ebitulawgrp.com
Email: (unwam@ebitulawgrp.com)
Where to Find AML Host Ms.Uduak
Twitter: @uduaklaw
Website: www.msuduak.com
Rate us on iTunes
If you enjoy the show, please leave a comment on our iTunes page and our Stitcher page.
Sponsorship and/or Guest Appearance
Please send email to: (africamusiclaw@gmail.com)
Thanks for Listening!
If you enjoyed the show, please share on your social media pages and with friends and family. Also if you have any questions, please feel free to send an email to (africamusiclaw@gmail.com)
Subscribe to Our Podcast Show
Some of Our Achievements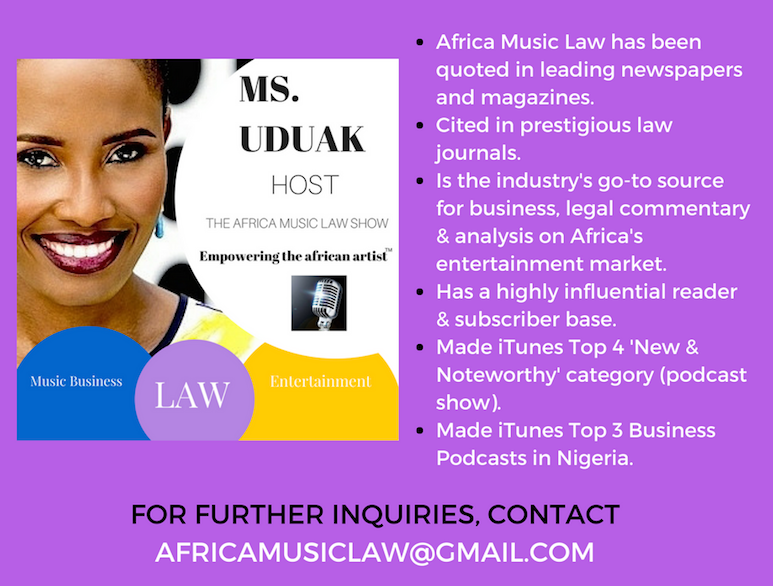 AFRICA MUSIC LAW™ (AML) is a pioneering music business and entertainment law blog and podcast show by Fashion and Entertainment Lawyer Ms. Uduak Oduok empowering the African artist and Africa's rapidly evolving entertainment industry through brilliant music business and entertainment law commentary and analysis, industry news, and exclusive interviews.
Credited for several firsts in the fashion and entertainment industry, Ms. Uduak is also a Partner and Co-Founder of Ebitu Law Group, P.C. where she handles her law firm's intellectual property law, media, business, fashion, and entertainment law practice areas. She has litigated a wide variety of cases in California courts and handled a variety of entertainment deals for clients in the USA, Africa, and Asia. Her work and contributions to the creative industry have been recognized by numerous organizations including the National Bar Association, The American University School of Law and featured in prestigious legal publications in the USA including ABA Journal and The California Lawyer Magazine. She is also an Adjunct Professor at the prestigious Academy of Arts University in San Francisco.
For legal representation inquiries, please email (uduak@ebitulawgrp.com). For blog related inquiries i.e. advertising, licensing, or guest interview requests, please email (africamusiclaw@gmail.com). Thank you for visiting Africa Music Law™.