Happy New Year AML People! Let's officially get things started for 2019 by reviewing the top 10 podcasts of 2018 on The Africa Music Law Show with yours truly.
Davido's win at the BET Awards comes in at number one, while the allegation by Danfo Drivers against Tekno for copyright infringement takes second place. One of the biggest stories of 2018 i.e. Wizkid's no show at Coachella took third place and my interview with veteran broadcaster Emma Ugolee where he spills the beans on payola in the industry came in fourth place. This and many more interesting podcast episodes emerged as top 10 of 2018.
In 2019, I look forward to equally interesting and engaging podcast episodes and guests. For AML interviews, I am always interested in interviewing persons that add value to the AML community and Africa's music industry ecosystem. This means I often pull heavily from the AML community, majority of whom are industry professionals, influencers and business owners in the entertainment industry. If you would like to be considered as a guest, subscribe to the AML newsletter on this website and send me an email at (africamusiclaw@gmail.com). I will be taking a look closely, all year-long.
If you want to give feedback, ask a question, or suggest topics you would like me to discuss on future podcast episodes this 2019, simply click on the right side bar with the voicemail widget and leave a voicemail with your name, your title/profession in the entertainment industry, and your feedback, question or commentary. Your voicemail may be included in future podcast episodes.
Check out the top 10 podcasts of 2018 below!
1. Davido's BET Win

2. Tekno's Alleged Copyright Infringement of Jogodo

3. Wizkid's No Show at Coachella

4. Interview with Broadcaster Emma Ugolee

5. Producer Adey on not receiving royalties/credits for Ycee's 'Juice'

6. Interview with Technologist Ade Olufeko

7. Trends in Nigeria's Music Industry

8. Music Modernization Act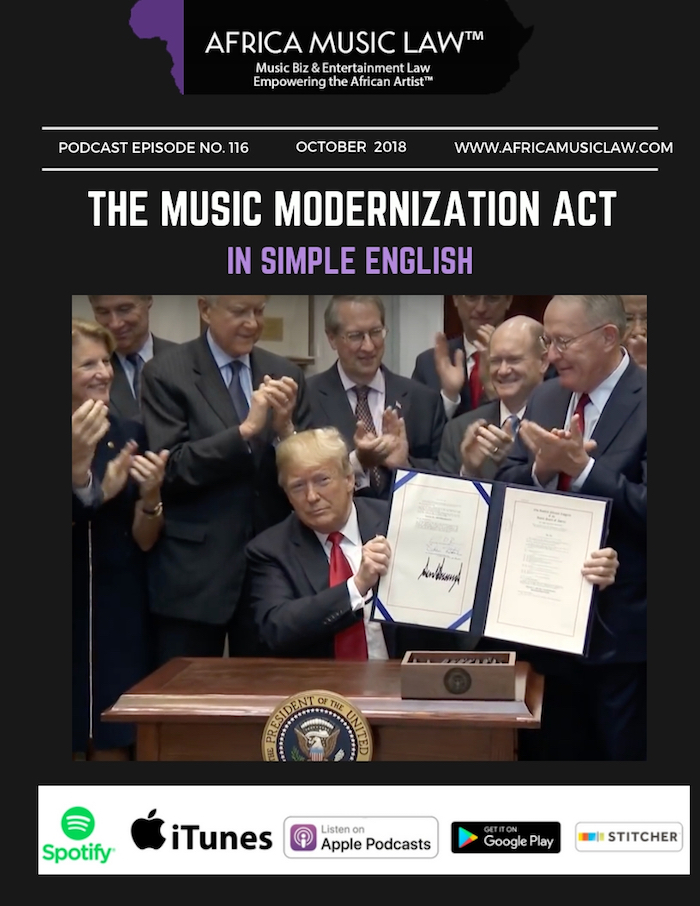 9. Interview with Media Entrepreneur and founder of Joy, Inc. Chude Jideonwo Pt. 1

10. Interview with Media Entrepreneur and founder of Joy, Inc. Chude Jideonwo Pt. 2
Subscribe to Our Podcast Show
Some of Our Achievements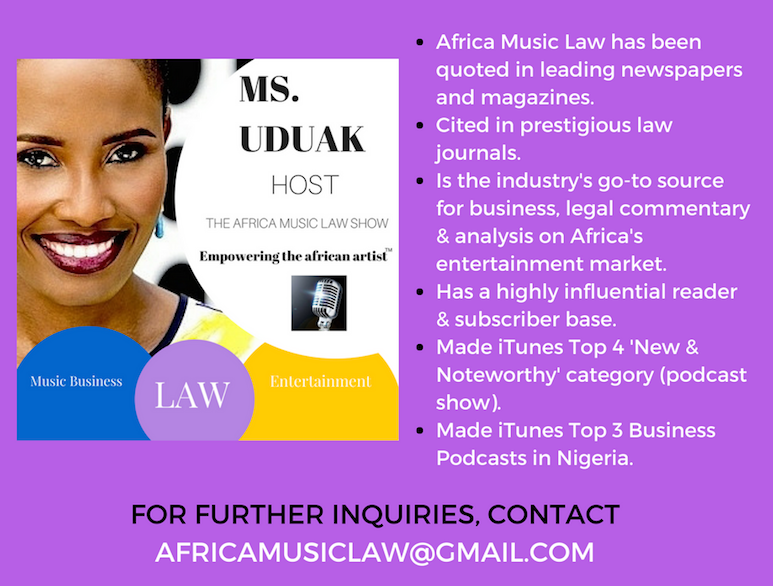 AFRICA MUSIC LAW™ (AML) is a pioneering music business and entertainment law blog and podcast show by Fashion and Entertainment Lawyer Ms. Uduak Oduok empowering the African artist and Africa's rapidly evolving entertainment industry through brilliant music business and entertainment law commentary and analysis, industry news, and exclusive interviews.
Credited for several firsts in the fashion and entertainment industry, Ms. Uduak is also a Partner and Co-Founder of Ebitu Law Group, P.C. where she handles her law firm's intellectual property law, media, business, fashion, and entertainment law practice areas. She has litigated a wide variety of cases in California courts and handled a variety of entertainment deals for clients in the USA, Africa, and Asia. Her work and contributions to the creative industry have been recognized by numerous organizations including the National Bar Association, The American University School of Law and featured in prestigious legal publications in the USA including ABA Journal and The California Lawyer Magazine. She is also an Adjunct Professor at the prestigious Academy of Arts University in San Francisco.
For legal representation inquiries, please email (uduak@ebitulawgrp.com). For blog related inquiries i.e. advertising, licensing, or guest interview requests, please email (africamusiclaw@gmail.com). Thank you for visiting Africa Music Law™.