Midem 2019 just kicked off and the emerging theme is that of streaming and a focus on digital distribution. Troy Carter, one of the keynotes for this year's event, addresses these issues in a discussion about the future of music and his new company Q&A. One thing about Troy is that there is never a dull moment with his interviews/discussions. Several interesting points he makes include:
1. Everyone is jumping into the digital distribution system, but many are not thinking about the added value.
2. Distributors are treating the distribution as a commodity, and that business model is questionable, for sustainability.
3. Distributors will have more of a role in A&R'ing artists.
4. An increase with artists as entrepreneurs. Interesting to see this shift in the U.S. but for the continent of Africa, AML, many of you longtime readers know this is very commonplace in many key African music markets.
5. His management strategy and the lawsuit filed by Scooter Braun against Troy Carter.
Watch his keynote:
-Ms. Uduak
Subscribe to Our Podcast Show
Some of Our Achievements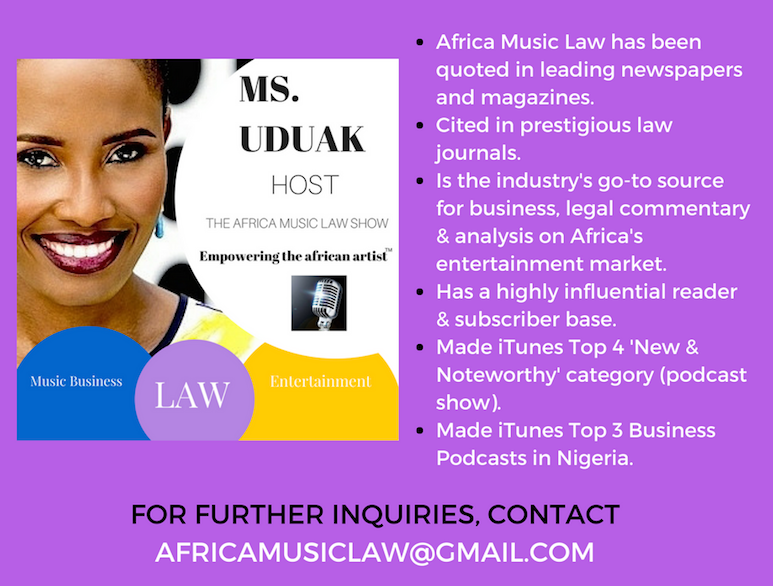 AFRICA MUSIC LAW™ (AML) is a pioneering music business and entertainment law blog and podcast show by Fashion and Entertainment Lawyer Ms. Uduak Oduok empowering the African artist and Africa's rapidly evolving entertainment industry through brilliant music business and entertainment law commentary and analysis, industry news, and exclusive interviews.
Credited for several firsts in the fashion and entertainment industry, Ms. Uduak is also a Partner and Co-Founder of Ebitu Law Group, P.C. where she handles her law firm's intellectual property law, media, business, fashion, and entertainment law practice areas. She has litigated a wide variety of cases in California courts and handled a variety of entertainment deals for clients in the USA, Africa, and Asia. Her work and contributions to the creative industry have been recognized by numerous organizations including the National Bar Association, The American University School of Law and featured in prestigious legal publications in the USA including ABA Journal and The California Lawyer Magazine. She is also an Adjunct Professor at the prestigious Academy of Arts University in San Francisco.
For legal representation inquiries, please email (uduak@ebitulawgrp.com). For blog related inquiries i.e. advertising, licensing, or guest interview requests, please email (africamusiclaw@gmail.com). Thank you for visiting Africa Music Law™.