In the past few days, The North East Coast, of the United States was hit with a historical snowstorm. The D.C. – Maryland area, in particular, was hit with 20-30 inches of snow, which is over 2 whole feet of snow. The entire state was at a complete standstill, with over 200 accidents reported, and over 20 deaths and heart attacks.
Snow blizzards essentially leave you stranded, however that doesn't mean that you can't make the best of it. See how Raro Lae and her crew spent the historical Blizzard Jonas – Snowstorm of 2016.
These tips and ideas are perfect for a snowstorm, or just a free weekend!
Check them out, share with a friend, and don't forget to like and leave a comment!
Subscribe to Our Podcast Show
Some of Our Achievements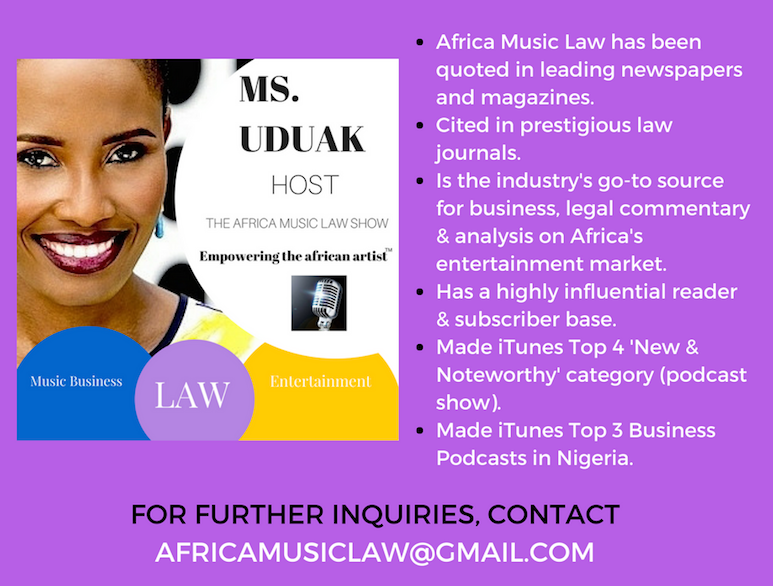 AFRICA MUSIC LAW™ (AML) is a pioneering music business and entertainment law blog and podcast show by Fashion and Entertainment Lawyer Ms. Uduak Oduok empowering the African artist and Africa's rapidly evolving entertainment industry through brilliant music business and entertainment law commentary and analysis, industry news, and exclusive interviews.
Credited for several firsts in the fashion and entertainment industry, Ms. Uduak is also a Partner and Co-Founder of Ebitu Law Group, P.C. where she handles her law firm's intellectual property law, media, business, fashion, and entertainment law practice areas. She has litigated a wide variety of cases in California courts and handled a variety of entertainment deals for clients in the USA, Africa, and Asia. Her work and contributions to the creative industry have been recognized by numerous organizations including the National Bar Association, The American University School of Law and featured in prestigious legal publications in the USA including ABA Journal and The California Lawyer Magazine. She is also an Adjunct Professor at the prestigious Academy of Arts University in San Francisco.
For legal representation inquiries, please email (uduak@ebitulawgrp.com). For blog related inquiries i.e. advertising, licensing, or guest interview requests, please email (africamusiclaw@gmail.com). Thank you for visiting Africa Music Law™.