Abiodun Koya has been on her classical music hustle for quite a while here in the diaspora and I have had the pleasure of featuring her works on my platform Ladybrille on numerous occasions, in prior years. This past year, it is good to see her take her love for classical music to Nigeria and to hit the television and radio networks, hard, with publicity and promotions.
By the way, it would remiss of me not to also let you all know about an equally talented and wonderful buddy of mine who attended Georgetown law school with me, Ms. Chinwe Enu. Chinwe is equally as dope and one of the few ladies of Nigerian heritage doing classical music.
Can you all imagine this genre fused with some of the contemporary and traditional sounds of Nigeria's music industry? We need to push the creative envelopes and come up with our own sounds.
Watch a few of Abiodun Koya's media features and also watch Chinwe Enu in action.
Cheers,
Uduak
About Abiodun Koya
Abiodun Koya is a classically trained Soprano vocalist and actress born to a family of five in a small town in the southwestern part of Nigeria. She started her music career at age six singing at church and birthday celebrations under the mentoring hands of her parents. Since then, she has grown to be one of the very few African women who sing opera. Koya is also a poet, composer, philanthropist, entrepreneur, and songwriter; she loves recording movie soundtracks as well as writing story lines for plays and comedies. In her spare time, she holds master classes for choirs and college students as well as musical workshops, and empowerment programs for youth.
Abby, as she is fondly called, has sung for presidents, senators, ambassadors, governors, less privileged children, and Congress members to mention a few. A highlight of her career was an invitation to a black history month performance at the White House. Abiodun was recently featured in the Americolor Opera Alliance's presentation of LaRoche, an original opera about the only black male passenger on the illfated Titanic, where she assumed the role of "Madam Mae/Top Lady." At the special invitation of Bishop T.D. Jakes, she has also shared her music ministry at the Potter's House in Texas and Colorado, followed by another performance at Rev. Franklin Richardson's Grace Baptist Church in New York.
Abby holds a B.A. in Business Management and devotes her time and resources to her charity foundation, the Courtesy Foundation, which raises scholarship funds for girl orphans in Africa. She uses her musical platform to shed light on issues affecting African children and women.

About Chinwe Enu

Young soprano Chinwe Enu, hailed by the Washington City Paper for her "soaring operatic voice," continues to garner acclaim for her beautiful voice and captivating stage presence. In 2007 she made her African debut in a recital of arias and art song with the MUSON Center Orchestra at the MUSON Center in Lagos, Nigeria. Following her concert, she was praised by Nigerian press for her "almost flawless sound" and "superior talent." In addition to her successful recital in Nigeria, her 2007 engagements included a series of performances at the Fringe Festival in Washington, DC. In 2006, she appeared as Saffi in Der Zigeunerbaron in concert in Graz, Austria with the American Institute of Musical Studies Festival Orchestra where she was praised for her "glorious sound."
Also in 2006, Enu made her American debut as a soprano soloist at the annual summer concert of the Heritage Signature Chorale, a concert choir hailed by the Washington Post for its "spectacular vocal polish." She has since made several professional singing appearances in Washington, DC and in the United States. In 2008, she was commended for being an inspiration to young African women and nominated for the African Jewel Award. She accepted the award and performed at the prestigious African Focus Incorporated Goodwill Awards Ceremony in Los Angeles, California. Her 2009 engagements included a July concert of Faure's La Bonne Chanson, sung with chamber orchestra, at the InterHarmony Music Festival in San Francisco, California, and a November recital of arias and art song in Maryland. In 2010, she performed the role of Geraldine in Samuel Barber's A Hand of Bridge at the University of Maryland. Ms. Enu's notable past performances include several operetta roles with the Washington, DC Georgetown Gilbert and Sullivan Society: Edith in The Pirates of Penzance, The Duchess in The Gondoliers, and Buttercup in HMS Pinafore. She has also performed roles in Italy, and in Salzburg, Austria.
A native of Enugu State, Nigeria, Enu journeyed to the United States when she was fifteen and attended Phillips Exeter Academy. While at Exeter, she participated in the world-renowned Tanglewood Institute Young Artist Vocal program. She received her B.A. from Vassar College where she won the Vassar College Orchestra Concerto competition. She continued her musical studies at the prestigious Oberlin program in Urbania, Italy. In the summers of 2002 and 2003, Enu traveled to Salzburg, Austria to study with internationally acclaimed opera star Grace Bumbry. In 2006, she was selected to attend the American Institute of Musical Studies opera training program in Graz, Austria. There, she worked with notable names in the opera world, including leading dramatic soprano Gabriella Lechner of the Vienna Staatsoper.
Enu balances her promising singing career with her training as an attorney. She obtained a Juris Doctor degree from Georgetown University Law Center and is licensed to practice law in the District of Columbia and the state of California. She studies voice with renowned Metropolitan Opera lyric soprano Carmen Balthrop. She recently graduated from the University of Maryland School of Music where she received academic honors each semester and was awarded the Charlotte W. Newcombe Scholarship. In 2011, she earned rave reviews with "How Can I Keep From Singing," a graduation vocal recital, which she held to celebrate her graduation. She earned further rave reviews in 2012 with her recital "A New Song." Enu continues to perform around the country and recently recorded a CD of her favorite selections.
Subscribe to Our Podcast Show
Some of Our Achievements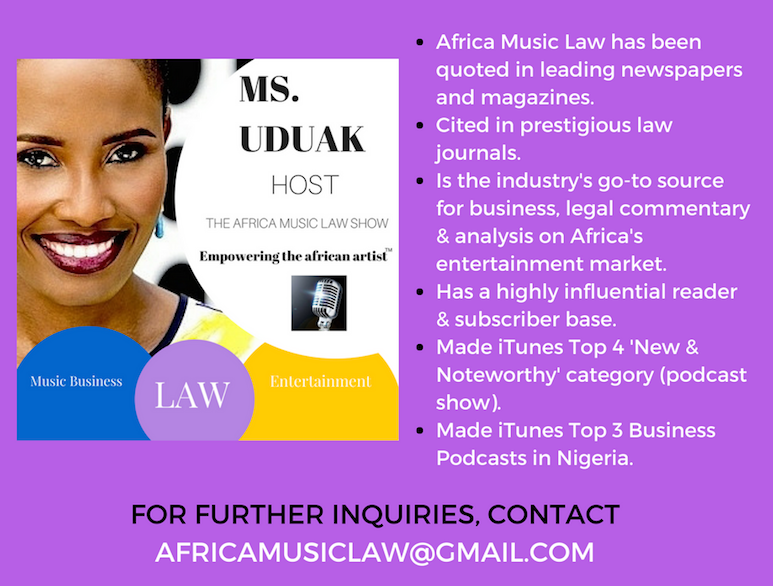 AFRICA MUSIC LAW™ (AML) is a pioneering music business and entertainment law blog and podcast show by Fashion and Entertainment Lawyer Ms. Uduak Oduok empowering the African artist and Africa's rapidly evolving entertainment industry through brilliant music business and entertainment law commentary and analysis, industry news, and exclusive interviews.
Credited for several firsts in the fashion and entertainment industry, Ms. Uduak is also a Partner and Co-Founder of Ebitu Law Group, P.C. where she handles her law firm's intellectual property law, media, business, fashion, and entertainment law practice areas. She has litigated a wide variety of cases in California courts and handled a variety of entertainment deals for clients in the USA, Africa, and Asia. Her work and contributions to the creative industry have been recognized by numerous organizations including the National Bar Association, The American University School of Law and featured in prestigious legal publications in the USA including ABA Journal and The California Lawyer Magazine. She is also an Adjunct Professor at the prestigious Academy of Arts University in San Francisco.
For legal representation inquiries, please email (uduak@ebitulawgrp.com). For blog related inquiries i.e. advertising, licensing, or guest interview requests, please email (africamusiclaw@gmail.com). Thank you for visiting Africa Music Law™.