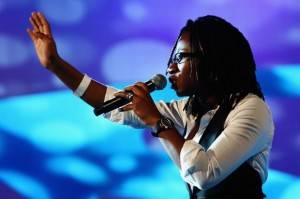 I recall when Nigerian Music Producer Don Jazzy made the comment that Nigerian parents are not as supportive when their children announce they want careers in music, especially as rappers. Wow! Did that cause some major sparks. His statement was so on point and I defended his position. Now, we have a clip from Hip On TV taking on that issue.
They indeed confirm the realities and hesitations of Nigerian parents in supporting their children who take the road less traveled into music. However, they note the changing sentiments and also use as exhibits, five music super stars – D'Banj, M.I, Asa, P-Square and Lynxxx; whose stardom is definitely influencing the way Nigerian parents and Nigeria's society at large view its creative communities and its professionals.
Watch the clip below.

Photodescription: Asa at the 2008 MTV Africa rehearsal
Photocredit: Getty Images