Nigerian R&B singer Waje recently released a short reality tv styled documentary where she declared that she is "tired," and ready to quit music. She explains that she has invested her monies in the music industry but is yet to see a true return on her investment. The video has since gone viral, and many have questioned and even blamed her previous music manager for her lack of success.  Still, others have blamed the "evil" music industry where good artists such as Waje can never be successful.
But my question is simple, has Waje done enough with her music career to warrant her tiredness? Let's look at the facts.
Waje began her music career, officially, in 2007.
In a span of 12 years of her career, it appears she has released only 17 singles of her own, most of which were not even promoted despite the free social media tools available, at the time, to her. In 2019, Waje's songs on Spotify receive only 7,000 + monthly listens, and her You Tube subscriber page is about 6,800+. What has she done to leverage her Facebook fan page of 63,000+ followers, Twitter fan page of 450,000 +, and Instagram followers of 1.3 Million + to turn them into listening and paying customers?
In her 12 year career, Waje has released only two studio albums. The first was in 2013, 6 years after she first officially entered the music industry. The second was released in 2018, 5 years after the release of her first album. So 12 years after her career began, we are just now getting a sophomore album, and one that insists on an R&B genre and style that her core demographic in Africa, from her metrics, do not seem as interested in?  It is of significance that even in the western market where R&B is prevalent, the genre is not as popular as it once was.
In the meantime during the 12 years of Waje's career, she  has ventured into other creative ventures.  In 2014, she delved into acting. In 2016, she was one of the four judges for the inaugural launch of The Voice, in Nigeria. She wasn't really releasing her own music. In fact, the only single officially released from Waje in 2016, seems to be a cover of 'Ave Maria.' This 2019 Waje just launched a media company, which presumably she employed to shoot her documentary.
My point is there has never been a true consistency and focus on Waje's part in what got her to the limelight i.e.the music. And for all artists, you can't say you are "tired" of music (that is if you as passionate as Waje says she is) when all visible objective metrics show a lack of true commitment to building your music brand. Intermittent appearances on television shows, radio, winning awards, live performances and a completely inconsistent release of music doesn't cut it.
If an investor is interested in Waje, where is the brand consistency to give that investor the confidence that he/she/it will have a true return on investments when there is no consistent music output from Waje? The music is what helps drive an attraction of investment opportunities, and diverse streams of income to help scale her business. If an investor cannot see it, what is that investor investing in?
Further, what can Waje show an investor to make that investor have confidence in investing in her when 12 years later, she is still at the start-up level of her business i.e. wearing all hats, overworked, and has no true operational infrastuture in place?
Is it any surprise then that Waje is having to self finance her entire career and wants to quit music?
Artists, especially you the artist-entrepreneur reading this, talent is simply never enough. Hard work is also not enough. It takes a lot more, and a big part of that, at a minimum, is consistency. If you can't meet that basic threshold and you find yourself exhausted and having to come out of pocket twelve years later, against your wishes to fund your business, then it is time to take a break and recalibrate.
Go spend the time and figure out why you decided to do this thing called music, and if you can live without doing music professionally. If your answer is that you must still do music, then roll your sleeves and study the music business, think through, understand and invest in improving your craft, understand your metrics, have a clear strategy on working efficiently, among other research you need to undertake, then return for success, specifically the profitable business model you want.
Until then, you honestly can't objectively say you are "tired" because frankly, based on your current output so far, what is there to be tired about?
I wish Waje well.
-Ms. Uduak
Subscribe to Our Podcast Show
Some of Our Achievements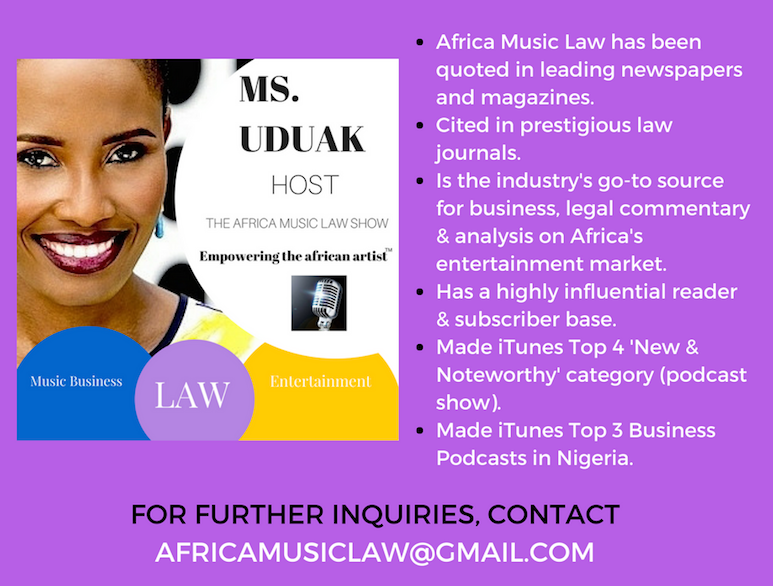 AFRICA MUSIC LAW™ (AML) is a pioneering music business and entertainment law blog and podcast show by Fashion and Entertainment Lawyer Ms. Uduak Oduok empowering the African artist and Africa's rapidly evolving entertainment industry through brilliant music business and entertainment law commentary and analysis, industry news, and exclusive interviews.
Credited for several firsts in the fashion and entertainment industry, Ms. Uduak is also a Partner and Co-Founder of Ebitu Law Group, P.C. where she handles her law firm's intellectual property law, media, business, fashion, and entertainment law practice areas. She has litigated a wide variety of cases in California courts and handled a variety of entertainment deals for clients in the USA, Africa, and Asia. Her work and contributions to the creative industry have been recognized by numerous organizations including the National Bar Association, The American University School of Law and featured in prestigious legal publications in the USA including ABA Journal and The California Lawyer Magazine. She is also an Adjunct Professor at the prestigious Academy of Arts University in San Francisco.
For legal representation inquiries, please email (uduak@ebitulawgrp.com). For blog related inquiries i.e. advertising, licensing, or guest interview requests, please email (africamusiclaw@gmail.com). Thank you for visiting Africa Music Law™.