2Face, Kunle Afolayan, Vector and Brymo have been unveiled as ambassadors for the Lagos Chamber of Commerce and Industry. As to 2Face and Kunle Afolayan, I think this is great. 2Face and Kunle Afolayan are long time business owners with track record of seeming success. So it makes sense that they would be ambassadors for an organization that is a congregation of businesses, charged with the goal of furthering the interests of these businesses and business owners.
I am however unsure why Lagos State has chosen Brymo and Vector as ambassadors. I think I can understand Vector as a choice because it seems he has been an independent record label owner for some years now. I don't understand Brymo as a choice, given the role and function of a chamber of commerce.
Let's look at Lagos State's Chamber of Commerce and Industry's goals:
"Mission Statement


To Promote and protect the interests of its members and the business community at large through public policy advocacy, creation and facilitation of commercial and industrial opportunity, provision of business development and services and observance of highest standard of business ethics. 

 Vision Statement


To remain the foremost Chamber of Commerce and Industry and role model for others in the promotion of sound business ethics and delivery of qualitative services." – LCCI
First, how does "sound business ethics" translate to Brymo as a choice for an ambassador? Brymo admitted in a very defiant attitude on national television to breaching a contractual agreement with his prior record label, Chocolate City. He also said he did not believe the court system could save him so he took matters into his own hands. There is a current pending case against him. He is free to make such choices but how does this translate to being a brand ambassador for LCCI, a hub point for businesses, from a credibility standpoint?
Independent of such an admission, how long has Brymo been a business owner and what is the criteria that was used to choose him as an ambassador?
I don't get this. Anyone care to help enlighten me? Am I missing something here?
Cheers,
Uduak
Subscribe to Our Podcast Show
Some of Our Achievements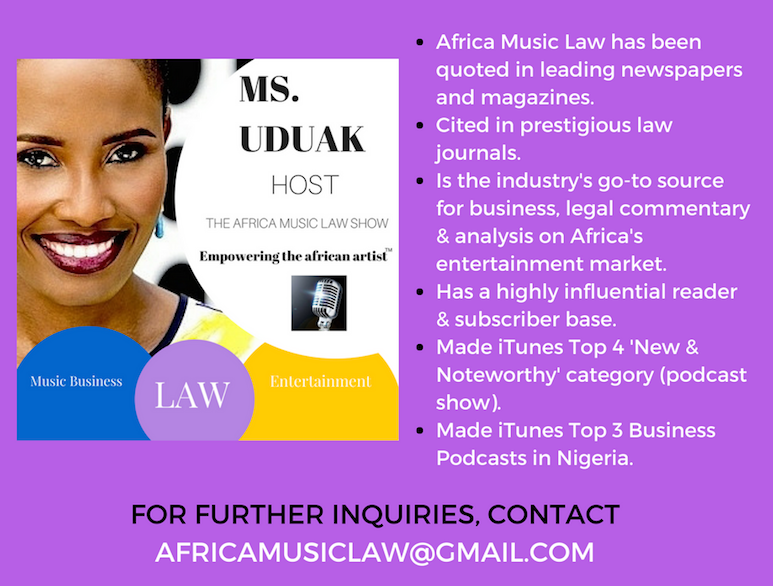 AFRICA MUSIC LAW™ (AML) is a pioneering music business and entertainment law blog and podcast show by Fashion and Entertainment Lawyer Ms. Uduak Oduok empowering the African artist and Africa's rapidly evolving entertainment industry through brilliant music business and entertainment law commentary and analysis, industry news, and exclusive interviews.
Credited for several firsts in the fashion and entertainment industry, Ms. Uduak is also a Partner and Co-Founder of Ebitu Law Group, P.C. where she handles her law firm's intellectual property law, media, business, fashion, and entertainment law practice areas. She has litigated a wide variety of cases in California courts and handled a variety of entertainment deals for clients in the USA, Africa, and Asia. Her work and contributions to the creative industry have been recognized by numerous organizations including the National Bar Association, The American University School of Law and featured in prestigious legal publications in the USA including ABA Journal and The California Lawyer Magazine.
For legal representation inquiries, please email (uduak@ebitulawgrp.com). For blog related inquiries i.e. advertising, licensing, or guest interview requests, please email (africamusiclaw@gmail.com). Thank you for visiting Africa Music Law™.