I am unsure why Nigerian Promoters Award (NPA) decided to have their event on the same weekend and dates that the Nigeria Entertainment Awards (NEA) takes place.
NEA takes place September 2nd-5th, 2011
NPA takes place September 2nd-5th, 2011

Both have the exact targeted demographic.
What sense does this make? Why is this happening? For four years, NEA occurred in June/July of each year. Last year, NEA moved its Awards event to September to take advantage of the crowd and excitement of all persons present during New York Fashion Week. That same 2010 the Nigerian Promoter's Association, based in Atlanta, had their inaugural event. This 2011, NPA has added an entertainment awards arm and they literally have the exact date with the NEA. Why? *Confused face.* BET, MTV, Grammy etc don't do their events the same weekend, especially since they target very similar demographic of artists, attendees and fan base. It is bad for business.

Assuming NPA chose the September date first, why not adjust the date given NEA's date conflicts with yours and you have the exact demographic? Why would NPA adjust their dates? It makes good business sense. NEA has been around longer, it gets more media buzz and NPA's core demographic will head there, which will and has overshadowed the buzz on NPA. Even if NPA could get a lot of buzz going, the conversion rates on attendees to be able to turn a good profit would be less than if it had chosen a different date that could attract more participants; especially the big names who will be at NEA that can pull in a crowd.
NPA should be at NEA in New York networking, collaborating and supporting NEA in executing a successful event that benefits all. Likewise, when NPA's event occurs, NEA should reciprocate and be at NPA's event supporting NPA to help position the organization as a powerful promoter's organization in the USA.
NPA should not make promoters, fans and/or artists choose which event to attend.
Producers of NPA, please feel to leave your comments below and do share why such scheduling, in your view, made sense. Maybe I missed something because this does not make sense to me, especially from a business and publicity standpoint.
Pray do tell the reasoning behind this.
Thanks.
Cheers,
Uduak
Subscribe to Our Podcast Show
Some of Our Achievements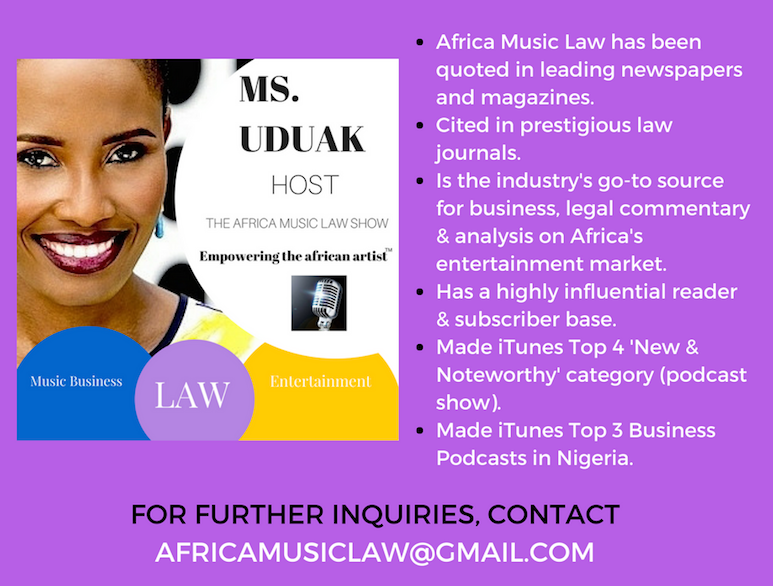 AFRICA MUSIC LAW™ (AML) is a pioneering music business and entertainment law blog and podcast show by Fashion and Entertainment Lawyer Ms. Uduak Oduok empowering the African artist and Africa's rapidly evolving entertainment industry through brilliant music business and entertainment law commentary and analysis, industry news, and exclusive interviews.
Credited for several firsts in the fashion and entertainment industry, Ms. Uduak is also a Partner and Co-Founder of Ebitu Law Group, P.C. where she handles her law firm's intellectual property law, media, business, fashion, and entertainment law practice areas. She has litigated a wide variety of cases in California courts and handled a variety of entertainment deals for clients in the USA, Africa, and Asia. Her work and contributions to the creative industry have been recognized by numerous organizations including the National Bar Association, The American University School of Law and featured in prestigious legal publications in the USA including ABA Journal and The California Lawyer Magazine.
For legal representation inquiries, please email (uduak@ebitulawgrp.com). For blog related inquiries i.e. advertising, licensing, or guest interview requests, please email (africamusiclaw@gmail.com). Thank you for visiting Africa Music Law™.