The 2011 Nigeria Entertainment Awards just wrapped up and while I wasn't there, members of my Ladybrille team have been present this weekend covering the event, and of course keeping me updated. I can't wait to actually read and hear their full report(s). Visit Ladybrillemag.com and www.ladybrillenigeria.com to stay updated about news from the event.
I've got a shortlist of some of the winners below but I also wanted to drop a short note on how beautiful it is that our young generation of Nigerians are helping to build/and rebuild the country's entertainment industry. It is my hope that Nigerians in the diaspora and at home do build an industry that outlive us and our legacy.
I also think that artists, producers, event organizers, media etc. have done and are doing their part. It is also now time for some of the sharpest legal minds the country has produced and will produce (abroad and locally) to step in and help lay the foundation for a solid and extremely successful industry. The industry really needs experienced and knowledgeable entertainment lawyers, like big time, to take it to the next level. For fellow entertainment legal minds (within and outside Nigeria) who are of Nigerian heritage, it will be our responsibility to map out what Nigeria's entertainment industry should look like, especially for the future.
There is so much to do given the ever fluid world we live in, modern technology and an industry that needs a lot of holding hands both as it pertains to business and the law.
Nevertheless, I'm excited as I think about the possibilities.
Congrats to the NEA Organizers for pulling off an all around successful show, by all accounts. I pray it only gets better from here on.
Cheers,
Uduak
SHORT LIST OF 2011 NIGERIA ENTERTAINMENT AWARD WINNERS
Best Pop/ R & B Artist, Waje
Best International Artist, Nneka
Best New Act of the Year, Wizkid
Best Music Video of the Year, Eni Duro by Olamide, video directed by DJ Tee
Best US Based Male Artist of the Year, Rotimi
Hottest Single of the Year, Ice Prince
Best Pan African Actor, Chris Attoh
-Photocredit: Amin Ameen
-Photodescription: Actress Susan Peters with Singer Waje
Subscribe to Our Podcast Show
Some of Our Achievements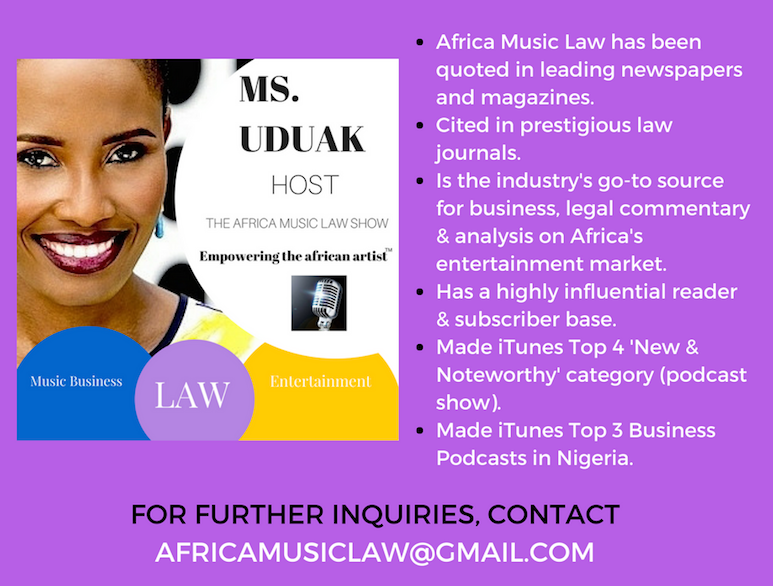 AFRICA MUSIC LAW™ (AML) is a pioneering music business and entertainment law blog and podcast show by Fashion and Entertainment Lawyer Ms. Uduak Oduok empowering the African artist and Africa's rapidly evolving entertainment industry through brilliant music business and entertainment law commentary and analysis, industry news, and exclusive interviews.
Credited for several firsts in the fashion and entertainment industry, Ms. Uduak is also a Partner and Co-Founder of Ebitu Law Group, P.C. where she handles her law firm's intellectual property law, media, business, fashion, and entertainment law practice areas. She has litigated a wide variety of cases in California courts and handled a variety of entertainment deals for clients in the USA, Africa, and Asia. Her work and contributions to the creative industry have been recognized by numerous organizations including the National Bar Association, The American University School of Law and featured in prestigious legal publications in the USA including ABA Journal and The California Lawyer Magazine.
For legal representation inquiries, please email (uduak@ebitulawgrp.com). For blog related inquiries i.e. advertising, licensing, or guest interview requests, please email (africamusiclaw@gmail.com). Thank you for visiting Africa Music Law™.