Linda Ikeji shares what happened in her meeting with Wizkid at the Police Commissioner's office today and explains the picture Wizkid has shared on social media. I find her version/rendition of the facts credible.
Folks, Linda got Wizkid to apologize and in the final analysis as to this case and in a society like Nigeria, that is what matters because it sends a VERY strong message across the continent and in the diaspora that acts like these will NOT be tolerated. Further, I think every Nigerian artist and celebrity and those who represent them is now officially on notice that it will not be that type of party where you go around threatening to assault/physically harm people.
Celebs, when people defame you, stop going on social media with rants and threatening assault. SUE them. Also understand that you are a public figure and both under Nigerian and U.S. law, truth is a defense to defamation. In addition, because you are a public figure, there is a higher threshold and legal burden you must meet as a celeb if you sue for defamation. How many times have I said that and gone into the analysis on this blog? In addition, there are so many competent Nigerian entertainment lawyers to help you. I have provided a listing of some of these lawyers in Nigeria; and will share the most recent podcast episodes below of some of these lawyers. Get your lawyers to sue people who defame you. Don't go around threatening violence. There are consequences for doing that.
Further, Wizkid is fast establishing a pattern and practice of violence or threats of violence. This is VERY bad for business and for him. He may be able to get away with it in Nigeria. However, since he is doing business in the U.S. the next time he threatens someone or actually hits someone on U.S. soil, he may actually be arrested, jailed and if convicted, face prison time. This is real stuff not some joke. The legal justice system in California (L.A.) where he now rents property and also spends time will not hear "Linda is a gossip," "Linda destroys lives," etc. Total baloney and no one cares. In front of the eyes of the law, he is another Black man caught on the wrong side of the law. STOP. Think about that.
When I started practicing law over a decade ago, it used to be that I would walk through the halls of justice as a criminal defense attorney and NEVER see a Nigerian. Over the years, that has changed. There are now Yoruba and Ibo interpreters and more of our people locked up. Our boys/men also are locked up often for domestic violence. In addition, criminal threats made on social media in the U.S. will get you arrested. In California and many states in the U.S., the criminal laws governing criminal threats are so broad that even if the threat is not as specific as Wizkid's, you can still get arrested and possibly convicted and jailed. The threats can also be charged as a felony or misdemeanor i.e. a wobbler, depending on how the D.A. maybe feeling the facts lend themselves. This is a fact.
On the celebrity end, we have seen our celebs show up on U.S. soil and almost get into trouble with the law. The likes of Timaya come to mind with the whole allegation of rape in Atlanta where a police report was actually filed against him. As a music community, we keep getting closer and closer to knocking on the doors of the criminal justice system as we continue to attempt to expand our music to reach the global masses. Our industry in many ways, from drugs to all other forms of substance abuse, sexual assault and violence, is closely mirroring those we try to emulate in the west. With our continued crossover to the states and other western countries, it is only a matter of time when the revolving doors of the prison system open up and say, "thank you very much we will take the Nigerian artist also."
If we say we care and love our artists as much as we claim we do, then we must get them and those that manage them to see the big picture. Get out of your feelings and wear an objective hat. Next time, Wizkid's name may make global headlines and for the wrong reason i.e. for assault on a woman or man in the U.S. or elsewhere. When that happens, what are you going to do then? You had the chance, now, on your own turf to help him but you focused on his collabos with Drake or rising global popularity and ignored the destructive personal habits he keeps engaging in. From visible substance abuse that has been shared on social media, to his public baby mama dramas (including creating baby mama drama on U.S. soil in Atlanta) to threatening violence not once but twice on others, and actual physical violence on a fellow artist, the list goes on.
If you care and love Wizkid's music, or any of our artists, then you should have a problem with Wizkid condoning violence of any kind whether as a "joke" or real. It shouldn't matter who the subject is or how much you hate the person he is targeting. This is not about Linda Ikeji. It is about our industry, our people and our nation. Let's wear our objective hats and not let hatred for one person blind us from seeing the bigger picture.
Longtime followers of my work in general know I call these things before they happen and they eventually do. Read, reflect and for Wizkid's advisors, I am telling you now. You need to rein the walking liability that is Wizkid in. If you don't, I guarantee you it is only a matter of time before it all blows up in your faces.
My 50kobo for all it's worth, and it's worth a whole lot.
-Ms.Uduak
_____________
Linda Ikeji's Statement Regarding Resolution of Wizkid Matter
"So, I am going to write about this Wizkid matter for the very last time. Anything else after this will no longer concern me. So Wizkid and I met with the Commissioner of Police today and when the Commissioner asked me what I wanted them to do with the case…I told him that I wanted peace. And the reason why I insisted on peace and not to drag the matter further i.e go to court, is because Wizkid and his lawyers have been apologizing since Friday, up until today!

I spoke with Wizkid through his lawyer on Friday April 15th where he tendered an apology to me and said he wasn't a violent person, that he didn't mean what he said, that it was just an emotional outburst. And then he asked for forgiveness. Please continue…

But despite forgiving him, he still had to show up at the Police HQ to officially apologize and write an undertaken which he did today.

I see a lot of negativity has come out of this case with Wizkid – with many folks bashing me for reporting a threat on my person. But here's my consolation and why I am glad this happened. I promise you, especially the ladies, Wizkid will never threaten you with harm again. At least not in public. I believe I am the last bus stop. He will think twice before threatening another human being again on social media. A police file has been opened for him, and he has been cautioned. The day he threatens another human being again with harm, then…

Having said that, I turned down taking a photo with him and the police commissioner this afternoon. One of his people took a pic of him and the commissioner with me in it and my people insisted they delete it. Not because I haven't forgiven him, I just don't need the extra drama.

I wish Wizkid all the best and will continue to celebrate him.

God bless us all."
[audio-clammr mp3="http://traffic.libsyn.com/africamusiclaw/AML074PsquareBreakup.mp3″]
[audio-clammr mp3="http://traffic.libsyn.com/africamusiclaw/AML075MusicPublishingNigeriaPsquare.mp3″]
Subscribe to Our Podcast Show
Some of Our Achievements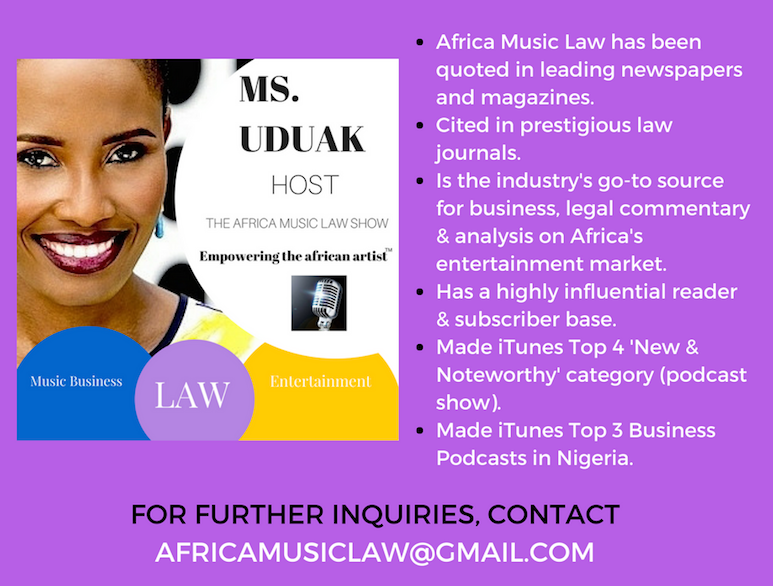 AFRICA MUSIC LAW™ (AML) is a pioneering music business and entertainment law blog and podcast show by Fashion and Entertainment Lawyer Ms. Uduak Oduok empowering the African artist and Africa's rapidly evolving entertainment industry through brilliant music business and entertainment law commentary and analysis, industry news, and exclusive interviews.
Credited for several firsts in the fashion and entertainment industry, Ms. Uduak is also a Partner and Co-Founder of Ebitu Law Group, P.C. where she handles her law firm's intellectual property law, media, business, fashion, and entertainment law practice areas. She has litigated a wide variety of cases in California courts and handled a variety of entertainment deals for clients in the USA, Africa, and Asia. Her work and contributions to the creative industry have been recognized by numerous organizations including the National Bar Association, The American University School of Law and featured in prestigious legal publications in the USA including ABA Journal and The California Lawyer Magazine.
For legal representation inquiries, please email (uduak@ebitulawgrp.com). For blog related inquiries i.e. advertising, licensing, or guest interview requests, please email (africamusiclaw@gmail.com). Thank you for visiting Africa Music Law™.