A Uganda court has allegedly issued an arrest warrant against Sony recording artist Wizkid for a no show at a concert in Kampala. Wizkid was scheduled for a Saturday, December 3rd, 2016, performance at Lugogo Cricket Oval. Instead, he canceled the show citing "unavoidable circumstances." Less than a week after cancellation, he followed up with a public announcement that his doctor had ordered he cancel all his concerts from December 2016 to January 2017 due to health reasons. This week he shared on social media his intentions to vacation with his son in the U.S.
In response to his cancellation, organizers of the aforementioned event chose to file a criminal report in which they allege Wizkid and his manager, Sunday Are, obtained monies under false pretenses (which carries a five year sentence), cheating (which carries a three year sentence) and conspiracy to defraud (which carries a three year sentence, maximum).
On December 3rd, over 25,000 Ugandans paid to watch the Sony pop artist perform. Further, per the allegation, organizers expended $300,000 for the logistics of booking flights, hotel, venue, advertising and promotions. They also allegedly made a full deposit fee of $60,000 for Wizkid's performance, a brokerage fee of $5,000 and $3,000 for per diem fees.
AML people, the organizers could have chosen the civil litigation route. They chose the criminal route. The prosecutor's office obviously found the alleged facts by the police compelling enough to charge Wizkid. The judge also found probable cause, when presented with the facts, to issue the warrant for Wizkid's arrest. So, let's see what Wizkid and his team does.
This case underscores the need for African artists such as Wizkid to have entertainment lawyers in the local geographic region they will be performing. It also underscores the need to hire entertainment lawyers who also have a command of crisis management.
Let's see what lies ahead. The alleged facts are still unraveling.
-Ms. Uduak
Lagos to Kampala by Runtown ft. Wizkid

Subscribe to Our Podcast Show
Some of Our Achievements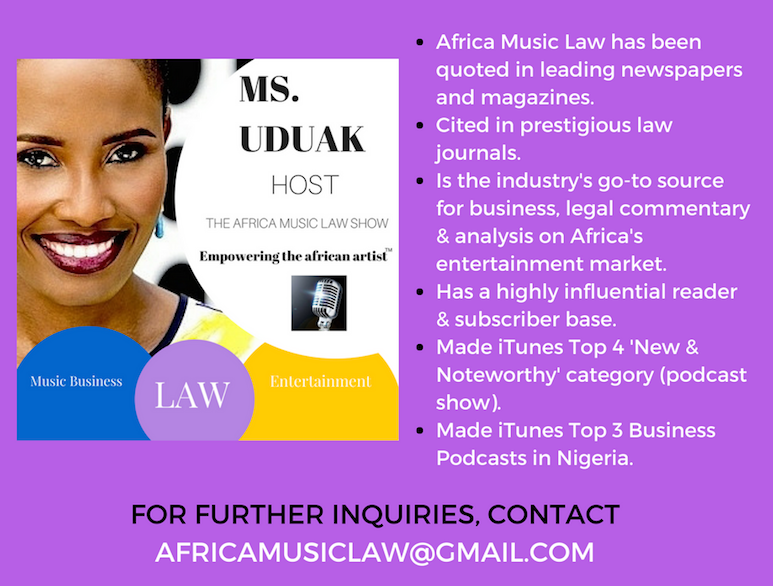 AFRICA MUSIC LAW™ (AML) is a pioneering music business and entertainment law blog and podcast show by Fashion and Entertainment Lawyer Ms. Uduak Oduok empowering the African artist and Africa's rapidly evolving entertainment industry through brilliant music business and entertainment law commentary and analysis, industry news, and exclusive interviews.
Credited for several firsts in the fashion and entertainment industry, Ms. Uduak is also a Partner and Co-Founder of Ebitu Law Group, P.C. where she handles her law firm's intellectual property law, media, business, fashion, and entertainment law practice areas. She has litigated a wide variety of cases in California courts and handled a variety of entertainment deals for clients in the USA, Africa, and Asia. Her work and contributions to the creative industry have been recognized by numerous organizations including the National Bar Association, The American University School of Law and featured in prestigious legal publications in the USA including ABA Journal and The California Lawyer Magazine.
For legal representation inquiries, please email (uduak@ebitulawgrp.com). For blog related inquiries i.e. advertising, licensing, or guest interview requests, please email (africamusiclaw@gmail.com). Thank you for visiting Africa Music Law™.