Celebrities Behaving Badly (CBB) documents terrible, immature and/or inappropriate conduct on social media by creative talents, mostly celebrities, and uses it as a way of discussing, primarily, public relations and branding for artists. On to today' s post…
A Nigerian lawyer allegedly wrote an article saying that Nigerian celebrity blogger Linda Ikeji has a "poverty mentality" based on her showing off two of her Hermes bag on social media. Unfortunately, after the display of her bags, many believed it was fake leading to a controversy and Ikeji defending herself. Ikeji, in my view, was immature how she handled the controversy and I think realized and apologized. In the meantime, pop star Wizkid had a good laugh from it. Okay. It is what it is.
Yesterday, however, Linda Ikeji posted an article on American rapper 'The Game' congratulating him on the way he stood up for his "baby mama" when internet trolls abused the "baby mama" for showing bags that they believed 'The Game'  bought for her. Ikeji also pointed out that other men in the same situation  do not defend such women, much less acknowledge the  children with these women that they have out of wedlock.
What happens next? Apparently Wizkid believed/inferred the latter part about other men not acknowledging their "baby mamas" or children was a swipe at him so he took to his social media pages, used an old image of Ikeji and wrote on it the following: "Almost 40, lonely and bitter! Prayers up for u."
Here are a few things to note about Wizkid's conduct for talents, including Wizkid, reading this:
First you shouldn't be on social media fighting but if you will, fight clean.
Be mindful of those who are writing your stories. Bloggers wield as much influence as traditional media, and many of the leading bloggers are women: Bella Naija, Linda Ikeji, Olori Supergal, Stella Dimoko Korkus, among others. The same holds for other  social media influencers.
Be mindful of your fan base. The average Nigerian artist seems to take his fan base for granted. Be  tuned into the fact that a large majority of your fans are women. What you say to a woman matters.
For the Nigerian artists who want to cross over to international markets, be especially tuned into how you speak of or treat your fan base, especially women. Wizkid's fan base is made up of women who are single and in their 30s or above. Do you really think they feel good hearing him insult one of their own like that? What about the younger women who are his fan base, 18-25? They are fans of Linda Ikeji, visit her blog and have made her successful. With the addition of her new women empowerment program aimed for young women, she will attract more of these young women that listen to Wizkid. Do you really think they feel good about how you speak about their mentor or role model?
Be mindful of international labels that you are hoping courts you. You shoot yourself in the foot to these labels when you, at 25, are undercutting the demographic that either will be making purchasing decisions for themselves or for others, on the continent and in the west, regarding your music.
Finally, if you will insult others, make sure you are not the pot calling kettle black. Wizkid is a 25year old with two baby mama problems: one child in Nigeria, a new one in the U.S. which he refuses to accept responsibility for. Further, in his so called relationship with his girlfriend Tanya Omatayo, he simply can't commit. Worse, he has completely disgraced and made her a laughing stock and subject of almost every conversation on and offline: radio, tv, internet, blogs, everywhere. How many times have we seem photos of Wizkid with women/groupies in very compromising situations spread across the internet. His two children conceived right underneath her nose when he was allegedly in a committed relationship with her. Yet, this same man who refuses to grow up "get liver" to insult a successful woman who has earned money on her own terms, albeit as a gossip blogger. Incredible.
Wizkid, it may be the cultural norm from where you come from to insult unmarried single women who make it on their own terms. But if you are an artist gunning for a global stage, especially a western one, you better step back and rethink your strategy. Times have changed and the immaturity is not one those who buy your music will put up with in the long run.
-Ms. Uduak

Subscribe to Our Podcast Show
Some of Our Achievements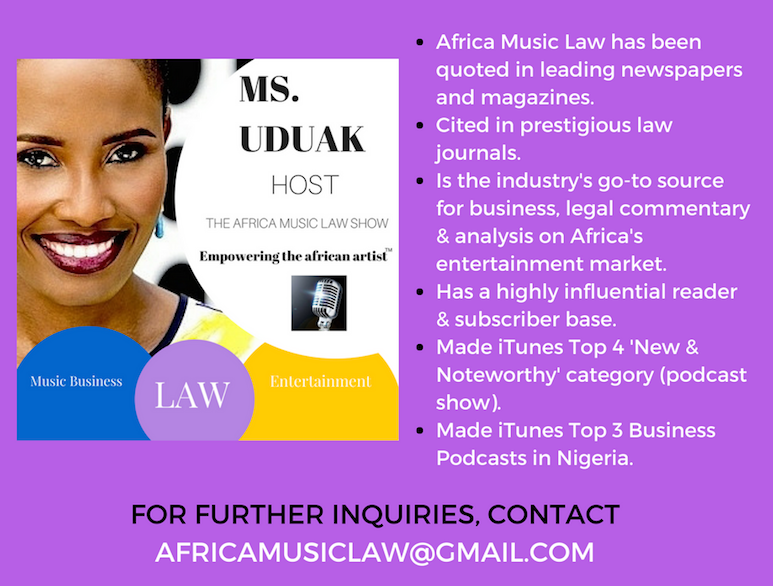 AFRICA MUSIC LAW™ (AML) is a pioneering music business and entertainment law blog and podcast show by Fashion and Entertainment Lawyer Ms. Uduak Oduok empowering the African artist and Africa's rapidly evolving entertainment industry through brilliant music business and entertainment law commentary and analysis, industry news, and exclusive interviews.
Credited for several firsts in the fashion and entertainment industry, Ms. Uduak is also a Partner and Co-Founder of Ebitu Law Group, P.C. where she handles her law firm's intellectual property law, media, business, fashion, and entertainment law practice areas. She has litigated a wide variety of cases in California courts and handled a variety of entertainment deals for clients in the USA, Africa, and Asia. Her work and contributions to the creative industry have been recognized by numerous organizations including the National Bar Association, The American University School of Law and featured in prestigious legal publications in the USA including ABA Journal and The California Lawyer Magazine.
For legal representation inquiries, please email (uduak@ebitulawgrp.com). For blog related inquiries i.e. advertising, licensing, or guest interview requests, please email (africamusiclaw@gmail.com). Thank you for visiting Africa Music Law™.