Wizkid has been in the news lately for all the right and wrong reasons. As to the right reasons, within the past six months, he has walked the Dolce and Gabbana runway, signed a collaborative Nike merchandising deal (t-shirts) which sold out in 10 minutes, signed an endorsement deal with CÎROC via Diddy, and as of a few days ago, collaborated with designer Jeremy Scott and CÎROC for Milan Fashion Week. Of course he continues to tour, and presumably receives royalties from some of his recorded music, including his feature and production on Drake's global hit single 'One Dance.' All of these things spell an artist who should be financially stable.
The bad news, however, is that Wizkid has been plagued with child support drama from his "baby mamas" in Nigeria and the U.S., and it appears his UK manager turned baby mama might also have a child support issue with him.
Before you read the exposé by these baby mamas of how much of a dead beat father Wizkid has been to their sons, I have mentioned it on this blog in the past and it bears repeating. Wizkid suffers from serious self-hatred, and overall inferiority complex. That in addition to his drug addiction makes it hard for any serious mother, in my view, to expect him to give his sons the very love he simply has a hard time giving himself. Wizkid has exhibited this self-hatred in almost all aspect of his publicized personal and professional life including his dealings with his fellow music colleagues, and in my view, as stated in prior posts, he needs psychological help and counseling.
So, when it boils down to it, I find it silly that his baby mamas: the U.S. and Nigeria ones so far, believe that outing Wizkid on social media will shame him into loving his sons and taking care of his responsibilities as their father. If these women claim that what matters most to them is the best interests of their sons, then they need to hire Family Law attorneys in their respective countries to go after Wizkid for child support, and enforcement. The U.S. baby mama has hired lawyers but instead of following up with them for enforcement, she is on social media sharing and complaining about his refusal to comply with their drafted settlement agreement.
Wizkid is equally responsible to pay for shelter, food, clothing, medical care, and education for the children he helped birth, and it is the responsibility of these women to use the legal tools available to them to make him live up to his duties.
In a country like the U.S., Wizkid's failure to provide child support can land him in jail. I see no reason why these women keep shaming the father of their sons on social media, other than for their own selfish reasons and to massage their emotional pain. You chose a terrible partner to birth children with. It is what it is. He doesn't love or respect himself. He doesn't love or respect you, and neither does he feel the same way towards your sons, per your own statements. So, why create a digital footprint that your children can read about how their father refused to acknowledge and provided no support for them?
Also, what's with this let's all band together and have a Wizkid baby mama sob club where we compare notes on how horrible he is? For the best interest of their children, the proper forum is a court of law, at this stage, to get Wizkid to support his children. The rest of society shouldn't be burdened with his children because of his failure to take care of them. He doesn't have to love his children, but he is required, by law, to support them. These women need to get out of their feelings and the need to protect Wizkid and do right by their children. They either do that or raise their children quietly, struggles and all, in hopes that someday, it will all pay off.
I frankly speaking don't see why the children should have to go through all the immense emotional, and psychological stress of watching their mothers carry all the financial burden, when their father can be made to pay for his children's living and medical expenses. There is nothing heroic about struggling all by yourself and positioning yourself as a victim on social media. As a single parent, you can hold your baby's father accountable, move on with your life, and have a remarkably great future. Let's quit with this nonsense and be about the business of the best interest of these children.
Read the latest social media posting from the Nigerian and U.S. baby mamas about Wizkid's complete neglect of his sons' needs.
-Ms. Uduak
(UPDATE: For those who have asked and want a breakdown of the "self-hatred" part of my discussion, I don't know what you call a situation where a father denies his own children birthed by African women than self-hatred. Once DNA tests actually confirms he is the father of these children, I don't know what you call a situation where he places more value to his third child, through his public conduct and statements, birthed by a Black British woman, but continues to give his other two African children a back of the bus treatment than self-hatred. I also don't know what you call a situation where an artist who was born in Nigeria, and only owns a green passport, mocks his fellow Nigerian artist with an American passport, born in the USA, for having Nigerian/African dreams than self-hatred. These are just a few examples and doesn't even consider the statements by his baby mamas because we all know it could be a "he said, she said" type situation. Google the rest on the blog using the search box. I wish him the best.)
Wizkid Baby Mama in the U.S., Binta Diamond Diallo (Her social media postings)
"This is some of the agreements/settlements that was provided by both of our lawyers which was supposed to be resolved outside court by February 2018. I didn't sue him or take the case to court because some of his family members begged not to and said that wiz himself want to settle everything with the lawyers without involving the courts because he didn't want to get in trouble with immigration. So I listened and accepted that deal and gave him a chance to do the right thing. That was 7mths ago and since then his lawyers keep telling my lawyers that they have not been able to reach their client or his management team. #more receipts on the way."

—
Wizkid Baby Mama in Nigeria, Shola Ogudu (Her social media postings)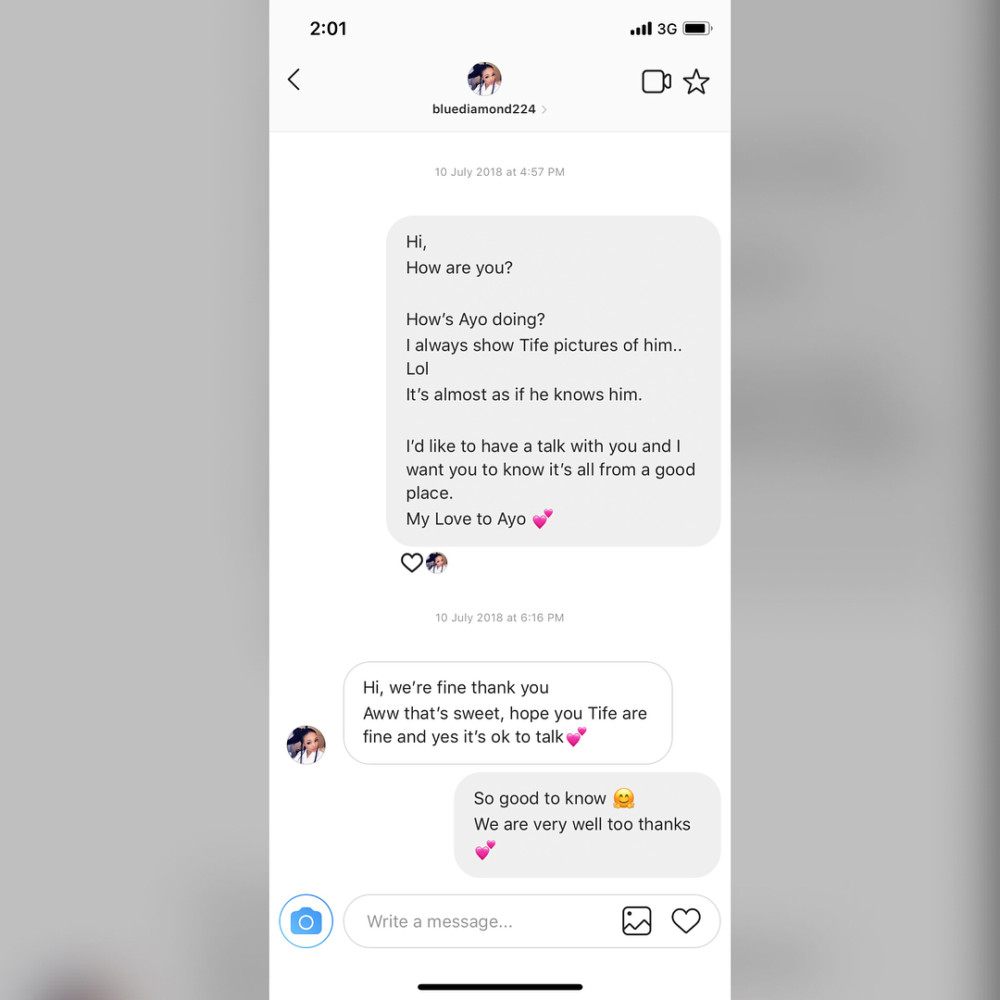 Subscribe to Our Podcast Show
Some of Our Achievements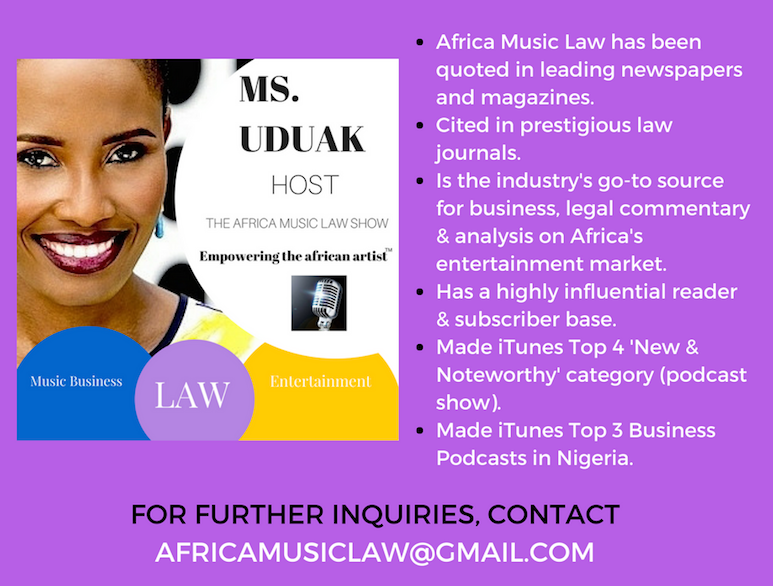 AFRICA MUSIC LAW™ (AML) is a pioneering music business and entertainment law blog and podcast show by Fashion and Entertainment Lawyer Ms. Uduak Oduok empowering the African artist and Africa's rapidly evolving entertainment industry through brilliant music business and entertainment law commentary and analysis, industry news, and exclusive interviews.
Credited for several firsts in the fashion and entertainment industry, Ms. Uduak is also a Partner and Co-Founder of Ebitu Law Group, P.C. where she handles her law firm's intellectual property law, media, business, fashion, and entertainment law practice areas. She has litigated a wide variety of cases in California courts and handled a variety of entertainment deals for clients in the USA, Africa, and Asia. Her work and contributions to the creative industry have been recognized by numerous organizations including the National Bar Association, The American University School of Law and featured in prestigious legal publications in the USA including ABA Journal and The California Lawyer Magazine. She is also an Adjunct Professor at the prestigious Academy of Arts University in San Francisco.
For legal representation inquiries, please email (uduak@ebitulawgrp.com). For blog related inquiries i.e. advertising, licensing, or guest interview requests, please email (africamusiclaw@gmail.com). Thank you for visiting Africa Music Law™.