After a public falling out with Michael Ugwu, Sony Music West Africa's General Manager, last year, Ycee and the record label he is signed to, Tinny Entertainment, have now severed ties with Sony.
The label issued a public announcement on Saturday, February 3, 2018, informing the public of this new development. This termination comes a little over 15 months (October 2016), from when the label and Ycee first announced the deal.
A few things to note from me before you read the official statement:
I have discussed the need for western music conglomerates such as Sony to have a clear Africa strategy and to be willing to put the marketing and advertising dollars in that region to get a true return on investment. You have to understand the market intimately well to make your investment worthwhile in the region. At this time, there is no true understanding of the region, especially West Africa.
I have also discussed the need for Nigerian and other African artists to understand the leverage they have in brokering deals with western music conglomerates, and to come to the table with that mindset.
Ycee signing a Sony Music West Africa deal, in my view, made no sense. If he signed to one of Sony's western subsidiaries, it would make sense. Signing to its Africa division demonstrated Sony needed Ycee more than Ycee needed Sony for Sony to reestablish its presence in West Africa.
The problem Sony has and will continue to have, however, is that when it comes to licensing and distribution of African artists "worldwide", the label seems to limit African artists to territories these artists have already conquered i.e. Africa. If it limited these artists to Africa and could put some numbers up on the board that showed these artists were expanding their streams of income and making a lot since signing the deals with Sony, it would be a different situation. Unfortunately, it can't. It cannot diversify the streams of income for the African artist, certainly not in West Africa,  because Sony has to contend with the Chinese, Indian and South African telecommunications companies that have a strong-hold of the majority of the market share they desperately seek. I wish them, and artists, their managers, and labels who will read this and still sign a similar deal well.
-Ms. Uduak
PUBLIC STATEMENT FROM TINNY ENTERTAINMENT


"We would like to state officially that we terminated our contract with SONY through our lawyers, Olaniwun Ajayi LP, by a letter dated 5 December 2017. Henceforth, we are the sole owners of the copyright in any and all of our music and can exploit our music on any and every platform. We have realized that it is best to undertake the distribution of our records by ourselves, as a Record Label and that Made in Nigeria across board, is the only way to be above board." As a Label, we are pushing out great music this year starting with "Say Bye Bye," "I Wish" and our YCEE and Bella Collabo EP, "Late Night Vibrations." We thank you for the love!
Signed, Tinny"
Subscribe to Our Podcast Show
Some of Our Achievements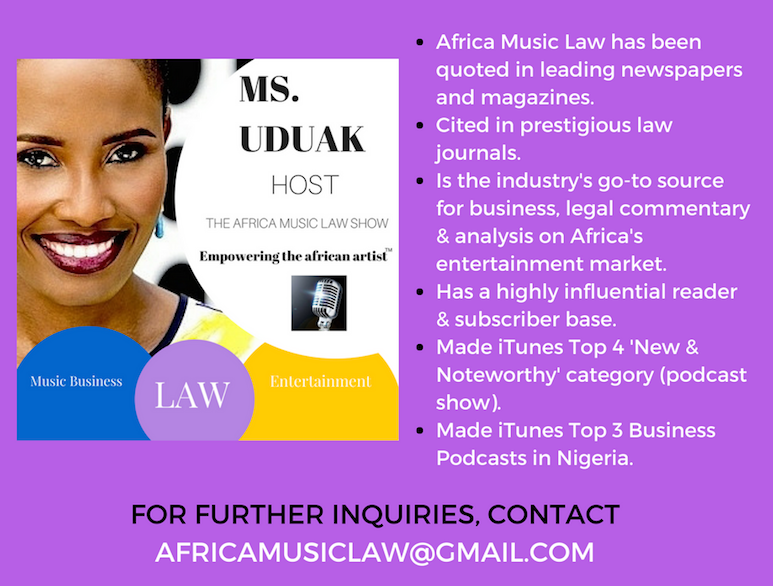 AFRICA MUSIC LAW™ (AML) is a pioneering music business and entertainment law blog and podcast show by Fashion and Entertainment Lawyer Ms. Uduak Oduok empowering the African artist and Africa's rapidly evolving entertainment industry through brilliant music business and entertainment law commentary and analysis, industry news, and exclusive interviews.
Credited for several firsts in the fashion and entertainment industry, Ms. Uduak is also a Partner and Co-Founder of Ebitu Law Group, P.C. where she handles her law firm's intellectual property law, media, business, fashion, and entertainment law practice areas. She has litigated a wide variety of cases in California courts and handled a variety of entertainment deals for clients in the USA, Africa, and Asia. Her work and contributions to the creative industry have been recognized by numerous organizations including the National Bar Association, The American University School of Law and featured in prestigious legal publications in the USA including ABA Journal and The California Lawyer Magazine.
For legal representation inquiries, please email (uduak@ebitulawgrp.com). For blog related inquiries i.e. advertising, licensing, or guest interview requests, please email (africamusiclaw@gmail.com). Thank you for visiting Africa Music Law™.