Yemi Alade teamed up with Rick Ross for a remix of her hit single "Oh My Gosh." The newly released music video is well shot and the visuals are beautiful, with rich textures that showcase Africa's creativity, especially that of its fashion industry. The pairing, however, seems quite odd and what stands out, even more, is the glaring product placements of American owned Sovereign Brands' Luc Belaire Rosé wine and Bumbo XO rum. The products appear at least 7 times in the 3:35 timed video. Rick Ross is a longtime brand ambassador (since 2013) of Belaire Rosé wines.
So Why would Alade collaborate with Ross in this manner?
1. Money. There is now a tradition of Nigerian contemporary artists paying for collaborations with their American counterparts. However, in this kind of collaboration, I see no reason why any kind of remittance should come out of Alade's pocket given the heavy product placements in the video. Instead, I expect that she was paid and part of the proceeds may have helped to fund the video. I also do not see any real value in Ross doing the collabo "for free" if he did, again because of the heavy product placements.
2. Alade's hope to enter U.S. mainstream market. It is no longer news that most foreign artists, Nigerian artists included, seek a wider brand exposure, and reach particularly in the U.S.
3. Alade is probably hopeful that Ross and Sovereign brands will market the music video to an American/and other western audiences.
4. Prestige and the ability to say to an African audience that she collaborated with an American celebrity musician.
Why Would Rick Ross Collaborate with Yemi Alade?
1. Increased revenue and expansion into new markets, Africa. Africa, especially Nigeria, is the new music gold rush, and a longtime incredibly lucrative market for luxury spirits. For example, Nigeria's spirits market is said to be worth $2 billion, and the majority of its spirits are imported with brands like Johnnie Walker, Smirnoff Vodka, and Bailey's leading the way in terms of market share. Ross a musician and businessman and Brett Berish, CEO of Sovereign brands, are simply following the money.
2. Marketing and promotions on Alade's part (on and offline) to get Belaire Rosé wines and Bumbo XO into as many Nigerian/African homes as possible, especially among the elite class that spends a fortune on foreign products such as these. Alade has 6.5 million followers on Instagram and over 100 million views on one video alone.
3. It is super cheap to promote the Sovereign's brands through Alade's music video to gain entrance in Nigeria/Africa's markets than traditional forms of advertising. Plus, there is much flexibility on the part of Alade to allow creative input from Ross and Sovereign brands.
Is it worth it?
If you are Alade, I am unsure that it is. Is Rick Ross' demographic who you are really trying to reach? It feels like a "let's throw everything against the wall and see what sticks," situation. When you look at the age, gender, and interests of a Rick Ross fan are they parallel to Alade's? Will Rick Ross' hardcore hip-hop fanbase flock to check out Alade's music after seeing this music video? She might win a few fans but I doubt very much it would be as large as she may have thought it could be. So, what good is the reach of an America celebrity artist if his or her audience is simply not your target audience?
If you are Ross, Alade brings over 100 million views for a single video on YouTube to the table, she has star power across the continent, is fresh and as Ross rightly pointed out, "motivational" for an artist like Ross to team up with if he is serious about increasing his earnings as a brand ambassador for Belaire Rosé.
Are the two a fit?
When I look at the remixed video, I don't see any natural/organic chemistry between the artists. I see one artist promoting his product, and the other being the conduit for such promotion. Will Ross market and promote the video on networks in the States, I doubt it. The video itself is shot as if it was intentionally for the African market, not the U.S., and will be distributed and marketed under the record label Alade is signed to.
Will Ross promote the song on his tv/radio appearance once it builds momentum in the African market, which it will? I doubt it. Will Yemi heavily promote Ross, Belaire Rosé and Bumbo XO stateside and abroad in almost every related or non-related appearance/interview? Most likely.
So, what happens next?
I think if you are Yemi, you hope the visuals are so strong that even though it is obvious Ross will greatly benefit from the deal, you at least walk out of the situation with a strong foot through the door of the American mainstream music market.
FTC Disclosure Rules
A final word on this is the need to ensure that brands comply with the Federal Trade Commission's rules on disclosures. If this is a sponsored product placement/endorsement, given Ross is an American citizen and a brand ambassador for wines marketed and sold in the U.S., among other territories, then the parties need to indicate their financial relationship, to avoid misleading fans.
-Ms. Uduak
Subscribe to Our Podcast Show
Some of Our Achievements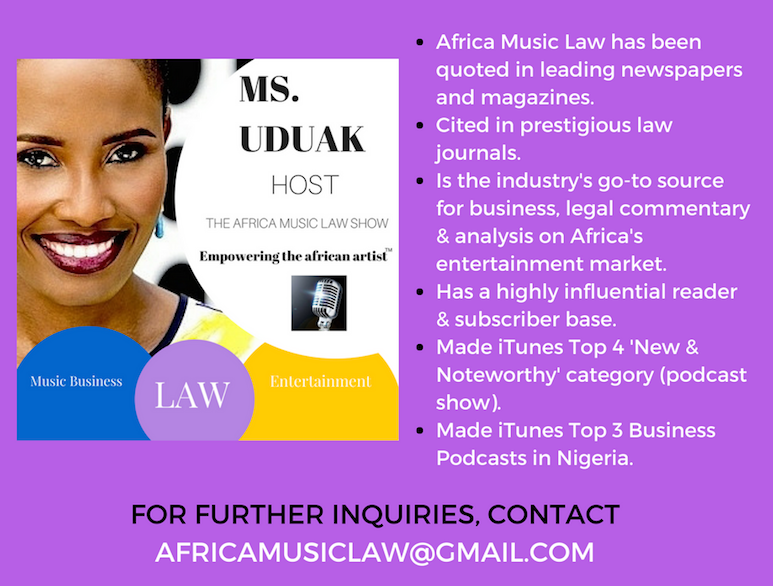 AFRICA MUSIC LAW™ (AML) is a pioneering music business and entertainment law blog and podcast show by Fashion and Entertainment Lawyer Ms. Uduak Oduok empowering the African artist and Africa's rapidly evolving entertainment industry through brilliant music business and entertainment law commentary and analysis, industry news, and exclusive interviews.
Credited for several firsts in the fashion and entertainment industry, Ms. Uduak is also a Partner and Co-Founder of Ebitu Law Group, P.C. where she handles her law firm's intellectual property law, media, business, fashion, and entertainment law practice areas. She has litigated a wide variety of cases in California courts and handled a variety of entertainment deals for clients in the USA, Africa, and Asia. Her work and contributions to the creative industry have been recognized by numerous organizations including the National Bar Association, The American University School of Law and featured in prestigious legal publications in the USA including ABA Journal and The California Lawyer Magazine. She is also an Adjunct Professor at the prestigious Academy of Arts University in San Francisco.
For legal representation inquiries, please email (uduak@ebitulawgrp.com). For blog related inquiries i.e. advertising, licensing, or guest interview requests, please email (africamusiclaw@gmail.com). Thank you for visiting Africa Music Law™.